'Another chance at life': Flights carrying Afghans from Ramstein to US resume after 3-week pause
by
Karin Zeitvogel
Stars and Stripes
October 10, 2021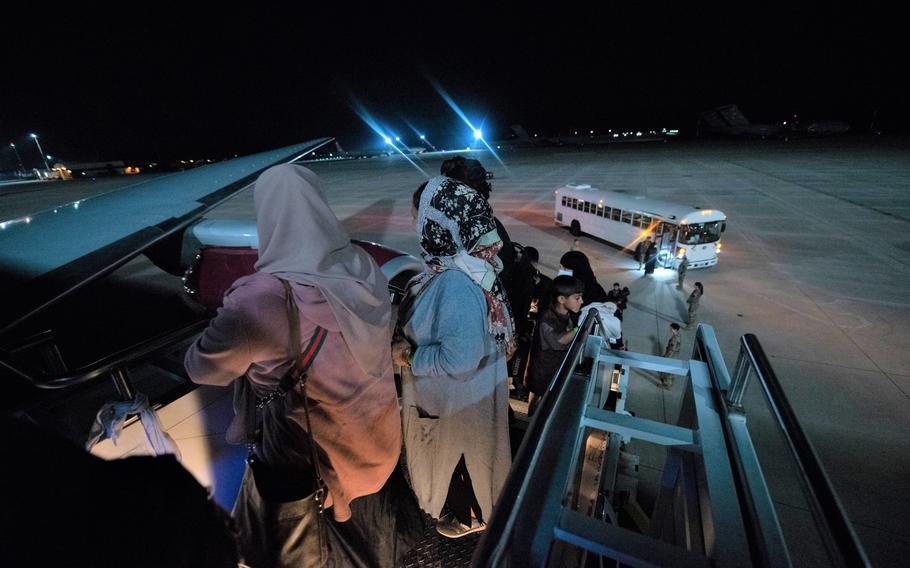 RAMSTEIN AIR BASE, Germany — Hundreds of Afghans left Ramstein Air Base late Saturday as flights to the U.S. resumed following a three-week pause imposed after measles cases were confirmed among evacuees.
"We really are excited to be finishing up this herculean effort," Ramstein installation commander Brig. Gen. Josh Olson told Stars and Stripes. "It's taken much longer than expected but it's an awesome ending to what's been quite an effort, quite an opportunity —the world's largest airlift for 124,000 people."
Around 300 evacuees were on board the specially chartered Omni Air International flight that left Ramstein, bound for Philadelphia.
The plane and personnel who loaded the evacuees' luggage, much of it packed in reusable shopping bags, were provided by the 521st Air Mobility Operations wing, led by Col. Adrienne Williams. The 86th Airlift Wing, led by Olson, fed, clothed and sheltered the evacuees for the weeks they were in Germany.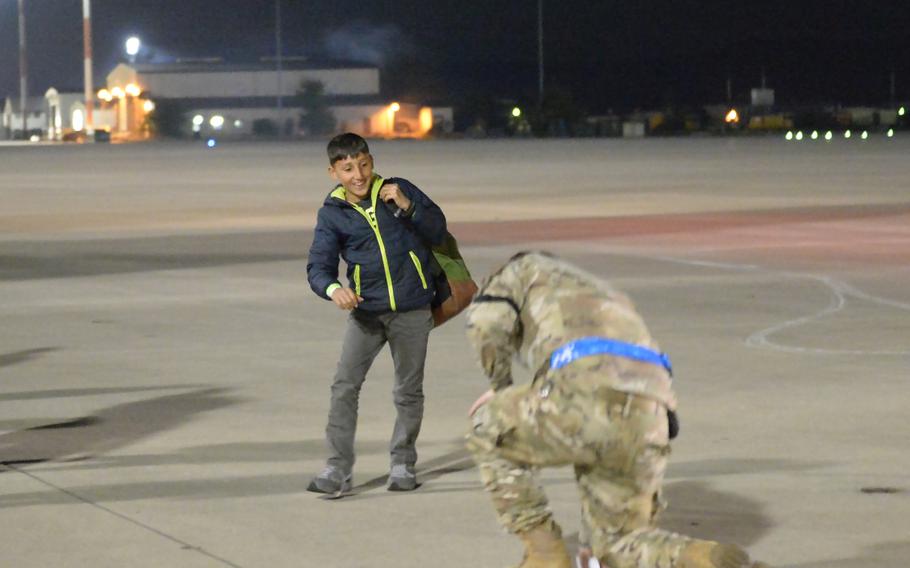 "It's awesome that we are able to provide a pathway to a new life of freedom and opportunity," Williams said as she and Olson waited on the tarmac to say goodbye to the first group of Afghans to head to the U.S. again.
"We're saving lives but we're also giving them another chance at life."
Officials at Ramstein expect to fly around 1,000 evacuees a day to the U.S. in the coming days, meaning the roughly 9,000 Afghans who have been housed in hastily erected camps at Ramstein and nearby Rhine Ordnance Barracks should all have left Germany in a little over a week.
The first evacuees arrived at Ramstein at the end of August after U.S. bases in the Middle East that were temporarily housing them reached capacity. Among those airlifted out of Afghanistan were American citizens, legal residents, Special Immigrant Visa holders, and their families.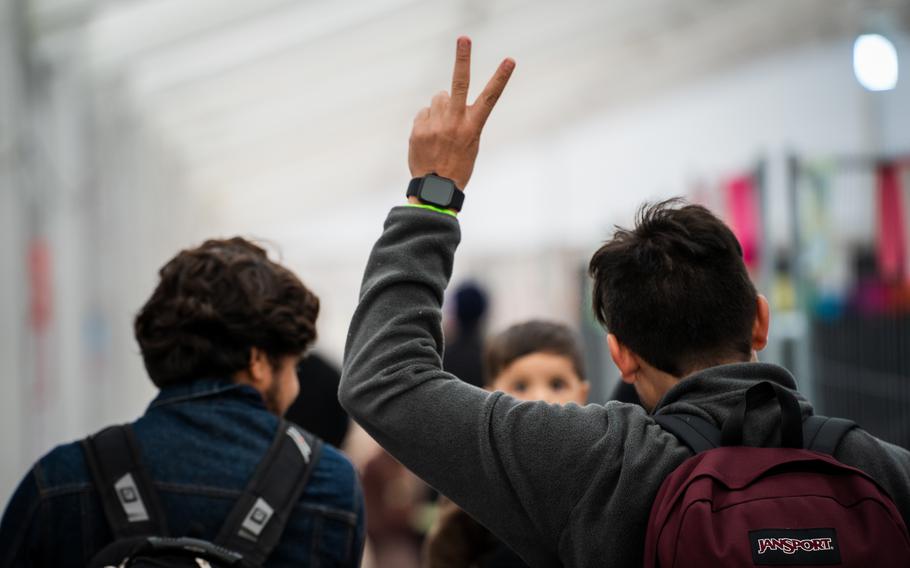 When the flights resumed, only a couple of the evacuees in Germany were U.S. citizens, an official told Stars and Stripes. He asked not to be named because he was speaking in an unofficial capacity.
The German government originally agreed to allow evacuees to remain on U.S. military installations in the country for up to 10 days.
But in mid-September, flights were abruptly halted when four measles cases were discovered among Afghans who had arrived in the U.S. from overseas bases. One case of the highly contagious illness was detected in an Afghan child in Germany, who went into quarantine with her family.
Within days, U.S. military personnel in Germany began giving measles, mumps and rubella shots to the thousands of evacuees stuck at Ramstein and ROB, both in the Kaiserslautern area. Tens of thousands of Afghans who were already in the U.S. were also vaccinated.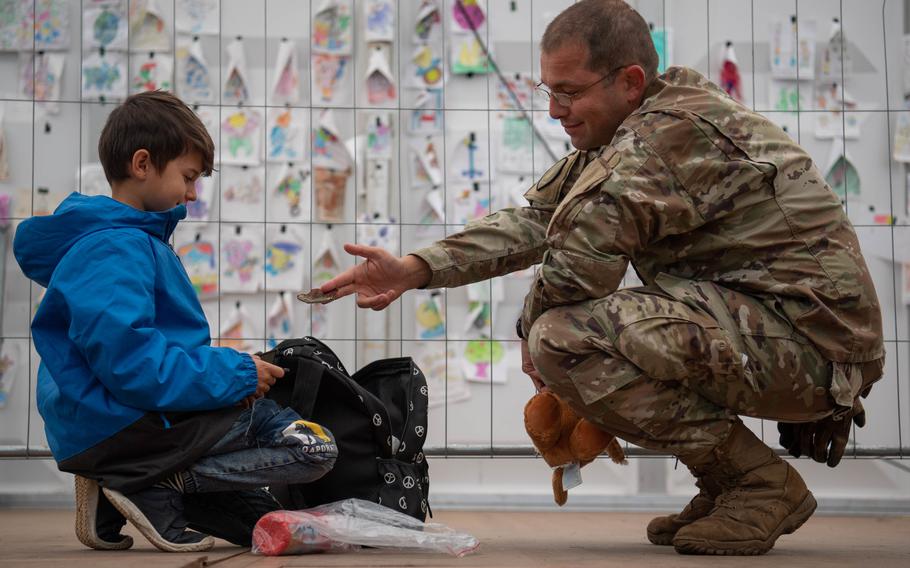 After the three-day inoculation drive had been completed, the U.S. Centers for Disease Control and Prevention said evacuees in Germany would have to quarantine for three weeks before traveling on to the U.S.
Germany agreed to accommodate the Afghans for longer than initially anticipated, State Department spokesman Andy Halus said last month.
During the evacuees' extended time on Ramstein and ROB, "we've been able to keep them busy with soccer games, cultural engagement, English classes, and more," Olson said.
Bonds have formed, but "the Afghans are very excited to continue on to the U.S.," he added.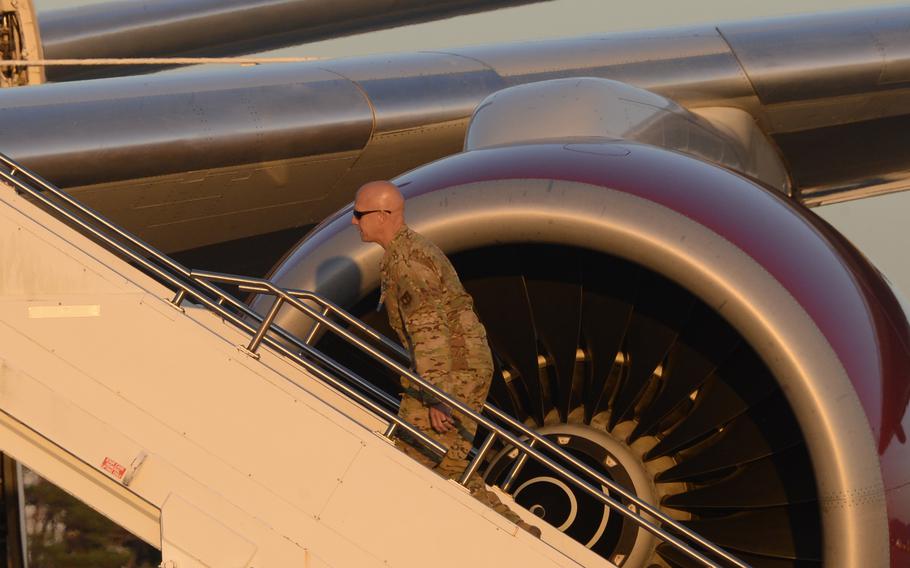 They have undergone stringent vetting, said Joe Giordono-Scholz, a spokesman for the U.S. Embassy in Berlin.
"Anybody traveling to the U.S. from here would have the same or even higher levels of screening than a normal traveler would," he told Stars and Stripes.
As the first evacuees arrived at the waiting plane on Saturday night, an Afghan boy's face lit up as he walked the few steps from the shuttle bus toward the Omni Air International Boeing 777.
It wasn't the aircraft that had excited him, though. The young boy had spotted an airman near the bus. He broke away from the group, gave a farewell fist-bump to the American, and then ran up the stairs and disappeared into the plane.