US access to Greek bases may expand as both countries eye security risks in eastern Mediterranean
by
John Vandiver
Stars and Stripes
September 24, 2021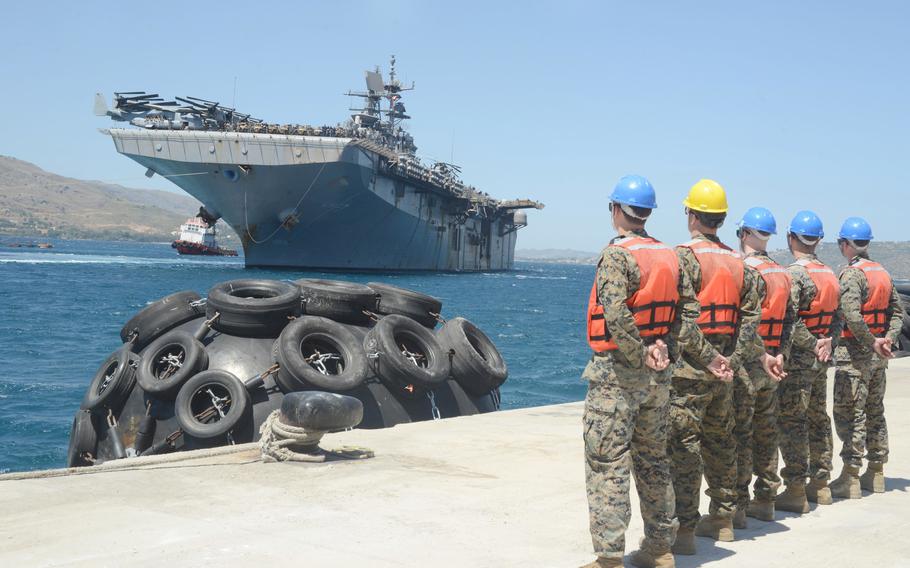 A new defense pact between Washington and Athens could give U.S. forces access to a second naval base on the island of Crete and an air and sea base on an island in the Aegean Sea, a prominent Greek news agency reported this week.
Military officials in Athens told the Kathimerini newspaper that when the two countries sign a new mutual defense cooperation agreement next month, the deal is expected to involve an additional base at Souda Bay, where the U.S. Navy has long operated.
"The new base is part of the national operational plan for the coming years and is linked to the decision for Greece to establish a more permanent presence in the eastern Mediterranean," the paper reported.
While negotiations are ongoing, Greek Foreign Minister Nikos Dendias is scheduled to visit Washington on Oct. 14 to finalize the deal. Greece's aim is to add basing at Souda Bay that will enable larger fleets to move in and out of the area.
Another top priority for Athens is to get Washington to include in the new defense agreement an expansion of U.S. military operations into the Aegean Sea.
Specifically, it is seeking air and naval facilities on the island of Skyros that could be used by either rotational or permanent U.S. units, Kathimerini reported.
Skyros is in the center of the Aegean and would give U.S. ships and aircraft quicker access to the Black Sea, where NATO has sought to expand operations over concerns about Russian aggression.
U.S. European Command has stepped up operations across Greece over the past few years, establishing a steadier foothold in the strategic eastern Mediterranean in response to Russia.
China's growing economic clout in the area, which includes control of the Greek port at Piraeus, also concerns U.S. military officials.
During a speech Thursday at the Armed Forces Club in Athens, U.S. Ambassador to Greece Geoffrey R. Pyatt described Russia's "growing military presence in the eastern Mediterranean," from bases in Syria to mercenaries in Libya, as "profoundly destabilizing."
"On the eastern Mediterranean front of this global competition, Greece has emerged as a critical American ally," Pyatt said. "American and Greek perspectives in this region are more aligned than they have ever been."
Last year, the U.S. Navy muscled up in the Mediterranean when it homeported a major vessel, the USS Hershel "Woody" Williams, at Souda, marking the first such ship deployment to the base in at least 40 years.
The U.S. Army and Air Force also have expanded missions in other parts of Greece, with a rotating presence at Greek military sites in Stefanovikeio, the port of Alexandroupoli and Larissa Air Base.
Any further deepening of military ties between Greece and U.S. is likely to irritate Turkey, a historical rival of Greece, despite the fact that both countries are NATO members.
While some security analysts have speculated that an expansion in Greece could eventually present the military with an alternative to Turkey's Incirlik Air Base, which is used by the Air Force, Pentagon officials have denied that any such plan is in the works.