US bases in Germany strain to accept 10,000 more Afghan evacuees overnight
by
Jennifer H. Svan
Stars and Stripes
August 26, 2021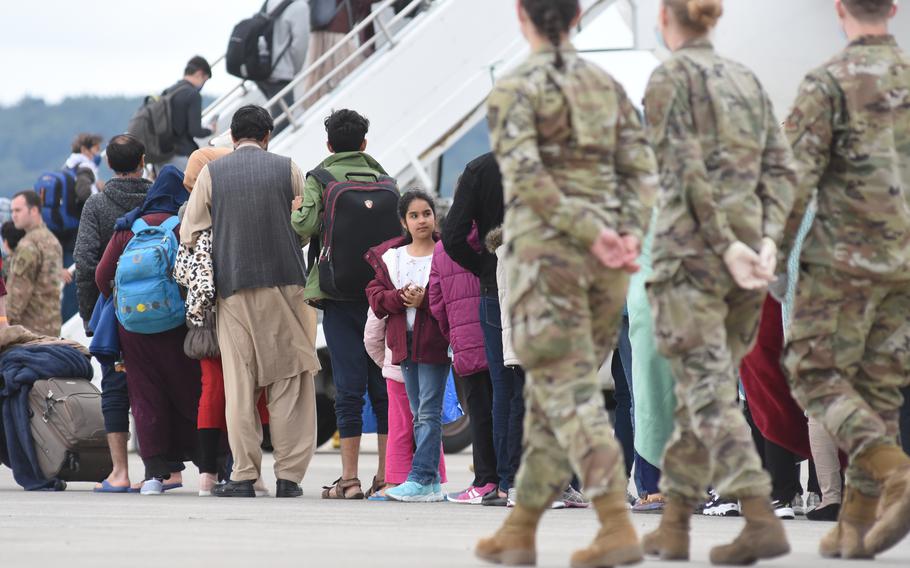 RAMSTEIN AIR BASE, Germany — The U.S. military was struggling to support a surge of evacuees in Europe on Thursday as Afghans fled Kabul in what little time remained to escape Taliban rule.
More than 10,000 evacuees were destined for Ramstein on Thursday afternoon and overnight, the largest influx since the air base became the primary evacuation hub in Europe.
"Our main challenge right now is flow," said Brig. Gen. Josh Olson, the 86th Airlift Wing commander. "We're continuing to struggle to have that outflow back into the U.S."
It was uncertain Thursday how many more Afghans would be able to fly from Kabul following a series of bombings outside the airport that resulted in deaths and scores of injuries. But flights to Ramstein have continued to bring evacuees in from elsewhere, including Al Udeid Air Base in Qatar.
In less than a week, Ramstein has transformed from an air base supporting European and African military operations into an international airport and city, Olson said.
More than 350 tents fill ramp space along the flight line, and all flight operations are part of the evacuation mission, with commercial carriers flying from Ramstein, base officials said.
Ramstein has capacity for about 12,000 evacuees, while Rhine Ordnance Barracks, a neighboring Army post, has space for about 5,000, Olson said. The two installations expect to reach that capacity by Friday, he said.
"You're about to see the busiest next couple of hours," Olson said. "Tonight, we'll be maxed out."
The pace of flights from Ramstein to the United States has more than doubled in the past 24 hours, base officials said. More than 3,500 people had departed as of Thursday afternoon.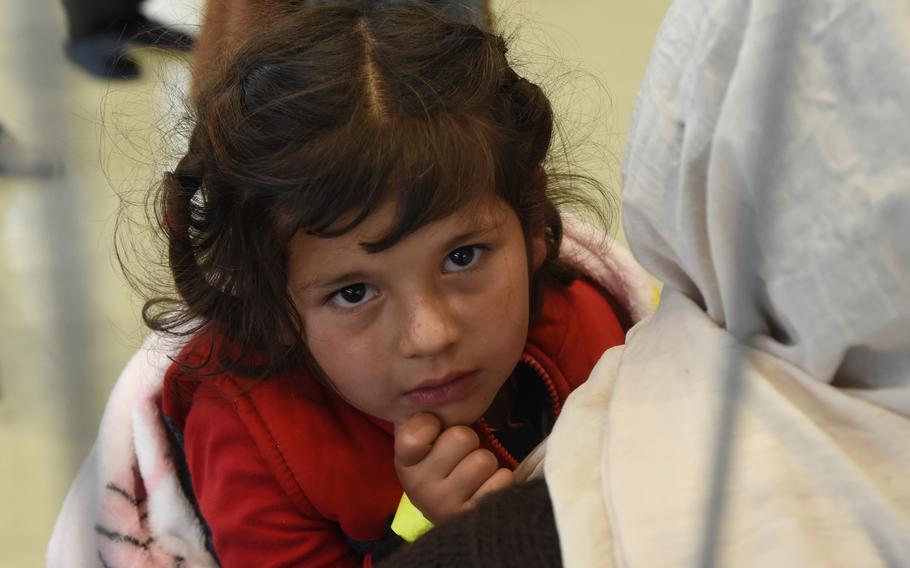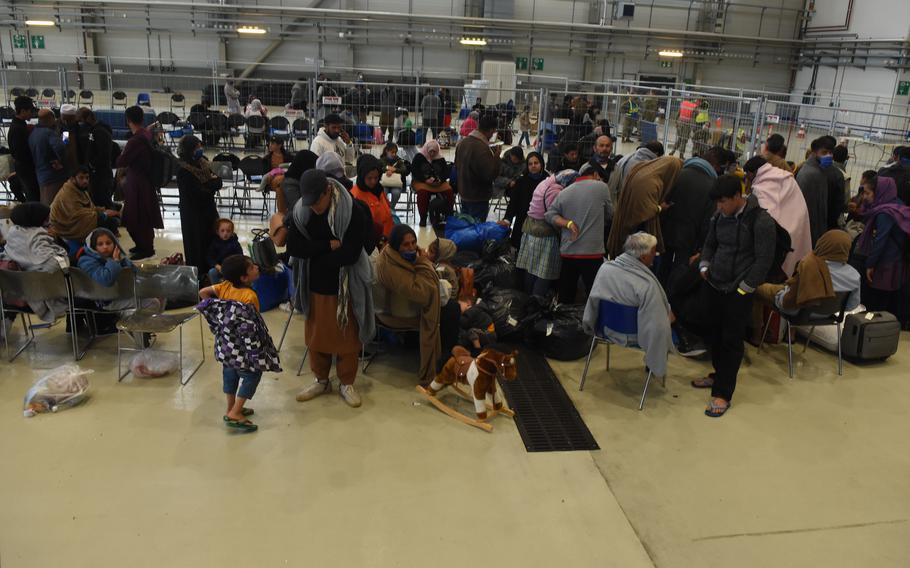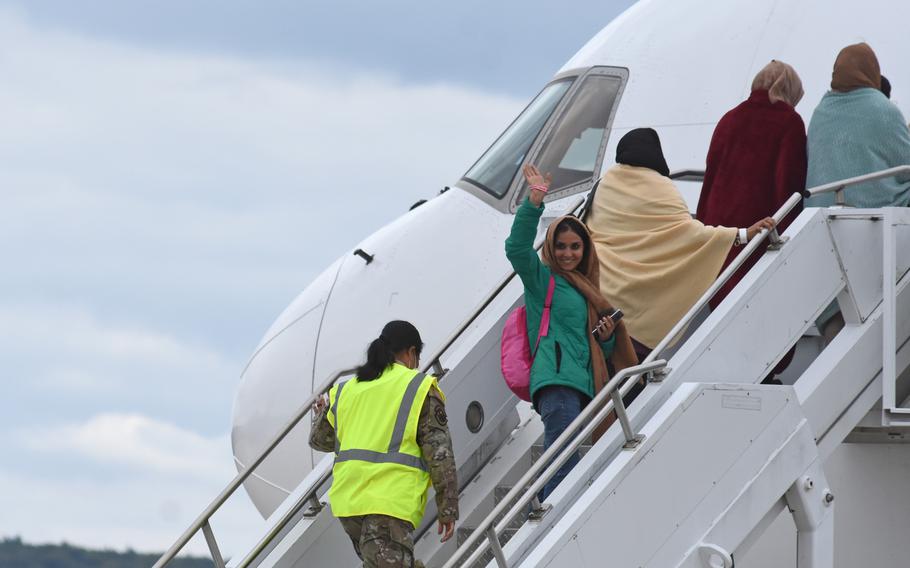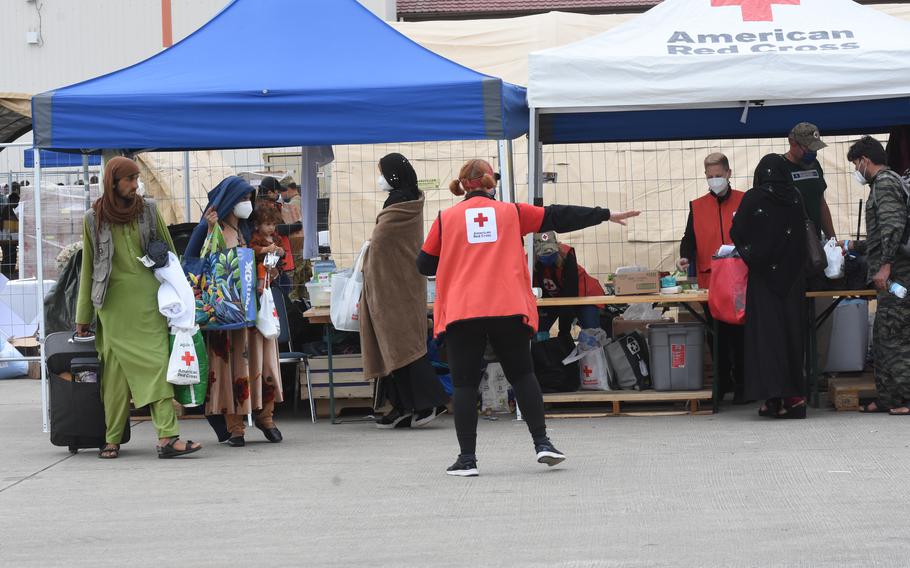 About 275 people were crowded into a hangar turned into a temporary passenger terminal Thursday afternoon waiting to board a flight to Dulles International Airport near Washington, D.C. An additional 200 had just boarded a commercial Boeing 767 destined for Dulles.
"I'm traveling to America," said an excited Rasool Ahmad Qaderi, who fled Kabul with most of his family.
Qaderi, 27, said he had high hopes for the future and wants to live in New York City.
About five planes were scheduled to depart Ramstein on Thursday and six on Friday, transporting a total of more than 3,000 passengers, said Maj. Dustin Dere, director of operations for the 721st Air Mobility Operations Group.
But the pace needs to pick up, Dere said.
"Just with the inbound passengers and the lodging facilities filling up, we need to get more aircraft filled and out of here," he said. "The problem is the aircraft just aren't here yet."
Besides carriers United and Delta, Air Force KC-10 tankers based in the United Kingdom have flown evacuation missions across the Atlantic. But they're playing a bigger role in ferrying evacuees from interim staging bases between Afghanistan and the U.S., Dere said, since the tankers have room for fewer passengers.
Olson said he didn't know why there were so many evacuees coming in at one time. Aircraft arriving from both Qatar and Kuwait are often filled to "emergency capacity," he said, with more passengers than there are seats.
Other evacuees are being flown to U.S. bases in Sigonella, Italy, and Rota, Spain, Olson said.
Evacuees are staying an average of four days at Ramstein, Olson said. While at Ramstein, they receive health and background checks, and their identification is vetted.
The State Department is focused on identifying American citizens, their families, legal permanent residents and those who fall under Special Immigrant Visa categories, such as Afghans who have worked for the United States, a department spokesman said.