Video may show man moving body of woman dumped in Kaiserslautern alley last year, police say
by
Marcus Kloeckner and Karin Zeitvogel
Stars and Stripes
July 22, 2021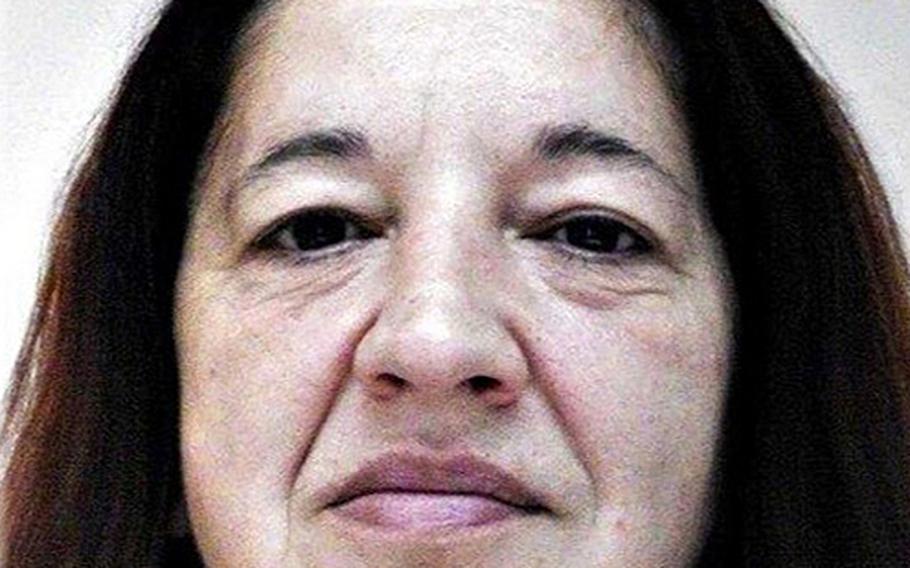 KAISERSLAUTERN, Germany — Rheinland-Pfalz police on Friday asked the U.S. community in Kaiserslautern for help identifying a man captured in newly released surveillance camera footage, who is suspected of involvement in the death of a woman whose body was found in a downtown alley in December.
"It is very important that clues from the American community reach us, even in English," Kaiserslautern police spokesman Bernhard Christian Erfort said. "We are especially looking for information regarding the person who can be seen in the video."
The blurry footage, shot by a security camera in a parking garage on Rosenstrasse in the center of Kaiserslautern, on Dec. 12 at 9:37 p.m., shows a tall, slim man wearing a hoodie walking in the direction of Stauboernchenstrasse, the alley where Bodi was found, before going back in the direction he came from.
He passes the garage again an hour later, heading toward the alley, and comes back with an empty shopping cart. Around 20 minutes after that, he again passes in front of the garage, this time pushing the cart with a large object wrapped in a white covering on the bottom rack.
"The object could be the body of Diana Bodi," the police said in a statement Friday.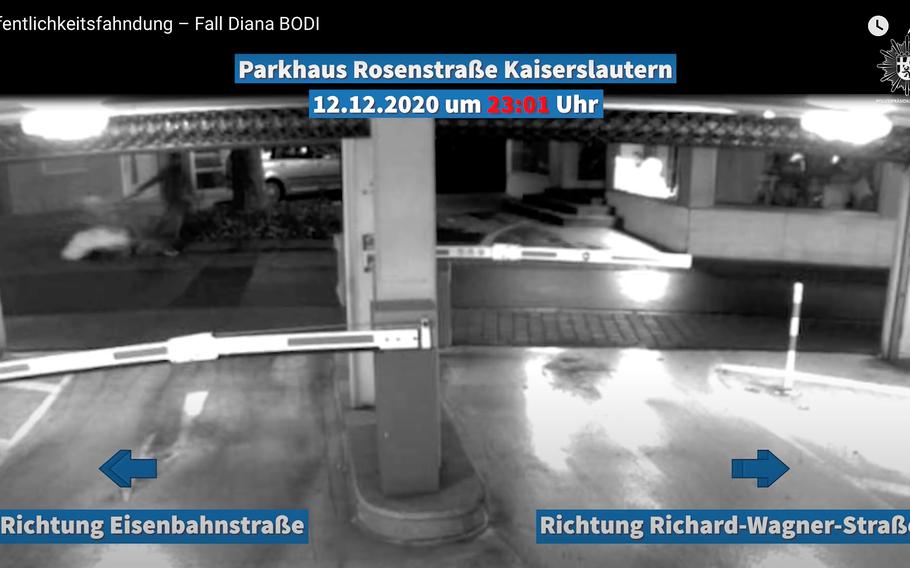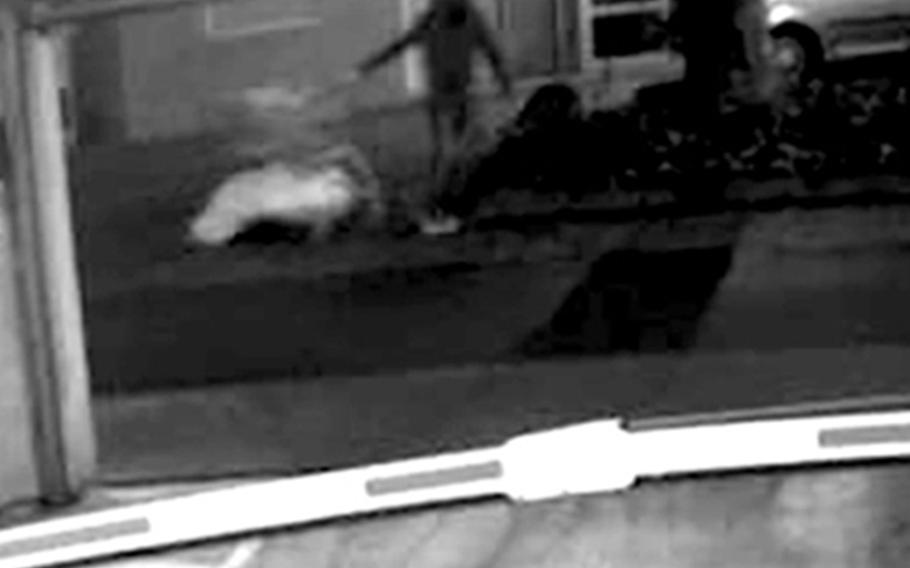 Two nights after the video was shot, several people reported to the police that there was a body in the alley. The victim was later identified as Bodi, a home care provider from Hungary who was working in Germany.
The police also want to speak with a couple who were walking their dog on Rosenstrasse and may have seen the man in the security camera video.
"The woman was wearing a silver-grey winter jacket with a hood and a red hat," they said. "The man had a black winter jacket and black hat on. The dog was probably a golden retriever or light-colored Labrador."
The large white object seen in the video footage was loaded onto the cart somewhere near the parking garage, the police concluded after looking at numerous videos shot in the area at around the time that 48-year-old Bodi was killed. She disappeared shortly after arriving at Kaiserslautern's main train station on Dec. 11, on her way to a new job in the Trier area.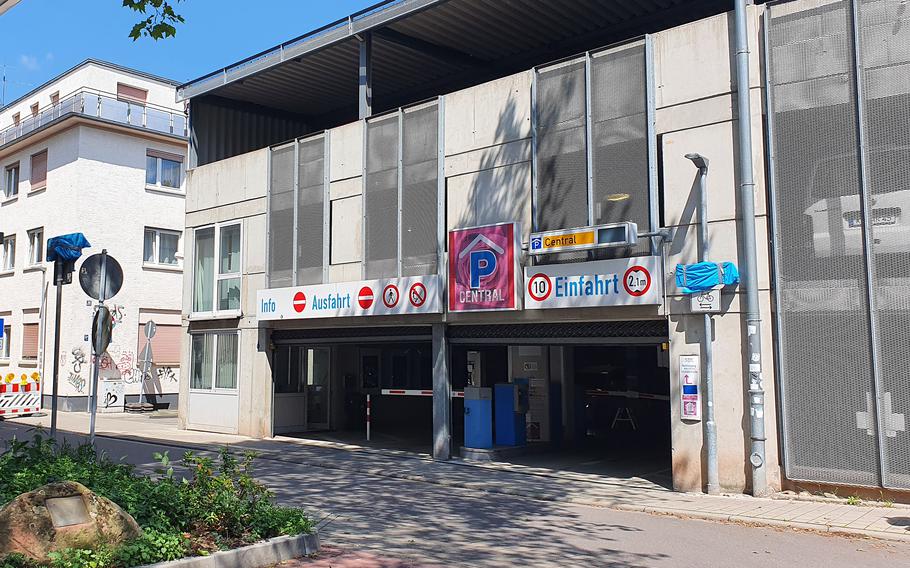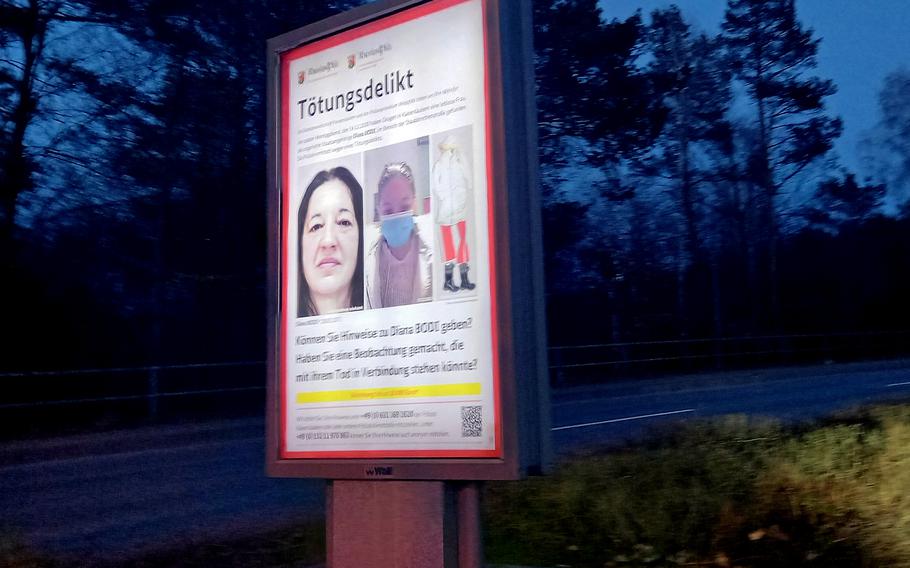 The man seen in the video footage may not be Bodi's murderer, the police statement said. But their investigation indicates he "knows his way around the area, and either spends a lot of time there or lives nearby," it said.
There are no indications that an American or someone with ties to the U.S. military community was involved in Bodi's death, but police have ruled nothing out as they continue their investigation, Erfort said.
"We are still evaluating lots of video material," he said. "There could be clues in the videos that help us find the perpetrator."