Biden meets with Merkel in a sign of a renewed US-European bond
by
Matt Viser 
The Washington Post
July 16, 2021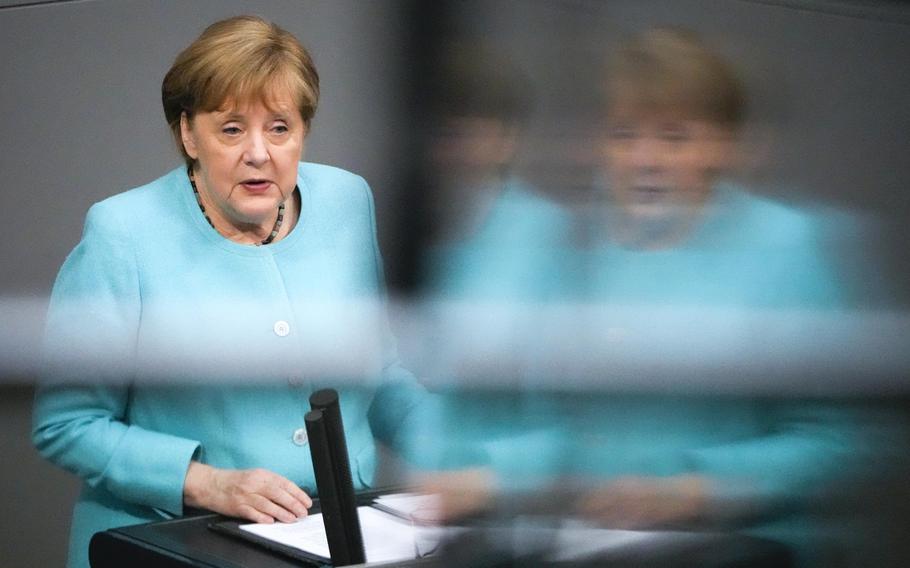 WASHINGTON — President Joe Biden hosted German Chancellor Angela Merkel at the White House on Thursday afternoon to discuss a wide-ranging agenda that marked the president's latest attempt to rekindle warmer relationships with European allies.
Much of the meeting centered on such joint priorities as climate change, COVID-19, Russian cyberattacks and China's economic rise. The two leaders discussed the withdrawal of troops from Afghanistan and reviewed their efforts to revive the nuclear deal with Iran.
But beyond the specific agenda, the meeting carried symbolism as Biden highlights his message that the U.S.-European alliance is back on track after the disruptions of the Trump years. Thursday's session also was significant because Merkel, who routinely clashed with President Donald Trump, will soon end her tenure, after 16 years, as leader of the most powerful country in Europe - and, some would say, as de facto leader of Europe itself.
During the meeting, Merkel repeatedly referred to the president as "Dear Joe." He told her that he would miss seeing her at international summits, as he had over many years.
"We are united," Biden said during their joint news conference. "United in our commitment to addressing democratic backsliding, corruption, phony populism . . . anywhere we find it in the world."
At the start of her meeting with Biden, Merkel hinted at the strained relationship with Trump - and her desire to repair relations.
"We are more than aware of the contribution of America to a free and democratic Germany," she said through a translator. "So I am very much looking forward to deepening the relationship again."
Biden also raised at least one thorny issue: U.S. objections to a major natural gas pipeline connecting Germany and Russia. U.S. officials are concerned that the Nord Stream 2 pipeline, which is nearly 90 percent complete, will give Russia potential leverage over Germany while harming Ukraine by weakening its status as a conduit for Russian natural gas.
"Good friends can disagree," Biden said. "While I reiterated my concerns about Nord Stream to Chancellor Merkel, we are absolutely united in our conviction that Russia must not be allowed to use energy as a weapon to coerce or threaten its neighbors."
Merkel said that any Russian action to threaten Ukraine's role "would create a lot of tension." The status of Ukraine has been of deep concern to both countries since Russia invaded it in 2014 and annexed the region of Crimea.
"Our idea is and remains that Ukraine remains a transit country for natural gas, that Ukraine just as any other country in the world has a right to territorial sovereignty," Merkel said.
Biden and Merkel also discussed a World Trade Organization proposal to waive patent protections on coronavirus vaccines. Biden supports a waiver as a way to ramp up production and allow countries such as India make their own vaccines, while Merkel, like some other European leaders, opposes a waiver as ineffective.
Merkel also raised concerns about coronavirus-related restrictions on movement that are preventing many Europeans from traveling to the United States. Biden told reporters that he had brought the head of his coronavirus task force into the meeting with Merkel, and he said that he would have a more expansive answer within days about how soon restrictions can be lifted.
Thursday's meetings — which included a one-on-one session as well as a wider group discussion - did not result in dramatic breakthroughs or major new policies. They were in many ways a valedictory for Merkel and her long political career. She steps down in September.
During a news conference after their meetings, Biden addressed a range of other foreign policy matters in response to reporters' questions. He said there are no plans for American military assistance to address the political turmoil in Haiti. "The idea of sending American forces into Haiti is not on the agenda at this moment," he said.
Biden also offered his fullest assessment of Cuba and ongoing protests that have erupted in the country against the communist government, and he pointedly restated his condemnation of the current regime.
"Communism is a failed system, universally failed system," Biden said. "I don't see socialism as a very useful substitute. But that's another story."
He said that the country is "a failed state and repressing their citizens." But he stopped short of offering American assistance, citing a distrust of Cuba's leaders.
"There are a number of things that we would consider doing to help the people of Cuba, but it would require a different circumstance or a guarantee that they would not be taken advantage of by the government," Biden said.
He said he would not allow remittances to Cuba because the regime would be likely to confiscate them. He is prepared to give "significant amounts of vaccine" to combat the novel coronavirus, he added, but needed assurances that they would be administered by an international organization.
"They've cut off access to the Internet," Biden said. "We're considering whether we have the technological ability to reinstate that access."
Biden also said his administration would release a new "advisory" on Friday related to Hong Kong.
"The situation in Hong Kong has deteriorated, and the Chinese government is not keeping its commitment it made on how it would deal with Hong Kong," he said.
Merkel's visit marks the first time Biden has met a European leader at the White House in person since becoming president, and it included trappings he's had few opportunities to display. Shortly before 2 p.m., U.S. military personnel stood in a long formation in the White House driveway, holding flags aloft as Merkel arrived in a black Chevrolet Suburban.
An elaborate dinner was planned for Thursday night, with a guest list featuring a wide range of current and former officials, including Hillary Clinton, the former secretary of state and 2016 Democratic presidential nominee; Senate Minority Leader Mitch McConnell, R-Ky., who has moved to block several key parts of Biden's agenda; and House Minority Leader Kevin McCarthy, R-Calif., who earlier on Thursday traveled to Bedminster, N.J., to have lunch with former president Donald Trump.
Administration officials saw the day-long event as Biden's latest effort to reverse Trump's "America First" approach to diplomacy, in which he criticized the funding of NATO and took a tougher approach to longtime allies of the United States. Merkel has a far longer, and warmer, relationship with Biden than she did with Trump, who once appeared to ignore requests to shake her hand in the Oval Office.
"She knows the Oval Office as well as I do," Biden said of the German leader.
Merkel declined during the news conference to compare Biden to past U.S. presidents with whom she has interacted, including Trump.
"Any German chancellor has a vested interest to talk ... with any American president," she said, deeming her interaction with Biden "a very friendly exchange."
Merkel started the day by meeting with Vice President Kamala Harris for breakfast at the U.S. Naval Observatory, Harris's official residence. In brief remarks, Harris praised Merkel's long career and noted that Biden's is the fourth American administration with which the German leader has worked.
"I want to thank you for your years of leadership," Harris said. "I'm very proud that I believe that I am the first vice president to host you at the official residence of the vice president."
She added: "It goes without saying that the relationship between our two countries is one founded on many shared values, including a commitment to democracy around the world. So, welcome, welcome."
Merkel said she was "delighted" to meet with Harris. "I think that we can indeed cooperate very well in order to boost values and also continue to build on them," Merkel said.
"Please," Harris said. "Let's have breakfast."
With that, they entered the residence for a meal of Gruyère soufflé and sourdough bread, served with prosciutto, salami and cucumber.