Biden recommits to US defense of Europe at NATO summit, where new strategy is in the works
by
John Vandiver
Stars and Stripes
June 14, 2021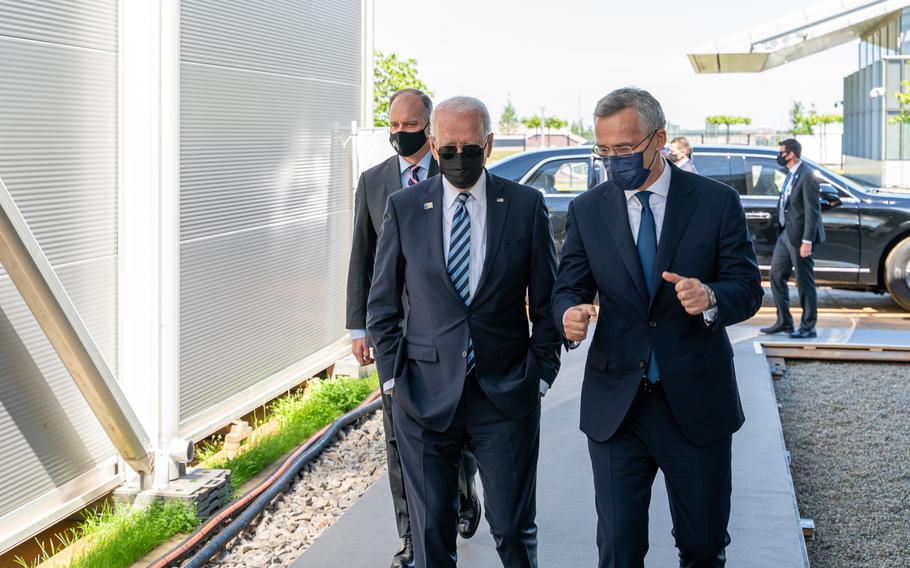 STUTTGART, Germany — President Joe Biden arrived in Brussels on Monday with a message that defending allies in Europe was a "sacred obligation," as NATO's leaders gathered for summit that will result in a new strategy that accounts for the rise of China, climate change and threats in space.
"I want to make it clear, NATO is critically important to U.S. interests in and of itself. If there weren't one (NATO), we'd have to invent one," Biden said upon his arrival at alliance headquarters.
Flanked by NATO Secretary-General Jens Stoltenberg, Biden also described NATO's Article 5 provision that an attack on one member is regarded as an attack on all, as a "sacred obligation." "I want all of Europe to know that the United States is there," Biden said.
For allies, Biden's talk of NATO solidarity comes after four years of angst in Brussels over the U.S. commitment to the alliance. NATO was frequently criticized by former President Donald Trump, who openly questioned the relevance of a security pact that dates to the early days of the Cold War.
"I welcome the fact that we have a president of the United States who is strongly committed to NATO, to North America and Europe, working together in NATO," Stoltenberg said at the start of the summit.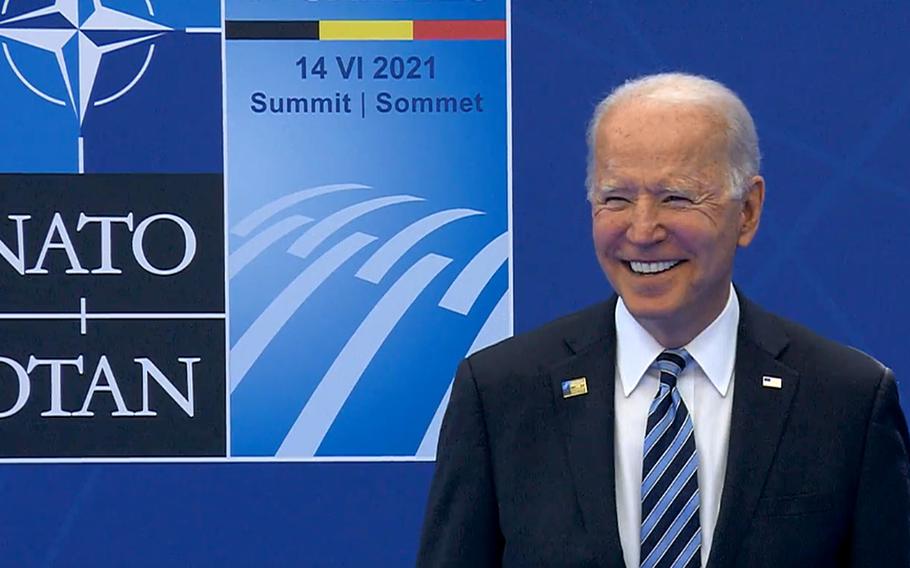 At the top of the conference agenda is NATO's 2030 plan, which calls for adapting the alliance to take on new threats.
Allies also agreed to launch a new "Strategic Concept," which hasn't been updated since 2010 and doesn't currently take into account China's growing military power.
"China is coming closer to us. We see them in cyberspace. We see China in Africa, in the Arctic, but we also see China investing heavily in our own critical infrastructure and trying to control it," Stoltenberg said.
In a communiqué issued after talks, NATO leaders raised concerns about China's "coercive policies" that challenge to "the rules-based international order and to areas relevant to Alliance security. "
"China is rapidly expanding its nuclear arsenal with more warheads and a larger number of sophisticated delivery systems to establish a nuclear triad. It is opaque in implementing its military modernization and its publicly declared military-civil fusion strategy," the communiqué stated. "It is also cooperating militarily with Russia, including through participation in Russian exercises in the Euro-Atlantic area."
The old Strategic Concept also came before Russia's 2014 military intervention in Ukraine. Regarding relations with Moscow, they are now "at its lowest point since the end of the Cold War," Stoltenberg said. "This is due to Russia's aggressive actions."
The new Strategic Concept, which also will deal with the security implication of climate change, will be drafted this year and approved at NATO's 2022 summit.
The 30 member states also agreed to a new cyber defense policy to strengthen coordination and counter "increasingly frequent and severe threats" from malicious cyber activity perpetrated by state and non-state actors.
Stoltenberg, speaking on the sidelines of the summit at an event hosted by the German Marshall Fund think tank, also said that allies agree to recognize that an attack on allied interests in space could trigger an Article 5 response. Article 5 is the cornerstone of the organization's collective defense, stipulating that an attack against a single ally is considered as an attack against all member states.
"We will make it clear at this summit that, of course, any attack on space capabilities like satellites and so on or attacks from space will or could trigger Article 5," Stoltenberg said.
Twitter: @john_vandiver