Marines commemorate 103rd anniversary of Battle of Belleau Wood 
by
Immanuel Johnson 
Stars and Stripes
May 30, 2021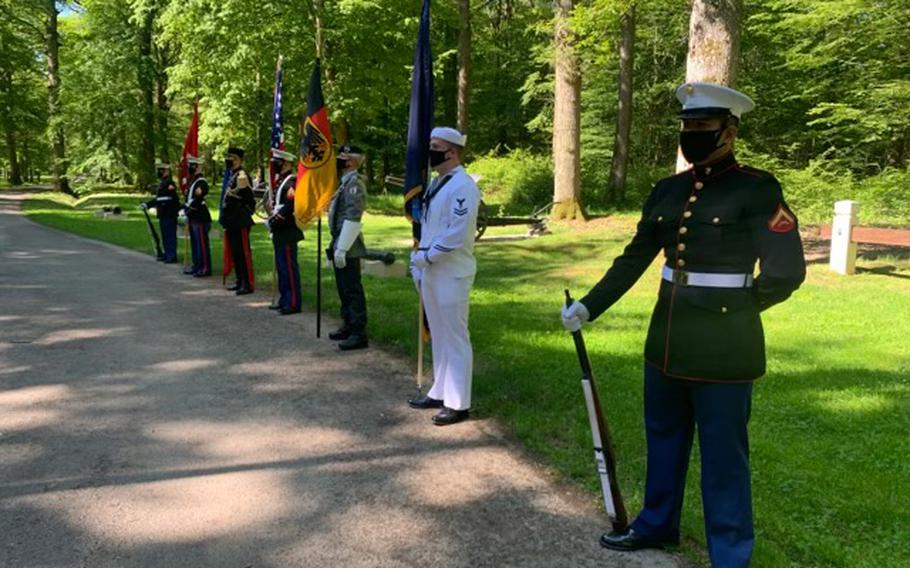 GRAFENWOEHR, Germany – A group of about 100 Marines, some wearing military uniforms from World War I, came together Sunday at an American cemetery in France to pay tribute to fellow Marines who died 103 years ago in the Battle of Belleau Wood.  
Marines from the 5th Marine Regiment, 1st Marine Division Band and Marine Forces Europe and Africa were joined by members of the French and German military during a ceremony at Aisne-Marne American Cemetery to honor service members who fought in the 1918 battle, which was considered a turning point in World War I.
During the Battle of Belleau Wood, Marines and soldiers fought against German forces after they breached the Western Front and came within 45 miles of Paris. The bloody battle lasted about three weeks and claimed nearly 10,000 American lives.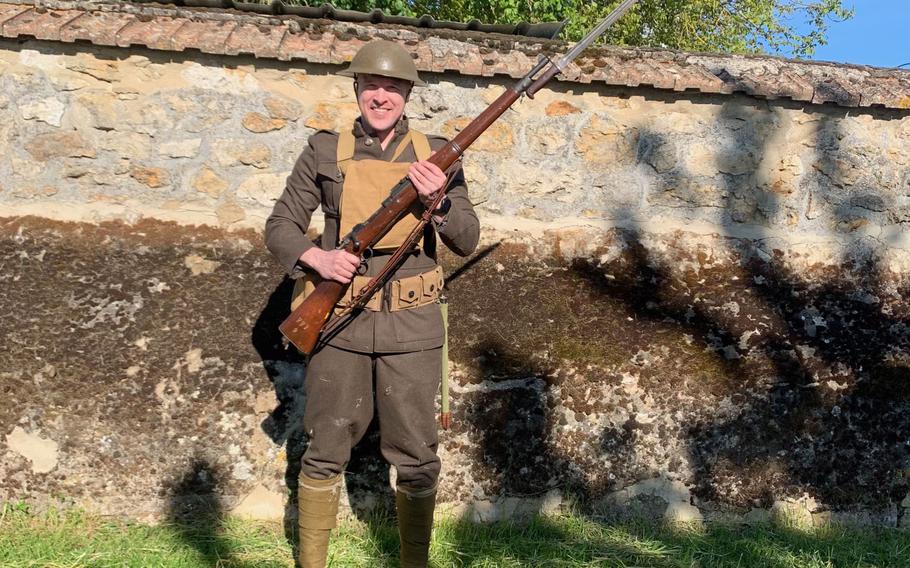 On Sunday, Gunnery Sgt. Daniel Sallee, based out of Stuttgart, wore a World War I uniform and had his portrait painted by the unit historian, whose artwork of costumed Marines will be used later within the unit or offered as gifts.   
"Getting to put on a uniform from that time [is] amazing," said Sallee, a future plans and concepts chief with Marine Forces Europe and Africa. "It brought a surreal sense to me, and it continually makes me appreciate that much more, everything I think people don't appreciate."  
Sallee said putting on the historical uniform "brings back a sense of realism of history long lost."   
Another Marine, who is part of the joint color guard, was excited to attend the ceremony for the first time.  
"It makes me feel excited to be a part of this once in a lifetime chance for myself and my fellow Marines," Lance Cpl. Carlos Rivera, an administrative specialist with U.S. Marine Corps Forces Europe and Africa said. "Honestly, it gives me chills, and I feel honored to be [at Belleau Wood] today."  
Traditionally when this ceremony takes place, Marines drink from the Bulldog fountain to remember those that fought in this battle over a century ago. It is believed that Marines received the nickname "Devil Dog" from German forces during the battle.