Indoor dining in Kaiserslautern district likely, eased city restrictions coming soon as COVID-19 cases fall
by
Marcus Kloeckner and Jennifer H. Svan
Stars and Stripes
May 27, 2021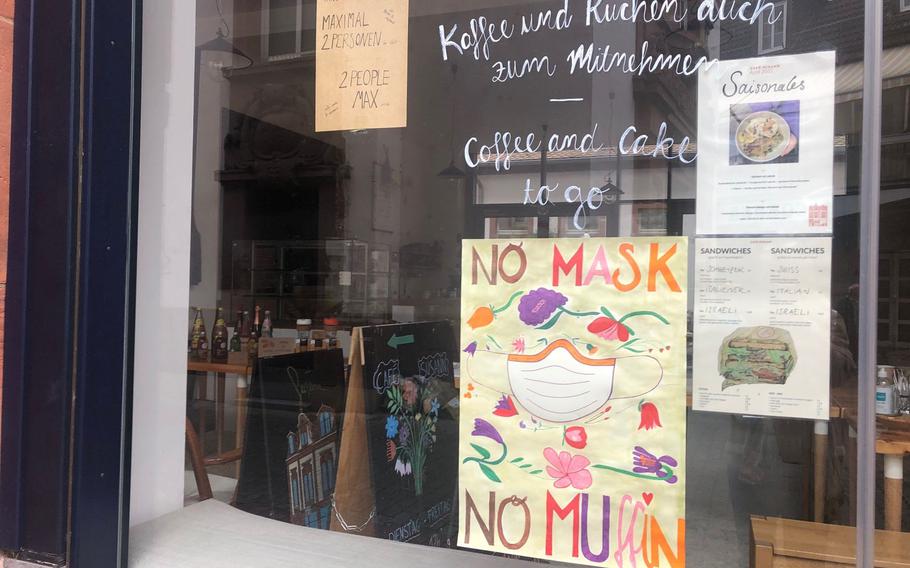 KAISERSLAUTERN, Germany — The city of Kaiserslautern announced it will end its curfew Sunday, and the surrounding district will likely allow indoor dining soon as coronavirus restrictions ease in an area where tens of thousands of U.S. military personnel reside.
The city also will allow retail shops to open to customers without appointments or proof of a negative coronavirus test, officials said in a statement Thursday.
The 10 p.m. to 5 a.m. city curfew ends Saturday at midnight, the statement said.
Contact restrictions will also be eased, with five people from two households allowed to gather in public spaces, the city said. Children 14 and under and people who are fully vaccinated or recently recovered from the coronavirus do not count toward the allowable total for gatherings.
The city on Thursday registered a seven-day average incidence rate of 56 new cases per 100,000 people and dropped below 100 for five consecutive days, which allowed them to lift the federal "emergency brake" restrictions.
Outdoor dining is authorized until 10 p.m. but guests must either show proof of vaccination or present evidence of a negative coronavirus test taken within 24 hours. Reservations must be made in advance and contact details must be provided.
The district of Kaiserslautern, which includes Ramstein Air Base, had an average incidence rate of 35.5 new cases per 100,000 people, including U.S. forces, figures posted by district councillor Ralf Lessmeister showed Wednesday. Without U.S. forces, the number was still under 50, at 41.5 cases per 100,000 residents.
Lessmeister said that Rheinland-Pfalz Health Minister Clemens Hoch informed him this week that U.S. forces would be fully included in the district's figures. It was unclear Thursday how the federal government would respond to the more complete figures.
If the district incidence rate remains under 50 per 100,000 people on Thursday and Friday, Lessmeister said indoor dining and cultural events will be allowed, with evidence of a negative coronavirus test, starting Sunday.
From June 2, indoor group sports with five people maintaining social distancing and outdoor group sports with a maximum of 20 adults would be allowed again, Lessmeister said in a Facebook post.
Kaiserslautern officials had been seeking a court order that would allow them to include U.S. personnel. Since the pandemic began, only positive tests from U.S. forces have been included in the federal government's calculations for local incidence rates.
Including U.S. personnel and NATO members who live in the region would increase the population by about 50,000, Lessmeister has said.
U.S. personnel have very low positive rates, with all adults and most dependents aged 12-17 having access to COVID-19 vaccines. Most Germans are still waiting for vaccine eligibility.
Elsewhere in Germany, Stuttgart on Thursday also lifted some of its coronavirus restrictions after its incidence rate dropped below 100 new cases per 100,000 people for five days in a row. About 28,000 people are affiliated with the U.S. Army garrison in the city and surrounding areas.
Twitter: @stripesktown
---
---
---