'Candy bomber' joins tens of thousands on base for 70th anniversary of Berlin Airlift's end
By
Stars and Stripes
June 10, 2019
---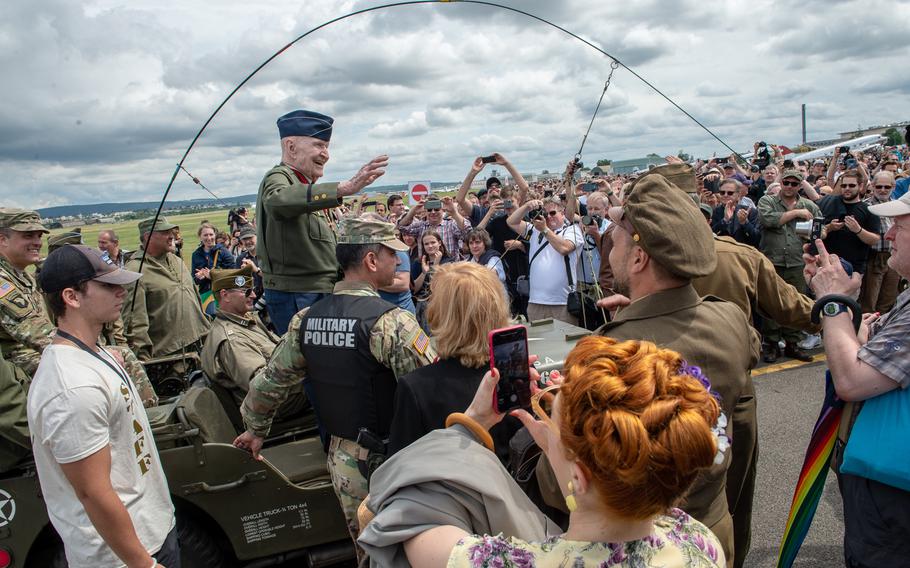 WIESBADEN, Germany — Retired U.S. Col. Gail Halvorsen — better known in these parts as the "Candy Bomber" — will always be a hero in the eyes of the German children who grew up in postwar Berlin, no matter how old they grow.
Seventy years after the lifting of the Soviet blockade that cut off the German capital from food, fuel and other essential supplies, those children still remember the delight of a chocolate bar tied to a makeshift parachute dropping from the sky.
On Monday, amid a grand celebration at Clay Kaserne airfield to commemorate the end of the Berlin Airlift, some of those children, now well into their 70s, thanked Halvorsen for an act that not only took the edge off their hunger but gave them hope during the bleak years after World War II.
"I'm very, very thankful," Vera Mitschrich, who was 5 when the largest postwar relief operation began, told Halvorsen on Monday. "I'm so proud of you. You gave us hope. You gave us food. I never, never will forget you."
Halvorsen was the most anticipated guest of the two-day commemoration, hosted by U.S. Army Garrison Wiesbaden and the city of Wiesbaden. The event features static displays and air demonstrations involving vintage aircraft — including C-47s, the same airframe used during the Berlin Airlift — and a staged candy drop. On Monday, the airfield was open to the public with advance ticket purchases. Base officials said at least 33,000 tickets were distributed.
On Tuesday starting at 9:30 a.m., the event will be open to Defense Department ID cardholders.
Halvorsen, now 98, walked with a cane but seemed otherwise spry, retelling the story of dropping chocolate and sticks of chewing gum to those inside the blockade area like it was yesterday.
"A fresh Hershey's candy bar — to smell that and to know (German kids) just didn't have that, it's really motivating," he said.
The airlift over West Berlin began in June 1948 and continued through September 1949. Allied aircraft flew more than 270,000 flights, keeping more than 2 million people alive by delivering food and other critical supplies around the clock, in every kind of weather.
Halvorsen sparked the idea to drop sweets to German youth after talking to and sharing two sticks of gum with a group of kids through the fence at an airfield where he was working.
Most had lost at least one parent and spoke, above all, of not wanting to lose their freedom, he said. They told Halvorsen they didn't need much food, yet he could see the hunger in their eyes when they looked at the bags of dried eggs, powdered milk and flour "like it was a chocolate milkshake."
"When you go eyeball-to-eyeball with someone in need and you're able to do something about it, there's no better feeling," he said.
Halvorsen said he didn't seek permission first from his boss to drop his rationed chocolate. "There wasn't time," he said. He got caught after his third candy drop.
"Keep doing it. Keep me advised," Halvorsen was told.
When word spread about the "candy bomber," there was no trouble getting supplies. Groups in the States wanted to contribute and Hershey's was one of the biggest supporters, Halvorsen said, figuring it was good advertising.
"I had lots of help," Halvorsen said. "I couldn't have had a better crew."
Mercedes Wild was 7 when she wrote a letter to Halvorsen with a map instructing him where to drop candy in her West Berlin neighborhood.
"I don't care if it scares my chickens. Drop it there," Halvorsen recalled Wild's instructions, while sitting beside Wild at a press conference Monday.
Years later, the two met when Wild invited Halvorsen to her home for dinner.
"Is it OK that we have chicken?" she asked him.
"He asked me, 'Is the chicken from '48?' It was the beginning of a real family friendship," she said.
---
---
---
---