Franchetti takes command of 6th Fleet
By
Stars and Stripes
March 1, 2018
---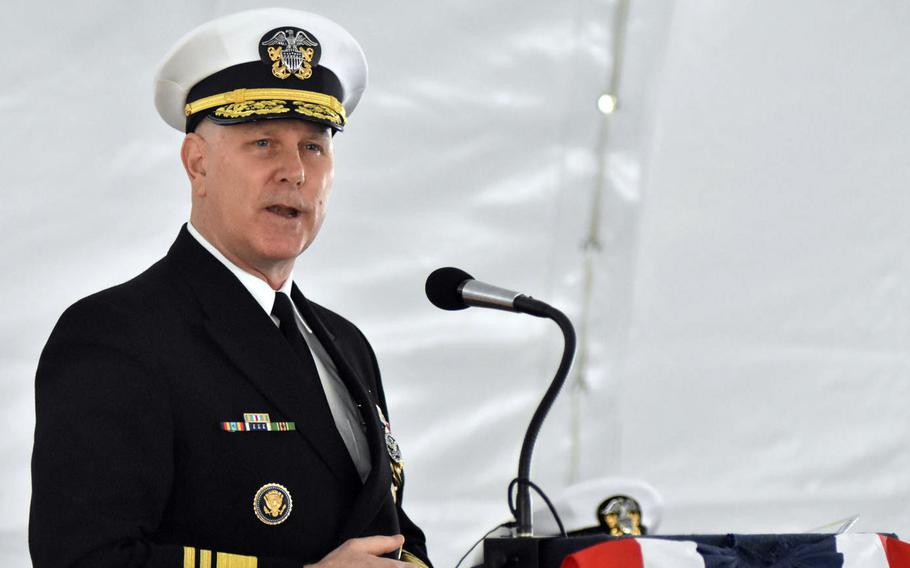 NAPLES, Italy — Vice Adm. Lisa Franchetti assumed command of the Navy's 6th Fleet on Thursday, taking over at a time of growing tensions with Russia.
Vice Adm. Christopher Grady relinquished the command, which he had held for 16 months, and is now in line for a promotion to full admiral in charge of U.S. Fleet Forces.
The change-of-command ceremony took place aboard the USS Mount Whitney in Naples.
"I am confident this team here will continue to excel under your leadership," Grady said to Franchetti, a former commander of Naval Forces Korea who recently worked at The Joint Staff.
Brandishing a ceremonial sword, Grady said, "Always, always keep the cutlass sharp!" — a metaphor for the Navy's power to defend.
Franchetti later echoed Grady's sentiment, calling 6th Fleet and its allies the region's "insurance policy."
"We must continue to confront challenges to peace and prosperity wherever we find them," she said.
Franchetti's past commands include the USS Ross as well as carrier and destroyer strike groups.
Grady has commanded Naval Surface Force Atlantic, the Pacific Fleet's Maritime Operations Center and the USS Carl Vinson carrier strike group for operation Inherent Resolve.
Under Grady's watch, the aircraft carrier USS George H.W. Bush struck at the Islamic State from the Mediterranean, and two of the fleet's destroyers launched Tomahawk missiles at Syria in response to a chemical gas attack.
Russia has significantly beefed up its naval presence in the Mediterranean, where its warships have been supporting combat operations in Syria. Heightened tensions between Russia and the U.S. in the Middle East and Europe have led to the Navy to send more destroyers into the Black Sea.
"It's an increasingly changing, dynamic security environment," Grady said.
wyland.scott@stripes.com Twitter: @wylandstripes
---
---
---
---