Tokyo court awards more money for noise complaints by Yokota Air Base neighbors
by
Hana Kusumoto
January 24, 2020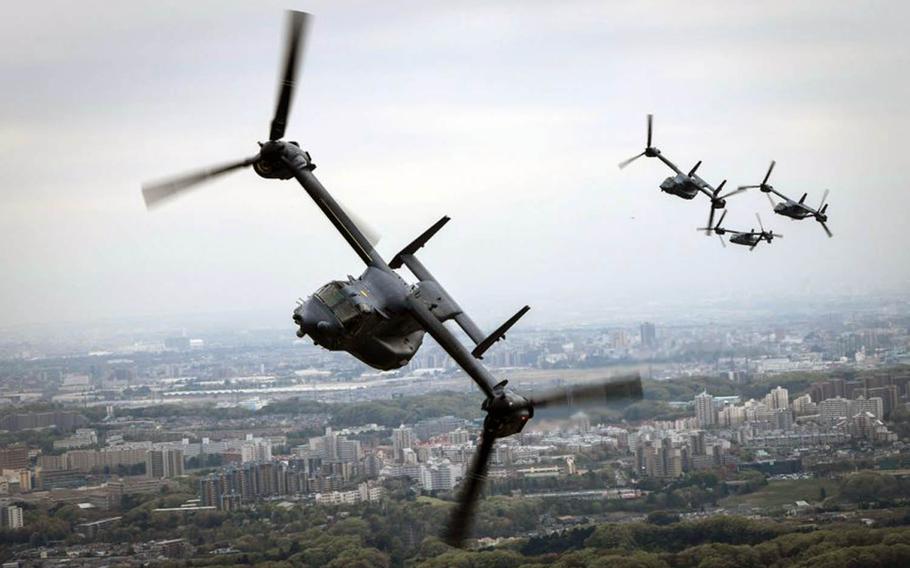 TOKYO – The Tokyo High Court has awarded more money to residents who complained about aircraft noise near the home of U.S. Forces Japan but rejected a demand for a ban on late night and early morning flights.
The court on Thursday ordered the Japanese government to pay just over a million dollars to 144 residents living near Yokota Air Base in western Tokyo for past aircraft noise damage, a North Kanto Defense Bureau official said Friday.
The award was about $146,000 more than a lower court had awarded residents in 2018. The additional money compensated residents for aircraft noise they have experienced since the original decision, the official said.
The court rejected a claim for the future noise damage and suspension of all flights between 7 p.m. and 8 a.m., the official said.
Residents had claimed aircraft noise interrupted sleep and conversations and that the noise had increased since CV-22 Osprey tiltrotor aircraft began operating from Yokota in 2018.
The court ruled that U.S. military activities in Japan are outside of the its jurisdiction, the official said. Official spokespeople in Japan often customarily speak on condition of anonymity.
"It's regrettable that the decision was basically no different from the previous (noise lawsuits) and that we were unable to see a clue to solving the issue," Michio Fukumoto, leader of the resident's group who brought the lawsuit, said Friday.
Residents want to talk to U.S. Forces and the Japanese government about the problem. They plan to appeal the decision about limits on flight hours, Fukumoto said.
Officials of the 374th Airlift Wing at Yokota Air Base did not respond to an email request for comment Friday.kusumoto.hana@stripes.comTwitter:@HanaKusumoto