The Army's first smaller, nimbler combat hospitals roll out at Camp Humphreys
by
Matthew Keeler
August 22, 2019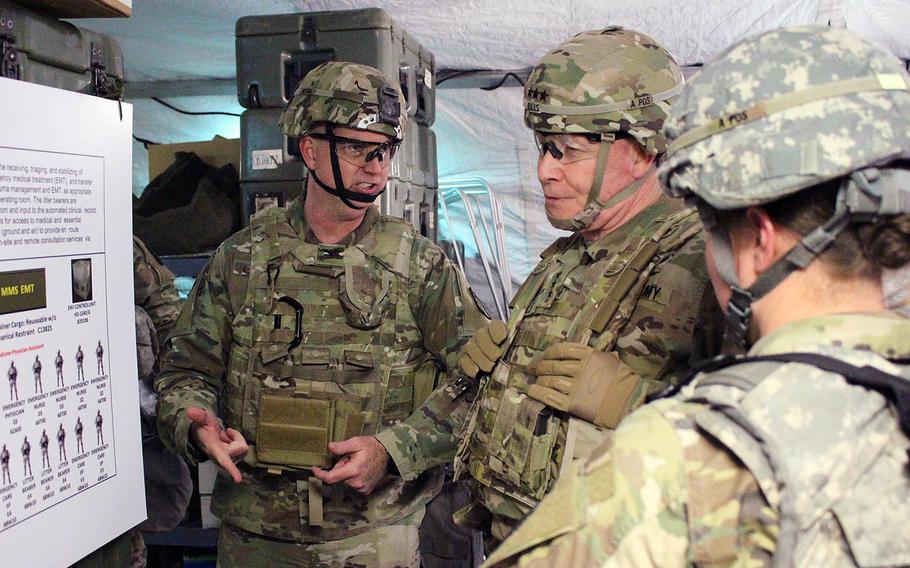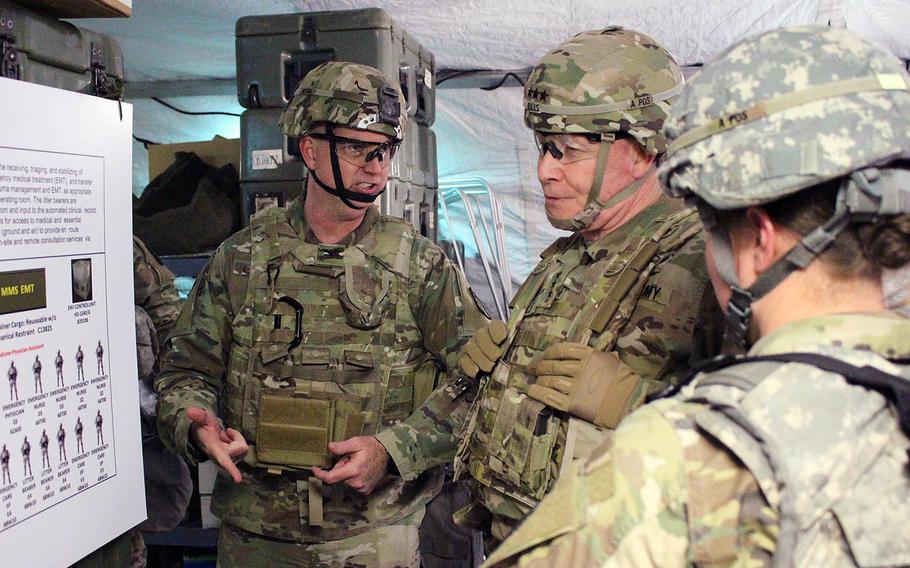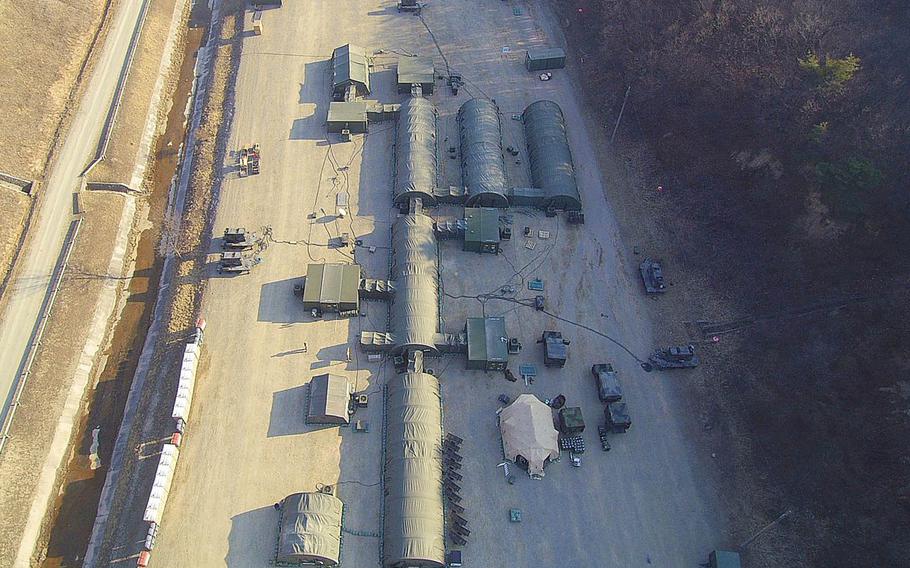 CAMP HUMPHREYS, South Korea — One lesson the U.S. Army learned over the past 18 years of conflict is that it needs smaller, more agile hospital units closer to combat.
At Camp Humphreys, the 549th Hospital Center, is the first unit out of 10 in the active-duty Army to reconfigure itself into smaller components that include two mobile field hospitals and their supporting units.
That way, the unit commander can send the right unit at the size that fits the mission, said Col. Andrew L. Landers, M.D., commander of the 549th and the Brian D. Allgood Army Community Hospital at Camp Humphreys.
"Now we truly do have a scalable force," said Landers. "I can really break it down to decide what units and equipment needs to go where to support a mission set."
The hospital center units themselves were versions of the old mobile army surgical hospitals, or MASH units, made famous by the 1970 movie of the same name and the long-running TV series set in the Korean War.
U.S. Army Forces Command in June 2018 ordered all combat support hospitals to convert to smaller hospital units by 2022. Forces Command is the largest Army command; it tailors, trains and prepares units for expeditionary and other duties according to the needs of combatant commanders, according to its website.
The order says the U.S. Army is to convert all combat support hospital units into five distinct hospital, hospital support and forward surgical teams. The teams become a new deployable force that may be further divided into two 10-person resuscitative and surgical teams that work close to areas of combat.
"After all those years following 9/11 and moving into the post-Iraq War, we noticed we needed a lot more scalable footprint, something that truly was modular," Landers said Monday. "We needed a smaller entry surgical team."
The older combat support hospital design could split its 248 beds into two sections of 84 or 164 beds each, depending on the mission. However, the hospital was structured to operate as one entity due to logistical and pharmaceutical constraints, for example.
With the redesign, the hospital center now consists of the 121st Field Hospital and the 502nd Field Hospital, which are smaller, more agile, with 32 beds each and entirely self-sufficient.
If more beds and services are required, four subordinate units are available to the commander — the 129th, 125th, 150th and 197th medical detachments — along with the 135th Forward Resuscitative and Surgical Team, which is designed to split into two 10-man surgical teams for greater flexibility.
Collectively, the four detachments can provide personnel and up to 176 additional beds, surgical and intensive care capabilities, nutrition and behavioral health services.
"Depending on location there are now a lot more tailorable packages that I can now move around the theatre instead of being locked into two places," said Landers. "I can now support four to six places, which could never be done before."
The 549th Hospital Center is currently the only active-duty unit that has completed the full design update. Landers said several units within the Army Reserve, which provides a lot of deployed medical care, have completed the conversion since the order was issued.
"No design is ever perfect, but the good thing is the Army and Army Medicine is rapidly making changes that fit the current fight," said Landers. "Especially here in Korea, this gives us a lot of options that we never had before."
Landers commands both the 549th Hospital Center and the new $215 million Allgood hospital, which is scheduled to officially open Nov. 15. He is the former commander of the 121st Combat Support Hospital at U.S. Army Garrison Yongsan in Seoul. The hospital deactivated on July 16 after 69 years of service, forming the new Hospital Center and its subordinate units.
Maintaining a combat-ready medical unit is a tricky situation in Korea. Landers has 87 personnel assigned to him that work outside of Korea, 77 at Tripler Army Medical Center, Honolulu, Hawaii, with the remainder at Fort Belvoir, Va., Joint Base Lewis-McChord, Wash., Fort Sam Houston, Texas, and Fort Gordon, Ga.
The specialists, such as thoracic or trauma surgeons, attached to his command need to stay in practice, so they are detached to duty stations where their services are in demand, Landers said.
"If we go to war, I need you," he said, "but day-to-day I need that person where they are doing trauma, so they keep their skills up,"
keeler.matthew@stripes.com Twitter: @MattKeeler1231