Pacific Storm Tracker
Tropical Depressions 17W, 18W, # 1
Stars and Stripes
September 22, 2022
---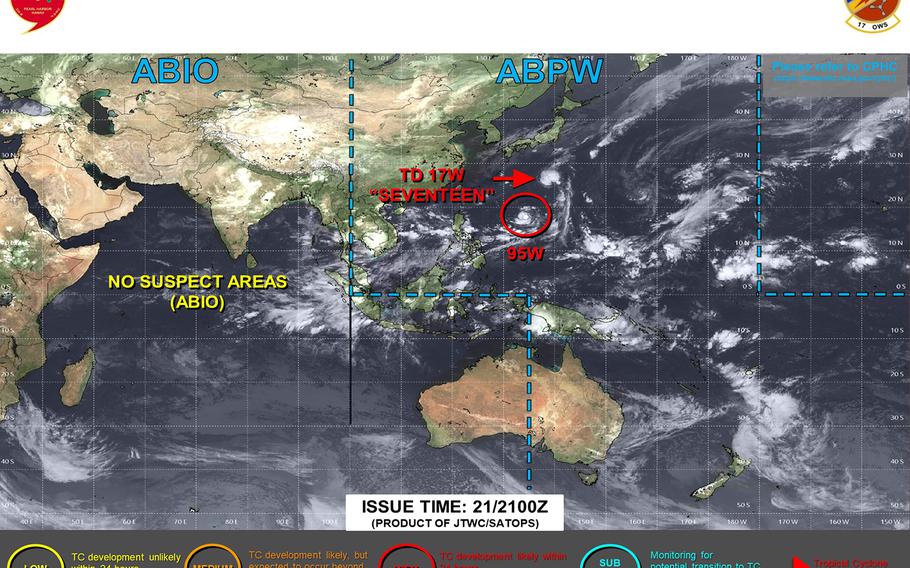 12:50 p.m. Thursday, Sept. 22, Japan time: In a span of about 12 hours, two tropical depressions spawned in the northwest Pacific, neither of which appear to be a major typhoon-like threat to U.S. bases in Japan or Okinawa at present according to the Joint Typhoon Warning Center's forecast tracks.
Tropical Depression 17W, which formed overnight south of Tokyo, was about 650 miles south of Yokosuka Naval Base at 9 a.m., moving northwest at 14 mph with 29-mph sustained winds and 40-mph gusts.
JTWC projects 17W to peak as a tropical storm, curve northeast and pass 29 miles northwest of Yokota Air Base at mid-afternoon Saturday with 40-mph sustained winds and 52-mph gusts at center, bringing a forecast of showers and gusty winds through the weekend.
Tropical Depression 18W spawned Thursday morning, and was about 760 miles southeast of Kadena Air Base at 9 a.m.. It was moving east at 7 mph, with 35-mph sustained winds and 46-mph gusts. JTWC forecasts it to do an about face and head directly west, away from Okinawa, toward Luzon in the northern Philippines as a tropical storm.
---
---
---
---