Pacific Storm Tracker
Tropical Storm 12W (Hinnamnor), # 1
By
Stars and Stripes
August 28, 2022
---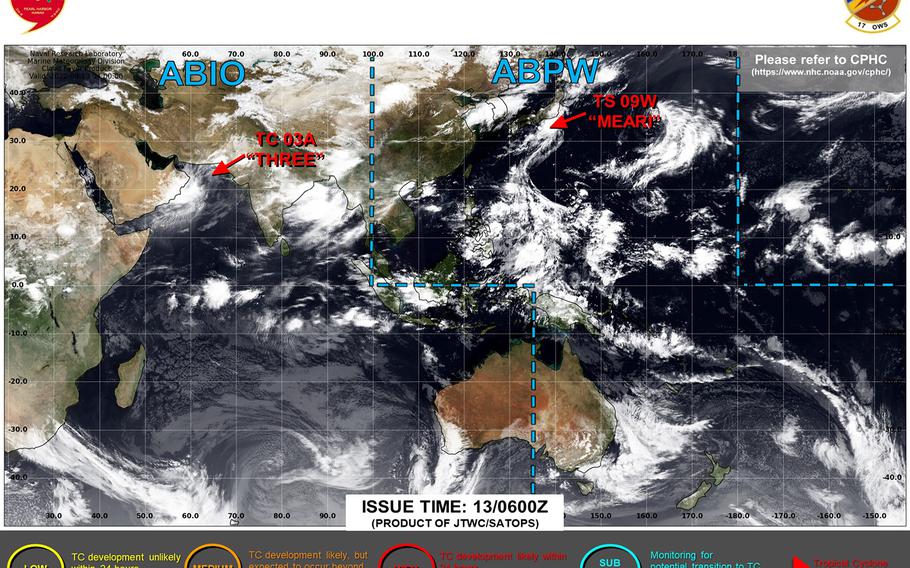 7:45 p.m. Sunday, Aug. 28, Japan time: This shoe, we've been waiting to drop for a few days. Will there be a typhoon coming to Okinawa this weekend or not? If not, then what? If so, then how strong and when?
Well, Joint Typhoon Warning Center has come out with its initial warning on Tropical Storm Hinnamnor (Laotian for a national protected area). And for the moment, the news looks pretty good for Okinawa.
If Hinnamnor remains on present heading, JTWC projects it to peak at 50 knots (58 mph) at mid-afternoon Thursday, and pass 321 miles northeast of Kadena Air Base at about 7 p.m. Thursday before curving north toward the east coast of Kyushu Island.
It's been back and forth, back and forth, so hopefully, we've begun to get some sense of the thing. Model-track guidance and the GFS forecast ensemble best track generally agree with the JTWC's initial forecast track, with variations. We'll see where things lead.
---
---
---
---