Pacific Storm Tracker
Record-breaking rain continues to pound Korea
By
Stars and Stripes
August 8, 2022
---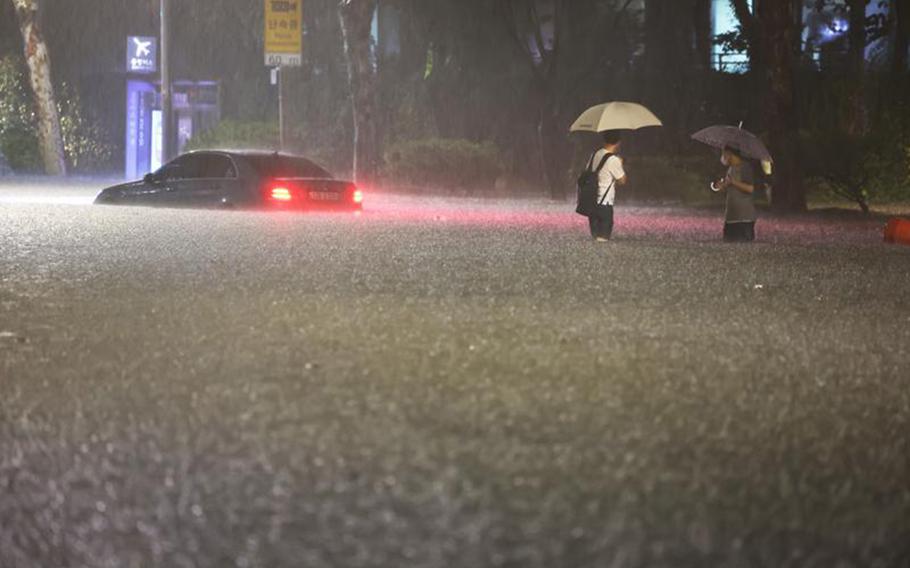 9:15 p.m. Tuesday, Aug. 9, Korea time: The Korean peninsula hasn't seen this much rain in eight decades or more.
From Monday to Tuesday evening, more than 18 inches of rain fell in the Dongjak district of South Korea's capital city of Seoul. At one point Monday evening, 5½ inches of rain fell in one hour, the highest hourly downpour measured in Seoul since 1942, according to The Associated Press.
Yonhap News Agency reported that Korea Meteorological agency's weather station in Dongjak recorded 381½ millimeters (15 inches) of rain for Monday, beating the old official record of 354.7 millimeters (almost 14 inches) registered in August 1920 and the most since Korea began its first modern weather tracking in 1907.
At least nine people were dead and six others missing, both Yonhap and AP reported. Rain turned streets into rivers and overflowed the banks of the Han River bisecting the capital.
And it's not over yet. KMA forecasts more rain through Thursday, particularly in north, central and western portions of South Korea, including Dongducheon, near Camp Casey, and Pyeongtaek, near Osan Air Base and Camp Humphreys.
Take special care when driving; keep your headlights on, especially in heavy rain. Pay attention to local command's road conditions, closures and warnings.
---
---
---
---