Pacific Storm Tracker
95W Invest: Tropical cyclone formation alert canceled
by
Dave Ornauer
Stars and Stripes
June 30, 2021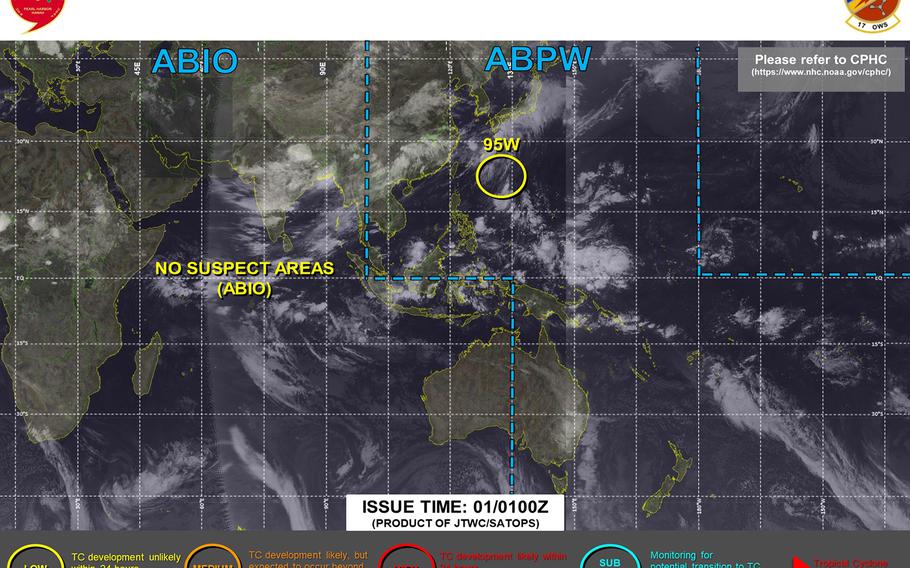 11 a.m. Thursday, July 1, Japan time: Joint Typhoon Warning Center has canceled the tropical cyclone formation alert for disturbance 95W Invest. JTWC reports 95W Invest, 426 miles east-southeast of Kadena Air Base, Okinawa, is in an unfavorable environment for development, with high vertical wind shear (between 35 and 46 mph the main culprit. U.S. bases on Okinawa remain in seasonal Tropical Cyclone Condition of Readiness 4. Storm Tracker will keep an eye on it for any changes, but for now, this is the final report on 95W.
***
10:45 p.m. Wednesday, June 30, Japan time: Tropical disturbance 95W Invest continues to struggle to develop as it lurks southeast of Okinawa. Whether it becomes a tropical cyclone, how close it might come to Okinawa (if it does) and how strong it might become still remain open to question.
At 9 p.m., 95W was 670 miles southeast of Kadena Air Base, moving generally west at 9 mph. Peak sustained winds at 95W's center are currently 23 mph. Model solutions still indicate a track generally west, to Okinawa's south. Vertical wind shear is impacting its development, and whatever window it might still have to develop appears to be closing rapidly.
For general weather fans, it appears as if there may be a break in the seemingly endless spate of showers and thunderstorms by early Friday. Storm Tracker has the watch.
***
1:30 p.m. Wednesday, June 30, Japan time: A tropical cyclone formation alert has been issued on disturbance 95W Invest by the Joint Typhoon Warning Center.
At 10:30 a.m., 95W was 865 miles southeast of Kadena Air Base, Okinawa, moving west-southwest at 9 mph. JTWC projects 95W to move west-northwest in the next 24 to 36 hours, steadily intensifying as it moves.
Forecast ensembles generally agree on a northwest track in Okinawa's general direction before curving north. Well too early to say definitively where 95W might go until an official forecast track is issued. Stay tuned.