PACIFIC STORM TRACKER
Tropical Depression 04W (Choi-wan), # 21 FINAL
by
Dave Ornauer
Stars and Stripes
May 28, 2021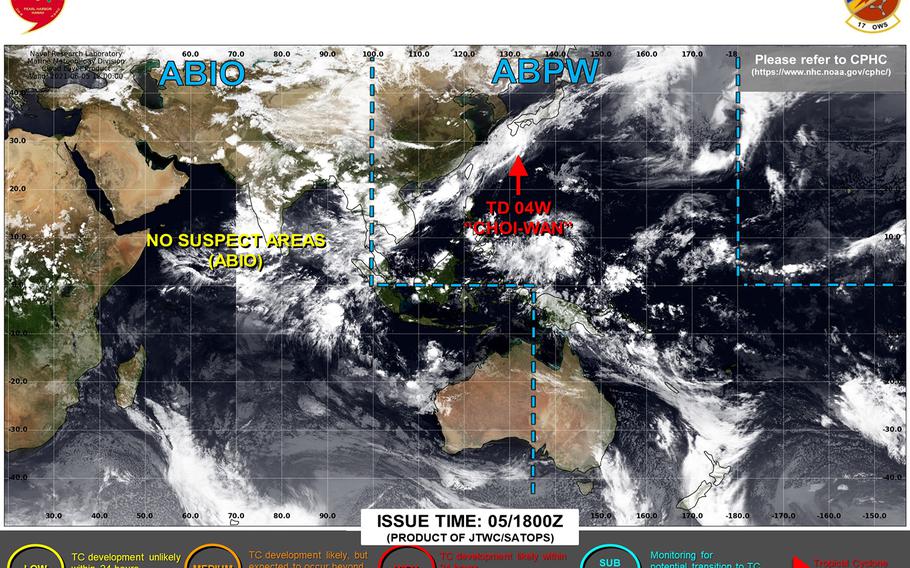 12:30 a.m. Sunday, June 5, Japan time: Final warning on Choi-wan has been issued by the Joint Typhoon Warning Center, which downgraded it to a tropical depression, most likely for the final time.
At 9 p.m., Choi-was was 106 miles north-northeast of Kadena Air Base, Okinawa, racing northeast at 31 mph and had weakened to 29-mph sustained winds and 40-mph gusts.
Kadena's 18th Wing Weather Flight forecast still calls for rain, heavy at times, overnight Saturday into Sunday and gusts up to 33 mph through Sunday. Rain also remains forecast, between 50- to 80-percent chance of showers and scattered thunderstorms, through mid-week.
As for latitudes north and east of Okinawa, Choi-wan (or remnants thereof) are forecast to pass in rather rapid fashion 85 miles south-southeast of Yokosuka Naval Base at about 8 p.m. Sunday. Yokosuka's official forecast calls for nothing untoward wind-wise, with light showers on Monday.
Barring anything unexpected, this is Storm Tracker's final report on Choi-wan.