Small fire, quickly extinguished, injures 13 aboard Japan-based Navy cruiser
by
Caitlin Doornbos
September 29, 2020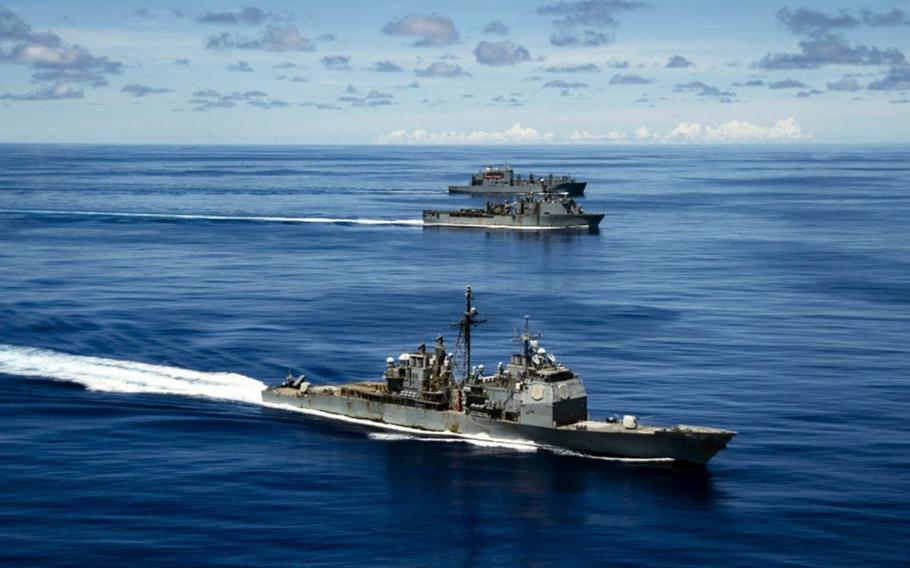 YOKOSUKA NAVAL BASE, Japan — Thirteen sailors received minor injuries in a small fire aboard the USS Antietam on Thursday, 7th Fleet officials told Stars and Stripes.
The sailors were hurt while responding to the blaze in an engineering space. They returned to duty after being treated by the guided-missile cruiser's medical team, 7th Fleet spokeswoman Cmdr. Reann Mommsen said in an email Monday night.
"Crew members quickly extinguished the fire with no damage to engineering equipment and Antietam remains fully operational," she said.
Investigators are working to discover the fire's cause, Mommsen said.
The Antietam was in the Philippine Sea last week participating in the Valiant Shield exercise with the aircraft carrier USS Ronald Reagan, guided-missile cruiser USS Shiloh, amphibious assault ship USS America, dock landing ship USS Germantown and dry cargo ship USNS Sacagawea, according to the Navy.
The Antietam's was the second fire reported aboard a U.S. vessel in the Western Pacific since last week. On Sept. 20, five crew members of the Coast Guard cutter Waesche were hurt while battling a blaze in the exhaust stack and nearby areas.
The Waesche diverted to Yokosuka on Sept. 22 to determine the fire's cause and extent of its damages.
The USS Antietam has been underway in the Western Pacific since deploying from its Yokosuka homeport in February.
In January 2017, the Antietam ran aground on shoals outside Yokosuka Naval Base and leaked approximately 1,100 gallons of hydraulic fluid into Tokyo Bay. The ship's commander at the time, Capt. Joseph Carrigan, was relieved two months later following an investigation into the incident.
doornbos.caitlin@stripes.com Twitter: @CaitlinDoornbos