Sasebo beer garden ends monthslong drought for military drinkers in Japan
by
Seth Robson
June 1, 2020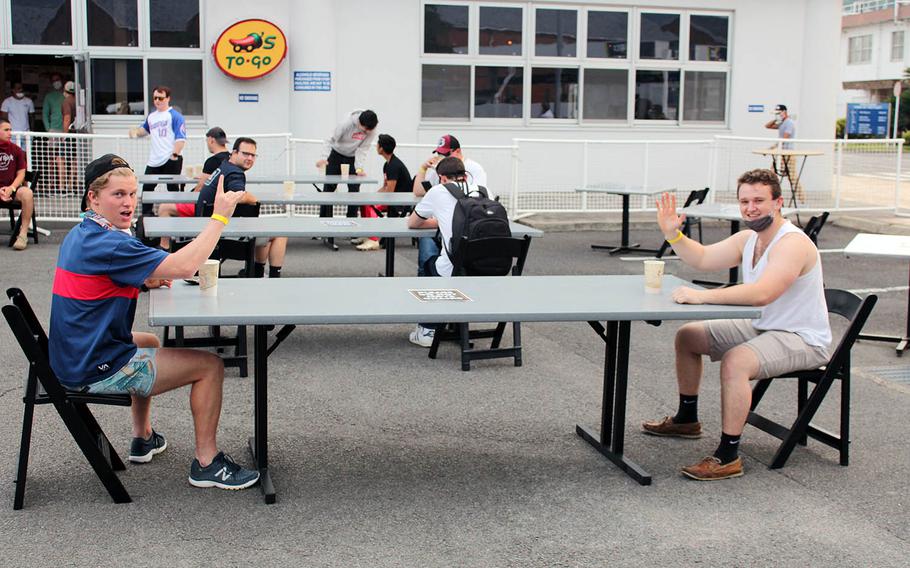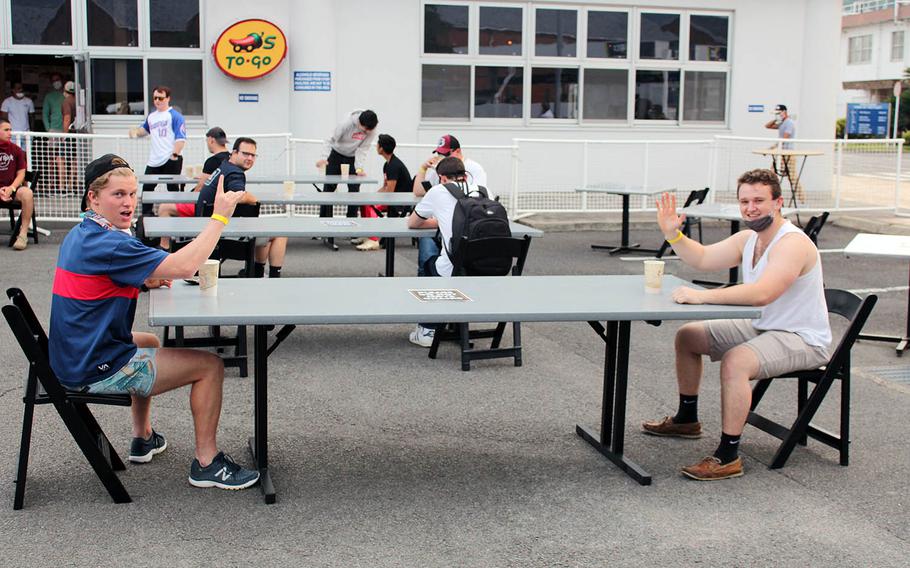 Stars and Stripes is making stories on the coronavirus pandemic available free of charge. See other free reports here. Sign up for our daily coronavirus newsletter here. Please support our journalism with a subscription.
Sailors at Sasebo Naval Base toasted each other in a makeshift, outdoor beer garden Friday and Saturday, marking a return to social drinking for troops in Japan after months of coronavirus restrictions.
Off-base bars and clubs in Japan have been off-limits and base watering holes have been closed since mid-April, when U.S. Forces Japan commander Lt. Gen. Kevin Schneider declared a public health emergency for all U.S. military installations there.
On Friday, however, Sasebo sailors were able to make merry in a beer garden next to the base's shuttered enlisted Galaxies Club.
One of the first sailors to imbibe Friday night was Petty Officer 1st Class Leonexon Rodriguez, 38, of Brooklyn, N.Y., a logistics specialist on the amphibious transport dock ship USS Green Bay.
"The last time I went to the pub was before we went underway," he said by phone from the beer garden. "We left at the beginning of January and got back in April."
Since then, with bars and restaurants closed or off-limits, Rodriguez has stuck to a routine of going between his home and workplace, he said.
The sailors enjoyed the chance to drink beer in a social setting, he said.
"I see lot of the guys," he said. "We are yelling to each other because of the music."
The amphibious assault ship USS America, the Green Bay and the minesweepers USS Warrior, USS Chief, USS Patriot and USS Pioneer are all in port, according to Scott Poluhowich, the Morale, Welfare and Recreation director at Sasebo.
"Our ships are coming back and these guys are looking for a chance to get off the ships," he said.
Many of the sailors are sleeping on the ships because the onshore accommodation they'd normally stay in is being used to quarantine other sailors before they head to out sea, he said.
"They're looking for a chance to get off the ships, but the clubs are closed, and the restaurants are only doing takeaways," he said.
A tour in Naples and several visits to Germany gave Poluhowich some good ideas about what a beer garden should look like.
The Sasebo beer garden, in a parking lot, included tables that allow sailors to spread out with beer on tap and "DJ Yoshi" playing requests from the crowd, he said.
The sailors could fill up on brisket burgers and Italian sausage sandwiches while they drank from 5 p.m. to 10 p.m., Poluhowich said.
"We have the tables marked off and we will be watching to make sure they are 6 feet apart," he said.
The naval base has reported only one coronavirus case in its military community. Nagasaki prefecture, where the base is located, had reported 17 cases by Friday, according to Nippon.com.
But base officials have taken a cautious approach, and personnel are still prohibited from doing much off-base.
The beer garden will be open weekends until regular facilities get the green light, Poluhowich said.
"We are trying to take advantage of the next couple of weeks before rainy season kicks in," he said.
robson.seth@stripes.com Twitter: @SethRobson1