Navy bases near Tokyo further restrict movement following coronavirus emergency declaration
by
Caitlin Doornbos
April 7, 2020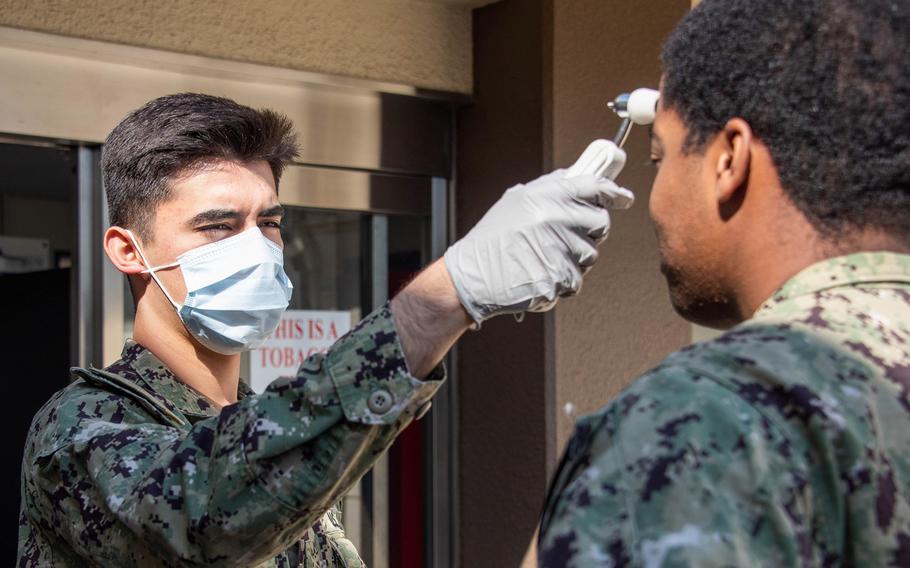 Stars and Stripes is making stories on the coronavirus pandemic available free of charge. See other free reports here. Sign up for our daily coronavirus newsletter here. Please support our journalism with a subscription.
YOKOSUKA NAVAL BASE, Japan — The declaration of a public health emergency by U.S. Forces Japan on Monday prompted commanders at two naval bases near Tokyo to tighten restrictions on sailors and civilians.
At Naval Air Facility Atsugi, commander Capt. Lloyd Mack implemented a shelter-in-place order Monday night to "further limit movement and potential for exposure," he said in an announcement on the official base Facebook page Monday evening.
"Shelter-in-place does not confine anyone to their homes, barracks or off-base residences," Mack said in a video posted to the Facebook page. "It simply restricts all unnecessary movement about the base or off base."
The public health emergency gives commanders authority over the civilian dependents and employees, including contractors, on their facilities. Under previous restrictions, most civilians were simply encouraged to abide by travel and other limits imposed on service members.
"These protective measures are not voluntary for civilians — they are mandatory," he said. "They are vital to help us kill the spread of coronavirus."
Under Mack's order, only "designated mission-essential personnel should report to work, and then, only under the direction of your supervisor," he said in the video.
Entrance to the base is limited to mission-essential personnel between 7 p.m. and 10 a.m. Monday through Saturday, and 6 p.m. to 10 a.m. on Sundays.
Civilians and service members who live off base may buy "essential goods and groceries" from facilities on base, such as the Navy Exchange and commissary, during regular business hours, Mack said in the video.
No one associated with Atsugi had tested positive with for coronavirus as of Monday, Mack said in the video.
"We need you to focus on the measures and policies we're putting in place to win the defeat of this threat," Mack told the Atsugi community in the video.
At Yokosuka Naval Base, the USFJ declaration prompted Yokosuka authorities to only allow only non-essential personnel to enter base only between 9 a.m. and 7 p.m. beginning Tuesday. Mission-essential personnel can enter for work purposes anytime.
Non-essential personnel will also be required to identify themselves, their sponsoring commands, their destinations and purpose for entering or leaving the base, according to an image of a form on the official base Facebook page. The form also asks for the number of contacts the subject has recently had.
Yokosuka Naval Base has been under a shelter-in-place order since March 27, after three active-duty sailors tested positive for the coronavirus within 24 hours.
The Navy has since declined to release the number of additional cases at specific installations, but the city of Yokosuka reports that two of the 18 Yokosuka residents who have tested positive as of Monday are base employees, according to its official website.
doornbos.caitlin@stripes.com Twitter: @CaitlinDoornbos
---
---
---
---