Mattis cancels China trip after Chinese, US Navy destroyers nearly collide
by
Corey Dickstein Wyatt Olson
October 2, 2018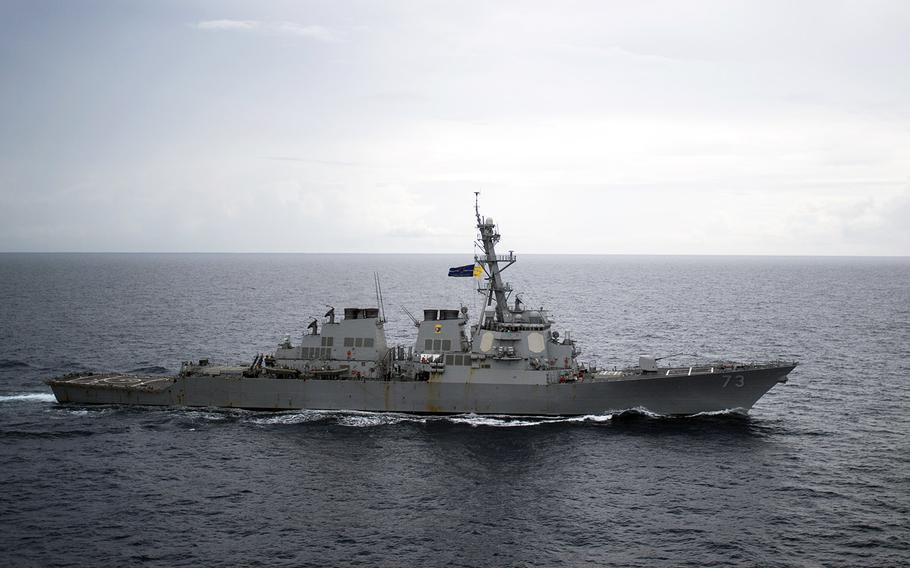 WASHINGTON – Defense Secretary Jim Mattis said Tuesday that U.S.-Chinese relations have not worsened despite canceling his visit to the rival nation one day after a Chinese ship veered within 45 yards of a U.S. Navy destroyer.
The Navy described the encounter Sunday in the Spratly Islands in the South China Sea as "an unsafe and unprofessional maneuver." The USS Decatur, an Arleigh Burke-class destroyer, was conducting a routine freedom of navigation patrol about 8:30 a.m. near Gaven Reefs when the People's Republic of China destroyer Luyang approached the ship, the Navy said in a statement.
"The PRC destroyer conducted a series of increasingly aggressive maneuvers accompanied by warnings for [the] Decatur to depart the area," Lt. Cmdr. Tim Gorman, a spokesman for U.S. Pacific Fleet, said in the statement. "The PRC destroyer approached within 45 yards of [the] Decatur's bow, after which [the] Decatur maneuvered to prevent a collision."
On Monday, Mattis scrapped plans to visit China later this month, a U.S. defense official said. The official spoke on condition of anonymity to confirm the trip, which had not been officially announced by the Pentagon.
Mattis and Secretary of State Mike Pompeo were planning the joint security talks with their Chinese counterparts, the official said. It would have marked the second visit to China for Mattis, who visited Beijing in June.
Despite the increased tensions, Mattis insisted in remarks made Tuesday in Paris that the relationship between the two countries was not worsening.
"There's tension points in the relationship, but based on discussions coming out of New York last week and other things that we have coming up, we do not see it getting worse," Mattis told reporters traveling with him to Paris, according to The Associated Press. "We'll sort this out."
The latest developments came after China protested recently American bombers flying over sections of the South and East China Seas, in operations the Pentagon described as routine. Additionally, China last week denied an American warship request for a port call in Hong Kong and it canceled a planned visit of its top naval officer to Washington.
China has also demanded the United States cancel its sale to Taiwan of $330 million in parts for U.S.-made F-16 fighters and other military aircraft used by the island nation, which mainland China regards as a renegade province.
The United States recently put in place sanctions on China's Equipment Development Department, as well as its director, because of aircraft and missile purchases it made this year from a Russian arms exporter.
The United States had placed sanctions in 2017 on that exporter, Rosoboronexport, in response to Russia's interference in America's 2016 presidential election.
Tensions between the two powers have long existed, primarily over the Chinese militarization of manmade islands — including the Spratlys — in portions of the South China Sea that are claimed by several counties.
In a 2016 ruling, the tribunal of the Permanent Court of Arbitration — an intergovernmental organization that resolves international disputes including territorial and maritime boundaries — concluded Gaven Reefs did not possess significant land features and thus lacked an exclusive economic zone, as China had claimed.
Nevertheless, China expanded some land features in the reefs through sand dredging in 2014 and 2015 and then militarized the reefs with anti-aircraft and naval guns and radars.
China frequently challenges U.S. ships and aircraft passing through parts of the South China Sea, sometimes with radio warnings, but at other times by using harassing maneuvers.
"U.S. Navy ships and aircraft operate throughout the Indo-Pacific routinely, including in the South China Sea," Gorman said. "As we have for decades, our forces will continue to fly, sail and operate anywhere international law allows."
The Pentagon has no plans to alter its operations in the South China Sea following the recent incidents, the defense official said, describing ongoing military operations in the area as "business as usual."
olson.wyatt@stripes.com Twitter: @WyattWOlson
dickstein.corey@stripes.com Twitter: @CDicksteinDC