Marine general vows to lead Okinawa-based logistics group out of coronavirus pandemic
by
Matthew M. Burke
August 20, 2020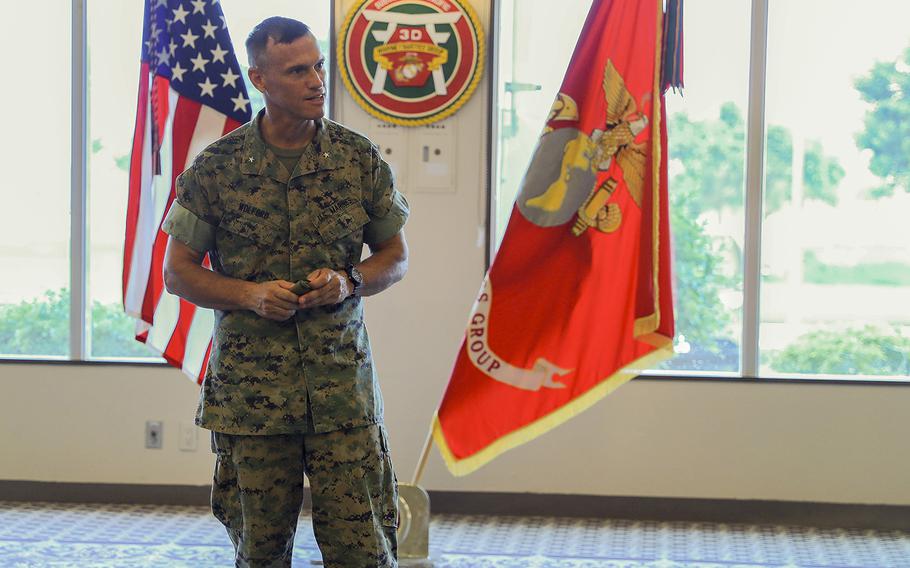 Stars and Stripes is making stories on the coronavirus pandemic available free of charge. See other free reports here. Sign up for our daily coronavirus newsletter here. Please support our journalism with a subscription.
CAMP FOSTER, Okinawa — Marine Brig. Gen. Brian Wolford, fresh from Afghanistan, took over the 3rd Marine Logistics Group this week and pledged to lead his new command out of the coronavirus pandemic to something resembling normal.
The group, based at Camp Kinser, provides combat logistics support for the III Marine Expeditionary Force. Wolford assumed command Wednesday from Col. Maura Hennigan in a closed ceremony due to virus concerns. Hennigan is headed to the Pentagon to serve as a legislative liaison to the commandant for personnel, military justice and medical issues.
All U.S. bases on Okinawa are under a substantial risk of coronavirus infection, in military terms Health Protection Condition-Charlie, which was re-imposed after the number of cases on the island surged last month. Under condition Charlie, personal protection measures are mandatory, off-duty activities are limited and off-base travel is restricted to essential services such as medical appointments, grocery shopping and bill paying.
"There are things we need to do in order to protect our force and the recommendations come from the medical professionals," Wolford told Stars and Stripes by phone Thursday. "We need to adhere to those and get back to normal as fast as possible so we can continue to do the mission."
Wolford said he expects to find a way forward despite the pandemic.
"That's one of my big pushes, is to get back to doing all of our jobs while adhering to the medical advice so we can continue to move on," he said.
As of Thursday, the coronavirus had infected 353 people affiliated with the U.S. military on Okinawa. The prefecture itself has more than 850 active cases.
Wolford plans to get the logistics group on a pre-pandemic footing by providing things like routine medical and dental services to III MEF again, he said Thursday.
The general also said he expects the group to continue its exercises unabated and to enhance its 3D printing capabilities.
The 3rd Marine Logistics Group is composed of 5,600 Marines and sailors throughout the Indo-Pacific region, a Marine statement said.
"What I want to focus on is getting back to the basics and supporting the Marines and sailors that we have here," he said. "It's amazing what you can accomplish when you can do your job well and then simply applying it to whatever the mission set you have to do. So, I'm looking forward to getting back to the basics, which includes getting the Marines deployed, getting the Marines engaged throughout the theater and keeping them sharp in their skill sets."
This is Wolford's second tour on Okinawa. He most recently commanded Bagram Airfield, the largest coalition airfield in Afghanistan, and served as deputy commanding general of the U.S. National Support Element-Afghanistan.
He is a prior enlisted combat engineer with a doctorate in interdisciplinary studies for leadership from North Carolina Agricultural and Technical State University. According to his biography, Wolford has seen the world in wide-ranging assignments: logistics officer in Iraq and Afghanistan, hurricane relief in Florida, earthquake relief in Turkey, refugee operations in Cuba and deployments to the Mediterranean, Bosnia, Albania, Kosovo and South Korea.
Wolford said Thursday he was looking forward to his new assignment because of the large scope of operations in the Indo-Pacific and how dynamic and flexible everything is.
The greatest challenge, he said, is always the distance over water between objectives.
"My job here is to make [the Marines and sailors under my command] excellent in their field and to put my foot on the gas," Wolford said. "The other thing I promise them is they'll find no bigger fan or supporter for what they do out there than me."
burke.matt@stripes.com Twitter: @MatthewMBurke1