Families of DODEA students in Korea reveal pros, cons of online study during coronavirus outbreak
By
Matthew Keeler and Dave Ornauer
March 2, 2020
---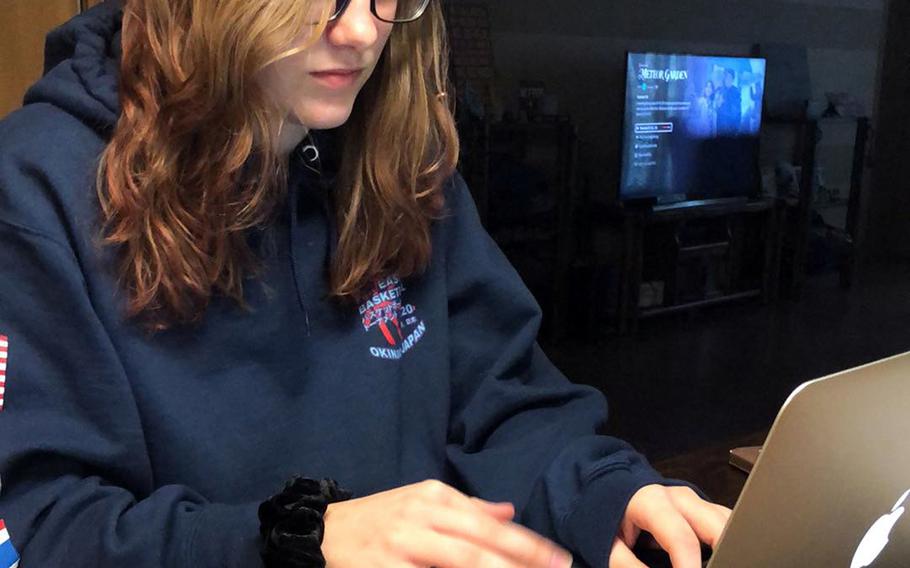 OSAN AIR BASE, South Korea — Students at some Defense Department schools in South Korea face another week, at least, of online instruction as concern over spread of COVID-19 has temporarily closed eight schools there.
The Department of Defense Education Activity last week closed those schools for the children of U.S. military parents but ordered teachers to report to work Wednesday to issue assignments via email. Students are expected to complete and submit the assignments online daily.
"It's an experiment," Michelle Pell, a language arts and literature instructor at Daegu Middle-High School, told Stars and Stripes Friday via Facebook Messenger.
"We're all working through it together. The kids are doing a really good job of following instructions and communicating," she said. "We are working on perfecting the process. The military command on our post is making really good decisions in this situation."
DODEA officials in Korea and military commanders expect to meet Friday to reassess the school closures and other measures imposed to prevent the new coronavirus from spreading.
"We're hoping to be able to resume normal school operations as soon as it's possible," DODEA communications chief Frank O'Gara said in an email Wednesday. "But we've made plans in the event that students are required to stay home for a longer period of time. Our education and curriculum subject matter experts are looking at a number of options in case of longer-term closures."
Meanwhile, remote learning is showing its wrinkles. Online interviews with a handful of high school students and teachers revealed advantages and disadvantages to learning online.
One advantage, said Humphreys High School junior Jake Thomas, is being able to work at his own pace "as long as I get the assignments in on time."
The main disadvantage is not always having a teacher on hand to give an instant answer to a question, Thomas and other students said.
For some, the classroom setting itself is conducive to learning.
"I would rather be in class because I'm a more hands-on, in-person learner than an online learner," said Humphreys High School senior Lily Austinson.
Austinson's mother, Molly Austinson, teaches world regions and is also the high school yearbook sponsor. Her students make liberal use of Google Hangouts to communicate about the yearbook outside of the classroom.
"This is creating a unique challenge," Molly Austinson said of working on the yearbook remotely, "but also some cool opportunities for creativity."
For some parents, having their children home from school is a challenge.
"It adds some stress at home because it makes us into the enforcers making sure they are getting done what they would normally do during the school day," military spouse Dana DeLuca said Friday. "But for the most part I think it's a blessing."
DeLuca teams up with her husband, Army chaplain (Capt.) Marc DeLuca, of the 35th Air Defense Artillery Brigade, to ensure their two high-school students and two elementary students attending Osan Air Base schools stay on task.
Dana DeLuca said the concept is a good idea if the kids are going to be out of school for an extended period, but questions if it is a sustainable model.
She said her 17-year-old is capable of a self-taught, online environment, but her 15-year-old needs face-to-face interaction.
Molly Austinson said Camp Humphreys and DODEA's Korea district leadership have been "fantastic" about communicating with the schools and the community.
"Students are at the heart of everything we do," O'Gara said. "Maintaining a safe place for them to go to school and maintaining continuity of education is all part of the support that we provide to military families."
keeler.matthew@stripes.com Twitter @MattKeeler1231
ornauer.dave@stripes.com Twitter @DaveOrnauer
---
---
---
---