British warship arrives at Yokosuka to enforce N. Korea sanctions, support free trade
by
Tyler Hlavac
April 11, 2018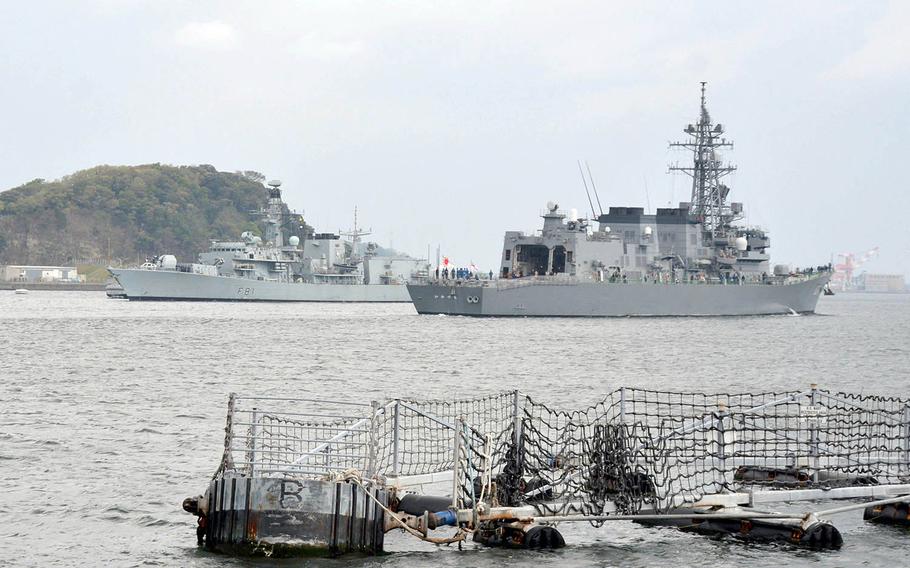 YOKOSUKA NAVAL BASE, Japan – A British Royal Navy warship arrived in Yokosuka this week to help enforce sanctions against North Korea and support free navigation in the region.
The frigate HMS Sutherland – the first of three warships England plans to deploy to northeast Asia – pulled into port Wednesday. The vessels will "safeguard free trade, partake in joint training and exercises, and support UN sanctions against [North Korea]," said a statement from the nation's Ministry of Defence.
"The deployment of HMS Albion, Sutherland and Argyll demonstrates our unwavering commitment to our international responsibilities and to maintaining peace, security and prosperity in the region," Defense Secretary Gavin Williamson said in the statement. "Until North Korea matches its words with concrete actions, the UK will continue working closely with partners and allies to keep up pressure and strictly enforce existing sanctions."
Sutherland captain Cmdr. Andrew Canale told Stars and Stripes Thursday that trade issues in the region also led his navy to increase its presence in the region.
"I think you could look at the Royal Navy's presence in the Pacific in the last 20 years and say there's been very little," he said. "Ever since the UK moved away from Hong Kong, our presence in this part of the world has been less. However, navies move where a country's interest lie, and there is no denying this part of the world is increasing in importance in terms of the bulk volume of UK trade."
Canale said his ship specializes in anti-submarine warfare and boasts a crew of more than 200 personnel.
He added that the ship, which left its homeport in January, plans to conduct maintenance in Yokosuka before training alongside the United States, South Korea and Japan.
Williamson announced in February that the Sutherland would transit the South China Sea to assert freedom-of-navigation rights, but did not say whether the British warship would travel within 12 nautical miles of a disputed territory or artificial island built by the Chinese as U.S. warships have done.
"She'll be sailing through the South China Sea (on the way home) and making it clear our navy has a right to do that," he told The Australian newspaper.
A February editorial in the state-owned Chinese newspaper Global Times blasted the announcement, saying it was akin to a political stunt and a provocation.
"By acting tough against China, Britain's Ministry of Defence is trying to validate its existence and grab attention," the editorial said. "Chinese society is willing to develop friendly cooperation with Britain and doesn't harbor a mentality of trying to rival the country's military. If Williamson insists on challenging China, it seems Beijing has to respond."
Canale said free navigation in the South China Sea is needed for ships like his to operate in international waters.
"I think the Royal Navy has been exercising freedom of navigation for centuries … it's a practical thing," he said. "I'm operating here off Japan and the Sea of Japan and the East China Sea but eventually I have to make my way back to the Indian Ocean and there's only way I have to go; I have to go through the South China Sea.
"Going through that part of the world is about transiting through in accordance with international maritime law and the norms and customs that have been internationally agreed," he said.
Canale said this is the Sutherland's first deployment to Japan and that many of the crew have never visited the country.
"It's a terrific opportunity to forge closer relationships that are linked in a part of the region that the navy hasn't spent a lot of time in in recent years," he said. "My ship's company are absolutely thrilled to be here so they can explore the culture and the history and the vibrant nature of Tokyo."
Seventh Fleet officials welcomed the ship to Yokosuka.
"It's great to see HMS Sutherland on the waterfront here in Yokosuka," said 7th Fleet spokesman Cmdr. Clay Doss. "Ships like Sutherland have worked with 7th Fleet since our establishment 75 years ago, and like our sailors, I hope their crew enjoys spending time in Japan during this visit."