South Korea touts peace through arms sales during its largest weapons expo
By
Stars and Stripes
September 21, 2022
---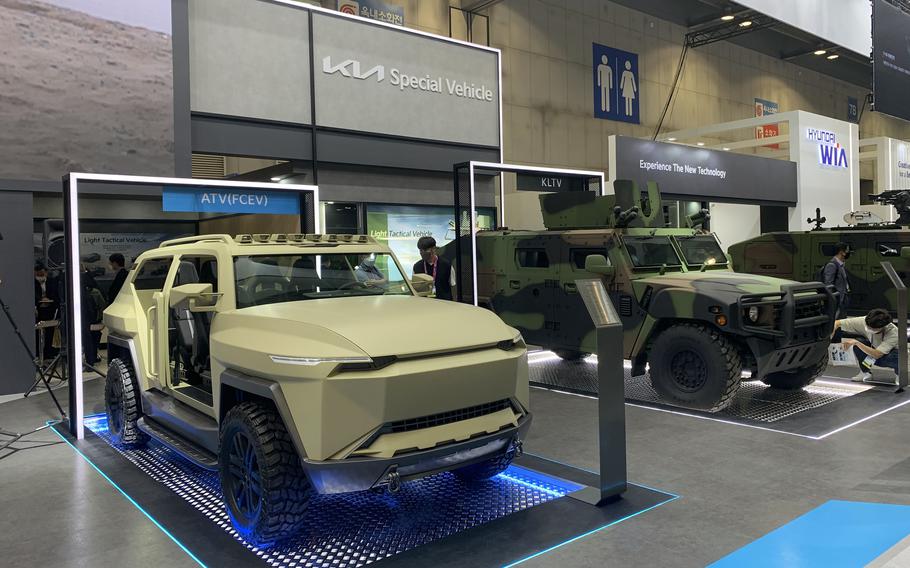 GOYANG, South Korea — South Korea's defense chief touted his country's "renowned weapons systems" as he kicked off the five-day Defense and Security Expo at the Korea International Exhibition Center here on Wednesday.
The world faces "the fourth industrial revolution" as countries develop defense technologies "to take the initiative of the future security environment," South Korean Defense Minister Lee Jong-sup said in an expo speech.
"Countries are directing their interests and efforts at the government-level towards the defense industries in particular to strengthen not only the national defense but also the new drive for economic development," Lee said.
Senior military officials from dozens of countries, including Slovak Defense Minister Jaroslav Nad, attended the annual exhibition hosted by the Association of the Republic of Korea Army.
Roughly 300 companies, including Raytheon and BAE Systems, showcased their products ranging from drones to fighter jets. The U.S. Army displayed its MQ-1C Gray Eagle unmanned aircraft system.
Lee commended South Korea's development of military technology, which he described as "suited for the changing security environment."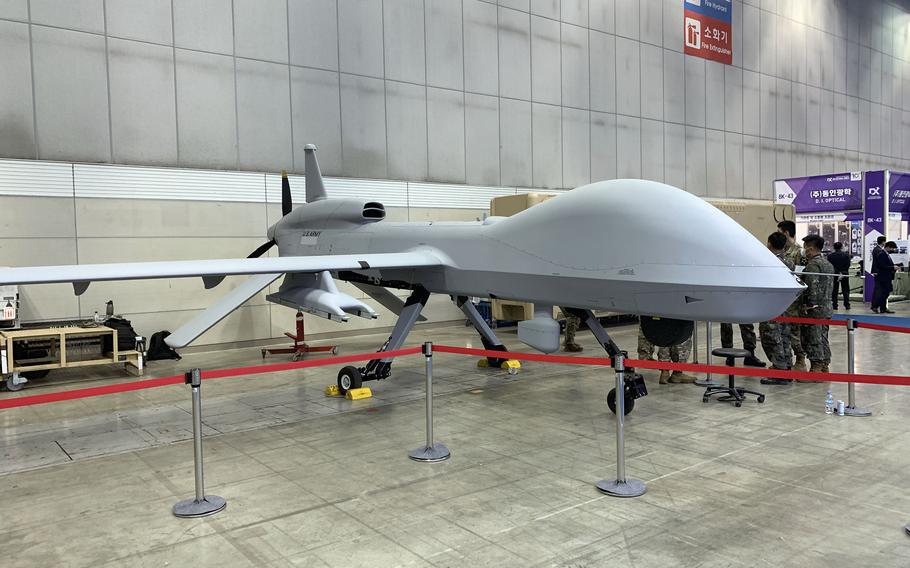 Homegrown firms like Korean Air, Hyundai Rotem and Kia Motors displayed their military-grade vehicles, unmanned aerial vehicles, remote-controlled weapons and radar systems in some of the largest booths in the exhibition center.
South Korea's arms industry has boomed, due in large part to its military exports, according to a Stockholm International Peace Research Institute report published in March.
Seoul was the world's eighth-largest arms exporter between 2017 and 2021 after the United States, Russia, France, China, Germany, Italy and the United Kingdom.
The biggest purchasers of South Korean arms between 2017 and 2021 were the Philippines, Indonesia and the U.K., according to the research institute. In 2021, South Korea exported $7 billion worth of military equipment, a national record, the Korea Times reported in July.
In August, South Korea agreed to sell to Poland nearly $5.8 million worth of tanks and self-propelled howitzers, according to a news release from Poland's Ministry of National Defense and Seoul's Defense Acquisition Program Administration.
On Friday, the South Korean procurement agency announced a $3 billion purchase of 48 FA-50s, a light combat aircraft developed by Korea Aerospace Industries.
"Both our countries have a lot in common," said Polish Deputy Prime Minister Mariusz Błaszczak, according to an Aug. 26 news release. "Both Poland and Korea want peace. But in order to achieve it, we must have developed armed forces. This is the basic condition for deterring the aggressor."
South Korea's push to develop affordable and reliable arms follows pledges by President Yoon Suk Yeol to boost the country's defense amid threats from North Korea.
Pyongyang has fired over 30 missiles in 18 rounds of tests so far this year and is believed by U.S. and South Korean officials to have prepared to conduct a nuclear test.
---
---
---
---