US bases in southern Japan escape severe tropical storm Nanmadol with 'minor damage'
By
Stars and Stripes
September 19, 2022
---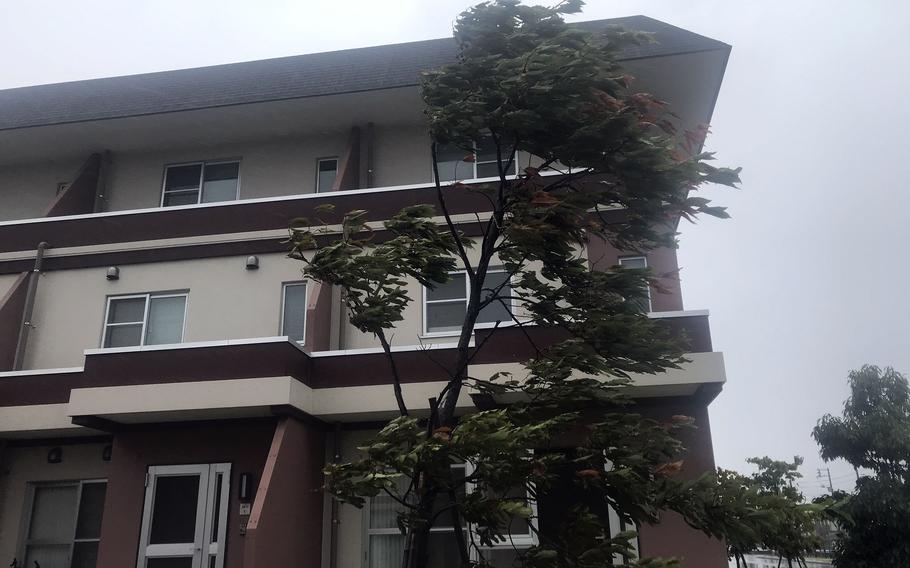 MARINE CORPS AIR STATION IWAKUNI, Japan – U.S. military bases in the south of Japan weathered an overnight drenching along with high winds as severe tropical storm Nanmadol made its way across the country.
Sasebo Naval Base on Kyushu, southernmost of Japan's four main islands, emerged relatively unscathed Monday after Nanmadol made landfall there late Sunday.
"We have concluded our damage reports and it's the usual downed trees, some bent fence posts, just some minor damage to the base," Sasebo spokesman Aki Nichols told Stars and Stripes by phone. "Nothing that is mission critical."
Farther east at Marine Corps Air Station Iwakuni, 25 miles south of Hiroshima on Honshu, largest of the four islands, the base kept its occupants indoors until after sounding all clear mid-afternoon Monday and beginning the task of cleaning up, according to a post on the base's official Facebook page.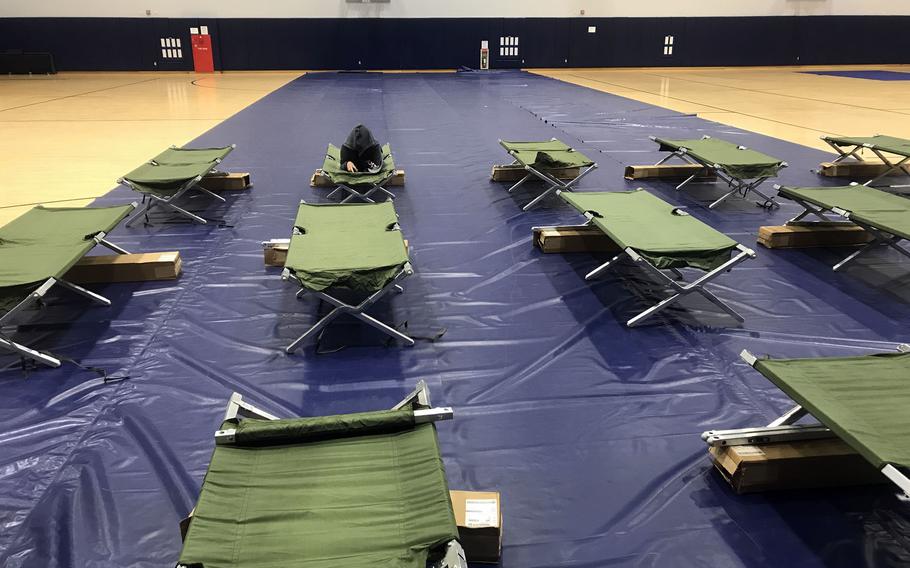 Nanmadol was centered just offshore of central Honshu in the Sea of Japan at 4 p.m. Monday, according to the Japan Meteorological Agency. The agency forecasted wind and rain for western and northern Japan through Tuesday.
The U.S. Army Garrison at Camp Zama, 25 miles southwest of central Tokyo, warned of strong winds up to 33 knots, and 1-3 inches of rain for several hours beginning at 3 a.m. Tuesday, according to a post on the garrison's official Facebook page.
"Please be on the lookout for landslides, high waves, inundation of low-lying areas, and swollen rivers," the post said. "In light of this, please take necessary precautions such as securing all outdoor items from strong winds and heavy rain."
At Sasebo, authorities heightened weather alerts at 10:30 a.m. Sunday, closed many services and advised base residents to remain indoors. Wind speeds reached up to 64 mph and about 6.24 inches of rain fell before Sasebo sounded all clear around 2 p.m. Monday, according to the Naval Oceanography Antisubmarine Warfare Center website.
MCAS Iwakuni by 5:30 p.m. Sunday declared that schools on base, along with the commissary, dining facilities and other services, would be closed Monday.
Nonessential travel was forbidden. The air station expected winds of 40-57 knots or greater, according to an air station Facebook post.
"To prepare for the storm, MCAS Iwakuni has procedures in place to ensure the base is prepared for inclement weather," base spokesman 1st Lt. Aaron Ellis told Stars and Stripes by email on Monday.
A handful of off-base residents took shelter at the Ironworks Northside Gym after Iwakuni city ordered a widespread evacuation, Ellis said.
"There has only been minor localized street flooding and four people have used the shelter due to mandatory evacuation requirements by the city," he said.
The Oliver family left their home after hearing announcements over the city loudspeakers and making a phone call.
"My wife called city hall and since we live close to the river; they recommended that we leave, so we packed up and headed [to the shelter]," Jason Oliver, a civilian employee working for Headquarters and Headquarters Squadron, told Stars and Stripes.
---
---
---
---