USS Ronald Reagan strike group to make show-of-force port call on South Korea
By
Stars and Stripes
September 19, 2022
---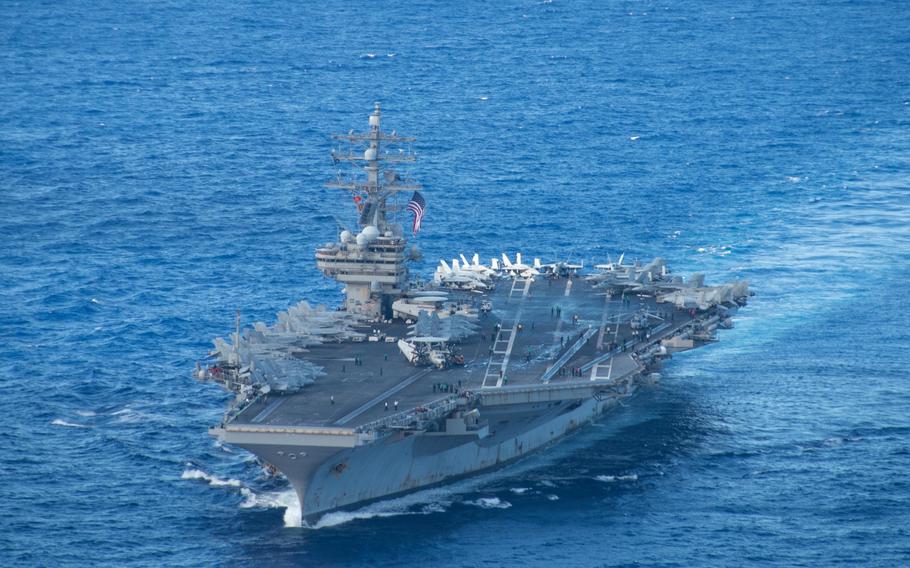 CAMP HUMPHREYS, South Korea — The Ronald Reagan Carrier Strike Group is scheduled to make a routine port visit this week at Busan, South Korea, according to a news release from U.S. Naval Forces Korea.
The strike group and the South Korean navy are expected to train together sometime soon, a South Korean navy public affairs officer told Stars and Stripes by phone Monday. South Korean officials customarily speak to media under the condition of anonymity.
Strike group personnel will also be allowed to meet with their South Korean counterparts through cultural exchanges while in port, according to the Navy statement.
U.S. and South Korean military leaders are scheduled to host a news conference on Friday announcing the strike group's arrival. It was expected to arrive a day earlier but is being delayed due to inclement weather, the South Korean navy said in a press release Monday.
The aircraft carrier USS Ronald Reagan left its homeport, Yokosuka Naval Base, Japan, on Sept. 12 after a three-week pause in its annual deployment for resupply and maintenance. The strike group previously exercised with Japanese forces and the aircraft carrier USS Abraham Lincoln.
The strike group includes the USS Chancellorsville, a Ticonderoga-class guided-missile cruiser, and the USS Benfold, an Arleigh Burke-class guided-missile destroyer.
The strike group last made a port call at Busan in 2017 after a five-day exercise with South Korean forces. The drills came one month after North Korea conducted its sixth and most powerful nuclear test and the same year that then-President Donald Trump and North Korean leader Kim Jong Un traded verbal threats of "fire and fury."
The latest scheduled visit comes three days after an Extended Deterrence Strategy and Consultation Group meeting between senior U.S. and South Korean military officials.
In a joint statement released Friday, the Defense Department and the Ministry of National Defense expressed "serious concern" over North Korea's "escalatory and destabilizing messaging related to nuclear weapons use."
"The United States reiterated its ironclad and unwavering commitment to draw on the full range of its military capabilities, including nuclear, conventional, missile defense, and other advanced non-nuclear capabilities, to provide extended deterrence for [South Korea]," the joint statement said.
North Korea has fired more than 30 missiles in 18 rounds of tests so far this year. U.S. and South Korean military officials have also said the communist regime is fully prepared to conduct its seventh nuclear test, a possibility fueled by Pyongyang's recent move to codify its intent to produce nuclear weapons.
U.S. and South Korean forces conducted several joint drills in recent months and telegraphed their military alliance. In July, F-35A Lightning II stealth fighters from both countries trained together for the first time.
The U.S.-South Korean joint statement referred to the strike group deployment and the F-35 exercise as "a clear demonstration" of U.S. commitment.
"The United States is committed to strengthen coordination with [South Korea] to continue to deploy and exercise strategic assets in the region in a timely and effective manner to deter and respond to [North Korea] and enhance regional security," the statement said.
---
---
---
---