Marine Corps stealth jets practice advanced basing operations in Western Australia
By
Stars and Stripes
September 16, 2022
---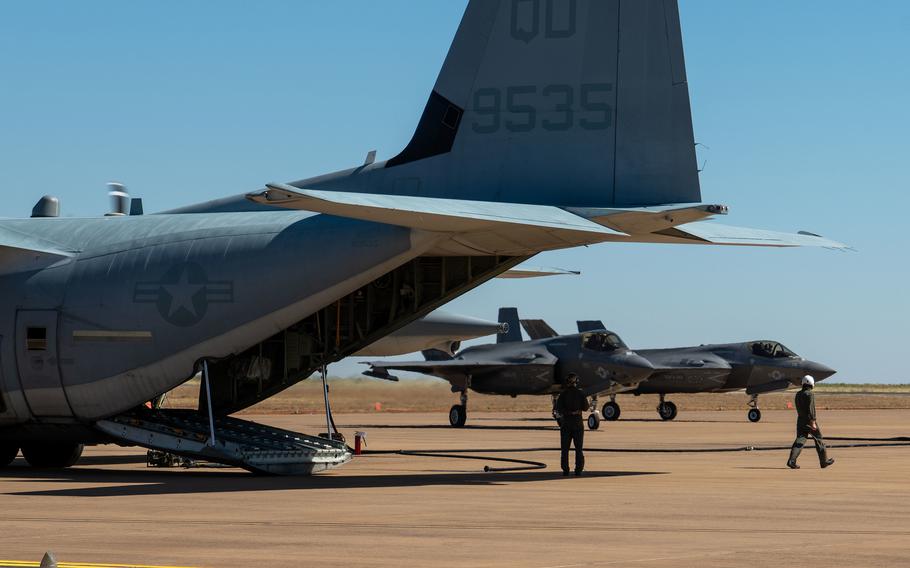 U.S. Marine Corps stealth fighter pilots and support crew honed the skills they'll need to operate far from home while training last month at one of Australia's most isolated military bases.
Sixty Marines and six F-35B Lightning II fighters from Marine Corps Air Station Iwakuni, Japan, operated out of Royal Australian Air Force Base Curtin, 1,000 miles north of Perth in Western Australia.
The austere base, which has no units permanently assigned to it, is 1,800 miles from Singapore.
The Marine aviators also flew in the Pitch Black air power exercise involving 17 nations between Aug. 19 and Sept. 8.
Two weeks before they got to RAAF Curtin, Australian troops arrived there and set up a mess hall, medical facility, and command post, said Maj. Colton Bowser, who commanded a detachment in Australia from Marine Aircraft Group 12, also based at MCAS Iwakuni.
The "bare bones" facility, according to the Australian air force, includes a 10,000-foot runway that has been open since 1988.
The Marines who went there in mid-August were practicing expeditionary advanced basing operations, Bowser, 36, of Kansas City, Mo., said by phone Tuesday.
"We were rehearsing to operate from an austere bare base," he said.
Expeditionary advanced base operations involve sending hard-to-target units into austere, temporary locations such as islands of the Western Pacific, from which they may block an adversary or resupply friendly forces, according to the Marine Corps.
The Iwakuni Marines have incorporated advanced basing operations in all their training this year, including a detachment sent to Guam while deployed to the USS Tripoli earlier this summer, Bowser said.
Six F-35Bs from Marine Fighter Attack Squadrons 121 and 242, also from MCAS Iwakuni, operated from RAAF Curtin Aug. 23-25.
To support the jets, a pair of KC-130 tankers from Marine Aerial Refueler Transport Squadron 152, also from Iwakuni, flew troops and equipment from the Northern Territory to RAAF Curtin.
Members of Marine Support Squadron 171 arrived on the aircraft Aug. 21 along with equipment to set up a forward arming and refueling point, Bowser said.
The Marines established a small command post and communication links to the fighters as well as their headquarters back at RAAF Tindal, 200 miles south of Darwin, he said.
The Marines' short-takeoff, vertical landing F-35Bs flew missions from RAAF Curtin and linked up with Australian conventional takeoff and landing F-35As flying out of RAAF Darwin, Bowser said.
Jets from both countries gassed up at the refueling and arming point on RAAF Curtin during the training, he said.
The Marines didn't have time to explore Western Australia, although they visited Derby, the town of just over 3,000 near RAAF Curtin, Bowser said.
"The terrain was flatter than the Northern Territory and it was more austere," he said.
Members of Marine Rotational Force – Darwin trained at nearby Yampi Sound Training Area earlier in August.
---
---
---
---