Australia's first Triton sea-surveillance drone can share data with US Navy
By
Stars and Stripes
September 16, 2022
---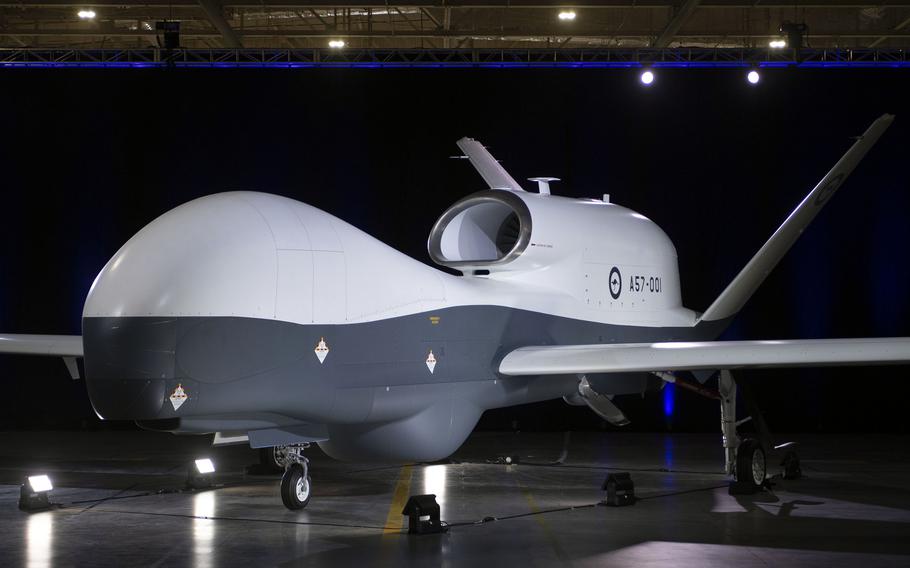 The first of up to seven Australian MQ-4C Triton maritime surveillance drones was rolled out during a ceremony Wednesday in California.
The drone, made by U.S. aerospace company Northrop Grumman, will complement Australia's P-8 Poseidon manned surveillance planes when it enters service in 2024, the Australian Defence Department said in a statement on the day of the unveiling.
Australia announced plans to buy the Triton in 2014. It is a maritime version of America's largest unmanned aircraft, the RQ-4 Global Hawk.
The U.S. Navy operates Tritons out of Andersen Air Force Base, Guam, and deployed some of the drones to Misawa Air Base in northeast Japan last summer.
Australia has one of the largest exclusive economic zones in the world, encompassing vast swathes of the Pacific and Indian oceans. Its proximity to developing nations in Southeast Asia means authorities there must grapple with issues such as terrorism and human traffickers operating in small boats.
The Triton provides real-time intelligence, surveillance and reconnaissance over ocean and coastal regions, according to Northrop Grumman.
"The aircraft can fly over 24 hours at a time, at altitudes higher than 10 miles, with an operational range of 8,200 nautical miles," the company's website states.
The Triton looks like the Global Hawk, which has seen extensive service in Iraq and Afghanistan, but the resemblance is skin deep.
The front edges of the aircraft's wings have been toughened to withstand bird strikes, while its electronics are designed to withstand power surges from lightning. The Tritons' stiff wings allow them to dive below 10,000 feet to get a closer look at floating targets.
The Australian drones are part of a partnership with the U.S. Navy, Northrop Grumman said in a statement coinciding with the Triton's unveiling.
The U.S. and Australian defense forces will be able to share data collected by their respective Tritons, the company said.
The partnership will support intelligence, surveillance and reconnaissance roles, the Royal Australian Air Force capability chief, Air Vice-Marshal Robert Denney, said in the Australian statement.
"Once in service, the remotely piloted High Altitude Long Endurance aerial system will significantly enhance our ability to persistently patrol Australia's north and north-western approaches, in the south-west Pacific and south to Antarctica," he said.
Once delivered, the Tritons will be primarily based at RAAF Base Tindal in the Northern Territory while being controlled from facilities at RAAF Base Edinburgh, South Australia, according to the statement.
---
---
---
---