US Forces Japan commander, with roots in UK, expresses condolences on death of Queen Elizabeth II
By
Stars and Stripes
September 14, 2022
---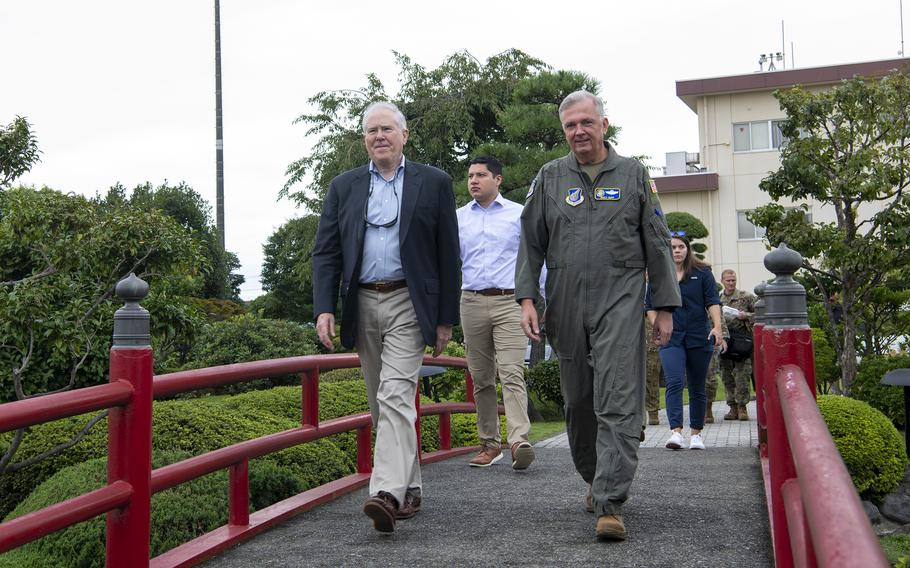 YOKOTA AIR BASE, Japan — The commander of U.S. Forces Japan drew on personal ties to Great Britain when expressing condolences upon the death of Queen Elizabeth II.
Air Force Lt. Gen. Ricky Rupp, who oversees U.S. military relations with Japan from his headquarters at Yokota Air Base in western Tokyo, recalled his birth and upbringing in England while remembering the queen's service to her country.
"Queen Elizabeth II served as a world leader of unassailable character for more than 70 years demonstrating unwavering determination and resolve in pursuing global peace and prosperity," Rupp said in a statement Tuesday.
Rupp was born in England to a British mother and graduated from an English secondary school, according to the official statement posted on USFJ's official Facebook page and Twitter account.
"For me personally, I am especially touched by the outpouring of support to the Royal Family and the people of the United Kingdom," he wrote.
Elizabeth died on Sept. 8 at Balmoral, her estate in Scotland, at age 96. She occupied the British throne for 70 years, the longest reign of any monarch in her nation's history. She provided the kingdom an inspirational figure from its lean years following World War II and its loss of empire, through the Cold War, scandals within the royal family and the onset of a digital age.
"Her steady hand bolstered the Alliance between our two great democracies and helped build a rules-based international order, rooted in close cooperation and shared democratic values," Rupp wrote. "Queen Elizabeth served as Queen through good times and bad and was always a rock upon which people could lean on."
Rupp's grandfather served in the Royal Artillery in World War II, he wrote. His mother survived German bombings of her village during the war.
As commander of USFJ, Rupp is the senior U.S. military representative in Japan. To him fall questions about the U.S. military presence in Japan, plans for military exercises and combat readiness of the U.S. forces there and issues affecting day-to-day life of the 66,000 service members and civilian Defense Department employees and their 45,000 dependents, according to the USFJ website. He also commands 5th Air Force, which encompasses units at Yokota, Misawa and Kadena air bases in Japan.
According to his official resume, Rupp has served at bases across the U.S., Japan, Germany and South Korea but not, so far, in the United Kingdom, where the Air Force has a sizable presence.
---
---
---
---