Three candidates for governor, three distinct views on future of Marine air on Okinawa
By
Matthew M. Burke and Keishi Koja
Stars and Stripes
September 8, 2022
---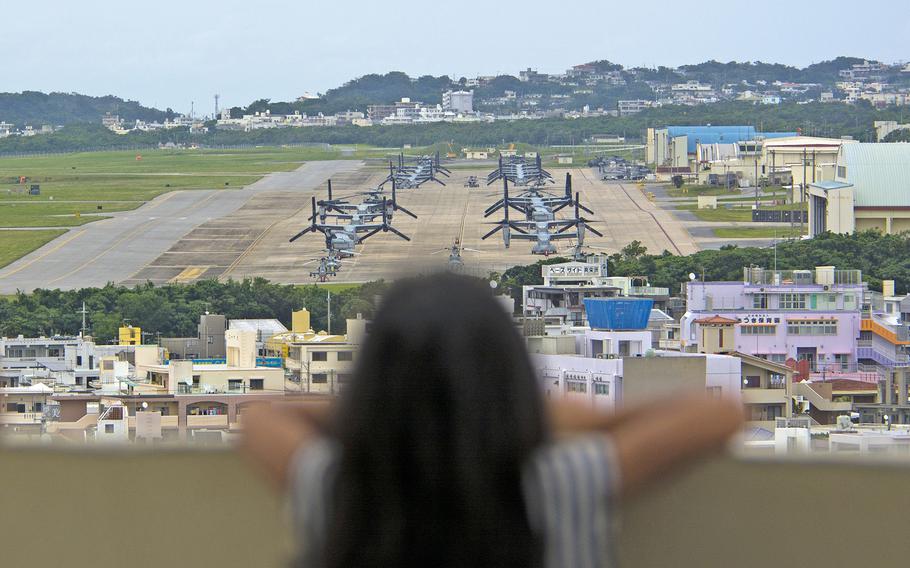 CAMP FOSTER, Okinawa – Okinawans heading to the polls Sunday have three gubernatorial candidates to choose from, each with a different message about the U.S. military presence on the island prefecture.
Incumbent Gov. Denny Tamaki seemed vulnerable due to his handling of the COVID-19 pandemic and Okinawa's economic stagnation, but recent polling suggests his opposition to the U.S. military presence on the island resonates with many of Okinawa's approximately 1.2 million registered voters.
Tamaki has spent four years trying to halt the relocation of Marine air operations from Marine Corps Air Station Futenma in a densely packed urban area in Ginowan to Camp Schwab in rural Henoko. Tamaki favors shutting down MCAS Futenma altogether.
"I would like to remove the Futenma air station as soon as possible," he said in an Aug. 23 interview posted to his Twitter account. "It is possible to close (Futenma) without having Henoko."
Former Ginowan Mayor Atsushi Sakima, who is backed by Prime Minister Fumio Kishida's Liberal Democratic Party, would hasten the Marine aviators' move to the airfield under construction at Camp Schwab.
Fringe candidate Mikio Shimoji, a former member of Japan's House of Representatives, favors moving Marine air power off Okinawa to nearby Mageshima in Kagoshima prefecture.
"The polls suggest that Tamaki looks like he might win, but of course, you know, who knows," Jeff Kingston, professor of Asian studies at Temple University's Tokyo campus, told Stars and Stripes by phone Wednesday. "But I guess his position on the bases wins him support across the island."
A telephone survey Saturday and Sunday by The Asahi Shimbun, The Okinawa Times and Ryukyu Asahi Broadcasting Corp. found Tamaki leading Sakima but with 20% of voters still undecided, The Asahi Shimbun reported Monday. The outlets did not report each candidate's margin of support.
The election may be much closer than reported, according to Shida Junjiro, associate professor of international politics at Meio University in Nago. He said both Tamaki and Sakima are flawed candidates and that voters will be looking beyond Henoko.
"The election held four years ago was about a single issue, the base relocation, but now there are many issues," he told Stars and Stripes at his office on Aug. 30. "Okinawans must think about the economy and how to protect Okinawa and Japan from threats like China or North Korea."
Denny Tamaki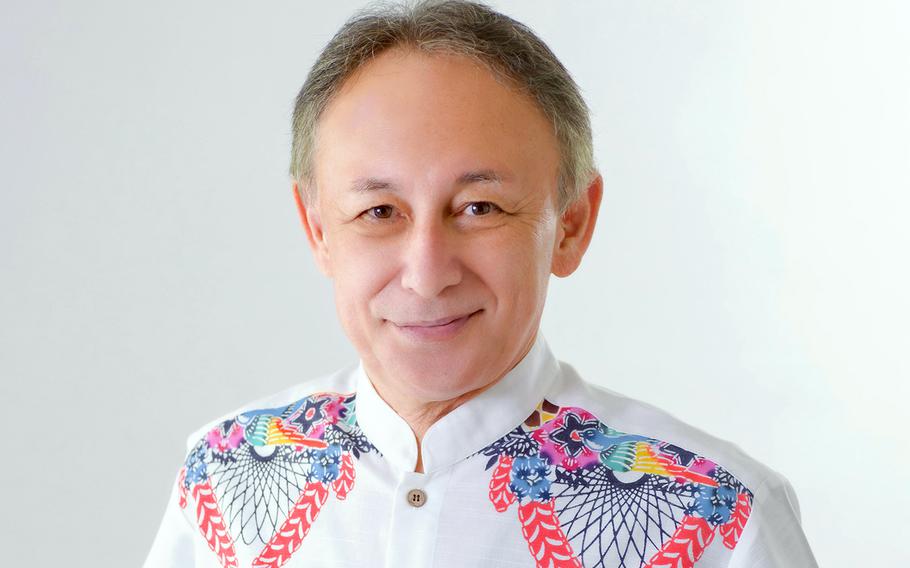 Tamaki, 62, born in Uruma city to an Okinawan mother and a U.S. Marine father he never met, leveraged a career as a popular radio disc jockey into a successful 2002 run for Okinawa City Council. He ran unsuccessfully for Japan's House of Representatives in 2005 but won a seat four years later.
Tamaki held the post until he was elected governor in 2018. His predecessor, Takeshi Onaga, an opponent of the U.S. military presence, died in August that year of pancreatic cancer. Onaga endorsed Tamaki before his death.
Tamaki continued Onaga's opposition of the Henoko project, which former Gov. Hirokazu Nakaima approved in 2013. Since then, Tamaki's administration has filed six of 11 lawsuits by the prefecture aimed at stopping the relocation.
Under Tamaki, the prefecture cited the ballooning budget, the soft seabed beneath the new airstrip and environmental concerns such as the presence of endangered coral as reasons to jettison the project.
"We must stop it," he said in his campaign Twitter post.
Atsushi Sakima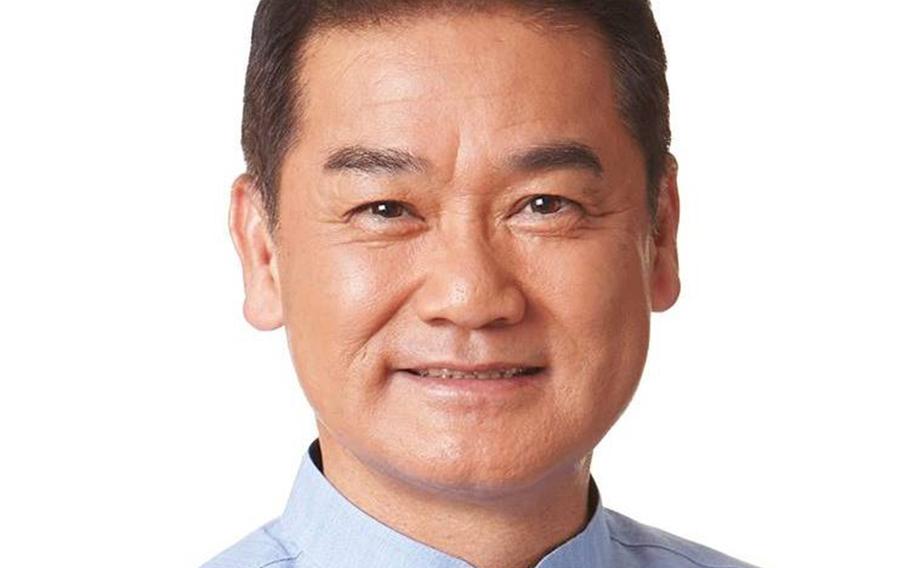 Sakima, 58, accuses the incumbent of failing to address day-to-day issues while focusing on the fight against the Marine air station, he said in an Aug. 14 interview posted to his Twitter account.
The conservative vowed "communication over conflict" when it comes to base issues and said protecting the lives of the Okinawan people is his top priority.
Sakima was born in Ginowan and elected to Ginowan City Council in 2001, Okinawa Prefectural Assembly in 2006 and Ginowan mayor in 2012, a post he held until 2018 when he lost the governor's race to Tamaki, according to his campaign website.
For this campaign, Sakima openly supports relocating the Futenma air station to Henoko. Four years ago, he stayed mostly silent on the subject and focused instead on social issues.
"I want to achieve the reversion of Futenma airbase by 2030," he said. "To do so, we must use airfields out of Okinawa, relocate training and shorten the construction period of Henoko."
If elected, Sakima has pledged to invest 100 billion yen, nearly $700 million, in the tourism industry, connect the southern capital of Naha with the northern city of Nago by rail and provide free daycare, school meals and medical care for children.
Mikio Shimoji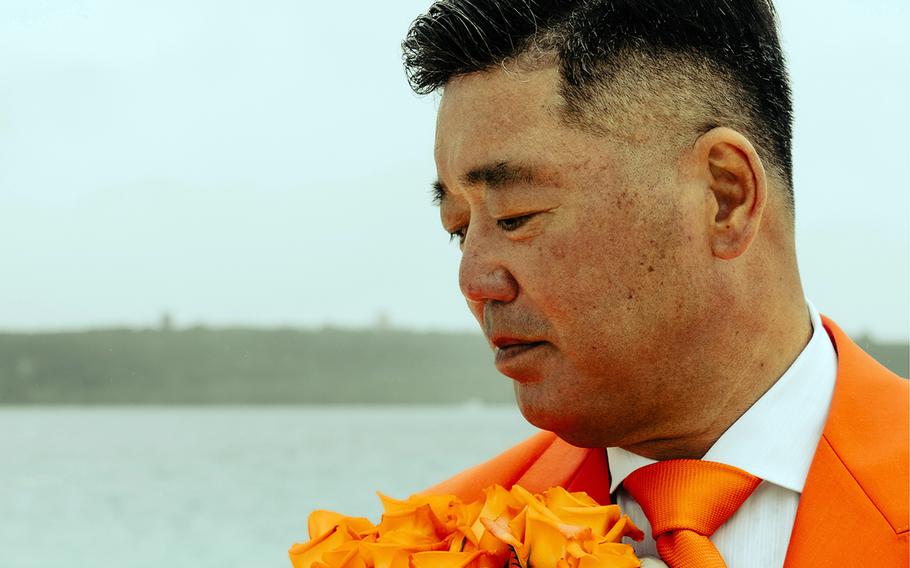 Shimoji, 61, was born and raised on the island of Miyako, approximately 186 miles southwest of Naha, his campaign website said.
The former LDP member was first elected to the House of Representatives in 1996, a position he held until 2021 except for terms he lost, 2003-2005 and 2012-2014.
He ran unsuccessfully for governor against Onaga and Nakaima in 2014. He served as minister for Postal Service Privatization and minister of State for Disaster Management from October to December 2012, according to his website.
If elected, Shimoji plans to stop the construction at Henoko and push to relocate MCAS Futenma to another island.
"We have to think how to end the Futenma issue as soon as possible and Mageshima is the solution," he said in a clip posted to Twitter on Aug. 23. Mageshima is 21 miles south of Kyushu, the southernmost of Japan's four largest islands.
---
---
---
---