Air Force sends task force, engineers to tackle housing issues at air base in South Korea
By
Stars and Stripes
August 30, 2022
---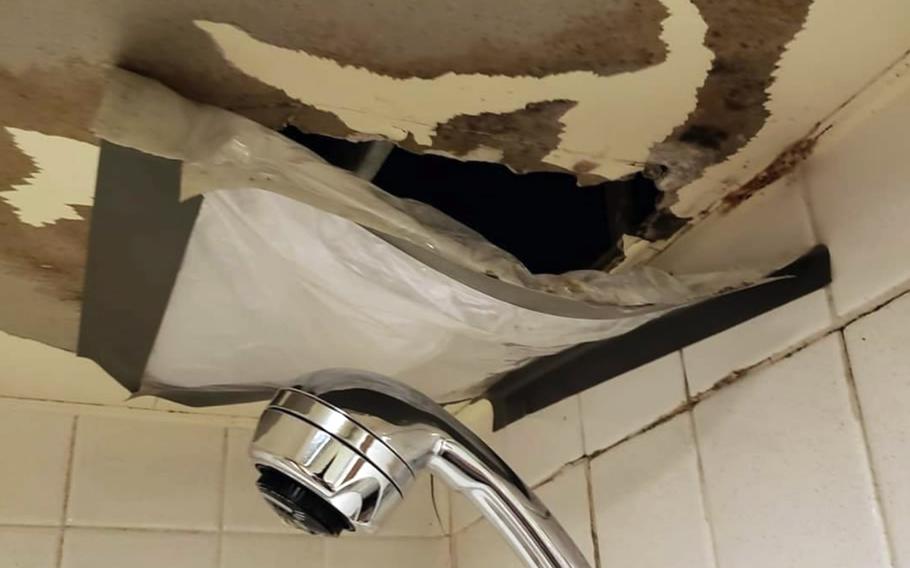 CAMP HUMPHREYS, South Korea — An Air Force task force is investigating quality-of-life issues for airmen at Kunsan Air Base after reports of mold and faulty air conditioning there surfaced on a Facebook page popular with enlisted personnel.
The task force is charged with developing short- and long-term solutions to problems in base facilities, 8th Fighter Wing spokesperson Capt. K. Paige Hankerson said in an email to Stars and Stripes on Monday.
Fifteen 15 Air Force civil engineers will also be added to the 8th Civil Engineering Squadron at Kunsan to conduct preventative maintenance, she said.
The mold problem at Kunsan is being investigated and will "drive some near-future change," according to Hankerson.
Deteriorating conditions in Kunsan dormitories, purportedly documented by photographs and commentary, surfaced this month on the Air Force amn/nco/snco Facebook group, which posts anonymous complaints and commentary about working and living conditions in the Air Force.
The 8th Fighter Wing will place a "renewed focus" on unoccupied areas of the base that do not have dehumidifiers or climate-control monitoring, Hankerson said.
"In the long term, the results will serve as a baseline for the 8th Fighter Wing's approach to addressing the root of systemic problems," she said.
Air Force higher-ups and congressional representatives looked into the matter after allegations of poor living conditions at Kunsan surfaced on the Facebook page. The group has nearly 100,000 members and routinely posts comments, photographs and leaked documents that reflect on Air Force life, along with an assortment of memes and other material.
Service members at Kunsan alleged on the amn/nco/snco page that they lacked hot water and working air conditioners and discolored water routinely flows from dormitory faucets.
Air Force Chief of Staff Gen. Charles Q. Brown Jr. stopped by Kunsan on Aug. 12 during his tour of the Indo-Pacific and "discussed quality of life concerns with leaders and Airmen," according to an email from Air Force spokeswoman Capt. Annabel Monroe on Friday.
"Air Force leaders are committed to providing healthy and safe living environments for Airmen and all base residents," the statement said. "Kunsan leaders are working with Airmen to identify and implement efforts to improve these conditions."
The office of Rep. Billy Long, R-Mo., said earlier this month that he had contacted affected service members at Kunsan and planned to launch an inquiry.
Kunsan is about 115 miles south of Seoul near the Yellow Sea. The heating, ventilation and air conditioning units corrode rapidly in the moist, salty air and require higher levels of maintenance, Hankerson said. The steel in Kunsan's units corrode 10 times faster than inland units, she added.
"When it comes to the presence of mold or mildew caused by seasonal increases in rainfall or our general high level of humidity, we recognize that our strongest weapon is prevention," Hankerson said.
Starting in 2020, the base distributed dehumidifiers for living quarters and work areas, Hankerson said. It also allocated $5.2 million into improving ventilation and air conditioning units this fiscal year.
Around 2,500 service members are stationed at Kunsan. Roughly 28,500 U.S. troops are stationed in South Korea, most of them at Camp Humphreys in Pyeongtaek.
---
---
---
---