Okinawa police say drunken US service members caused weekend collisions
By
Matthew M. Burke and Keishi Koja
Stars and Stripes
August 29, 2022
---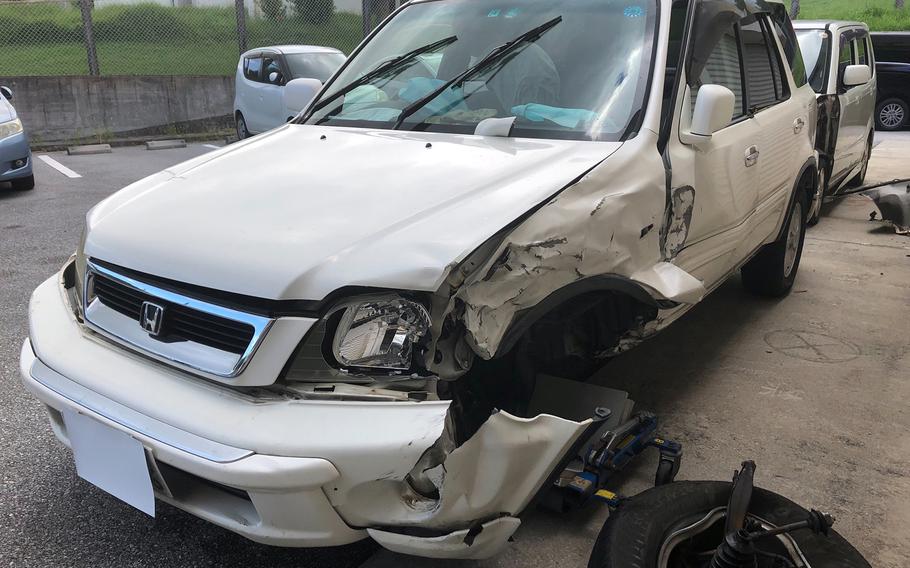 CAMP FOSTER, Okinawa — Japanese police on Okinawa arrested two U.S. service members in separate incidents for alleged drunken driving after a pair of crashes over the weekend, one involving injuries to Japanese drivers.
Air Force Capt. Crosby Shaver, 27, assigned to Kadena Air Base, and Marine Lance Cpl. Daniel Cervantes, 20, were detained early Saturday, an Okinawa police spokesman told Stars and Stripes on Monday.
Police said Shaver struck two other vehicles in Okinawa city and sent both drivers to the hospital with non-life-threatening injuries. Cervantes left the scene after colliding with and scratching another vehicle, according to the spokesman.
Both men were still in custody Monday afternoon after police forwarded their cases Sunday to Japanese prosecutors in the Naha District Public Prosecutors Office.
It is unclear if Shaver and Cervantes have been charged. A spokesman for the prosecutors office declined to comment when reached Monday by Stars and Stripes.
Some government officials in Japan customarily speak to the media on condition of anonymity.
Police said Shaver was southbound on Route 23 in the wrong lane when he struck a car and a cargo truck shortly before his 2:20 a.m. arrest. The collision caused minor damage to the vehicles. The 60-year-old driver of the car and the 70-year-old driver of the truck were taken to area hospitals.
A breath test measured Shaver's blood-alcohol content at 0.06%, twice Japan's legal limit of 0.03%, the spokesman said. By comparison, all 50 U.S. states have set 0.08% as the legal limit for driving under the influence or driving while impaired.
Shaver denied the allegations and said he did not believe he had alcohol in his system, the police spokesman said.
Police said Cervantes struck a parked vehicle in the Ganeko area of Ginowan, scratching its side, before he was stopped by police at 7:26 a.m. A matching scratch was reportedly found on the mirror of Cervantes' car, the police spokesman said.
Cervantes was in custody an hour later, the spokesman said. His blood-alcohol content in a breath test measured 0.12%, four times Japan's legal limit.
Cervantes is not cooperating with police and the investigation is ongoing, the spokesman said.
Information on Cervantes duty station was unavailable Monday.
Representatives for Kadena's 18th Wing and Marine Corps Installations Pacific did not respond to emails Monday seeking comment.
---
---
---
---