Sen. Blackburn calls Taiwan a 'country' during meeting with Tsai
By
Eva Dou and Christian Shepherd
The Washington Post
August 26, 2022
---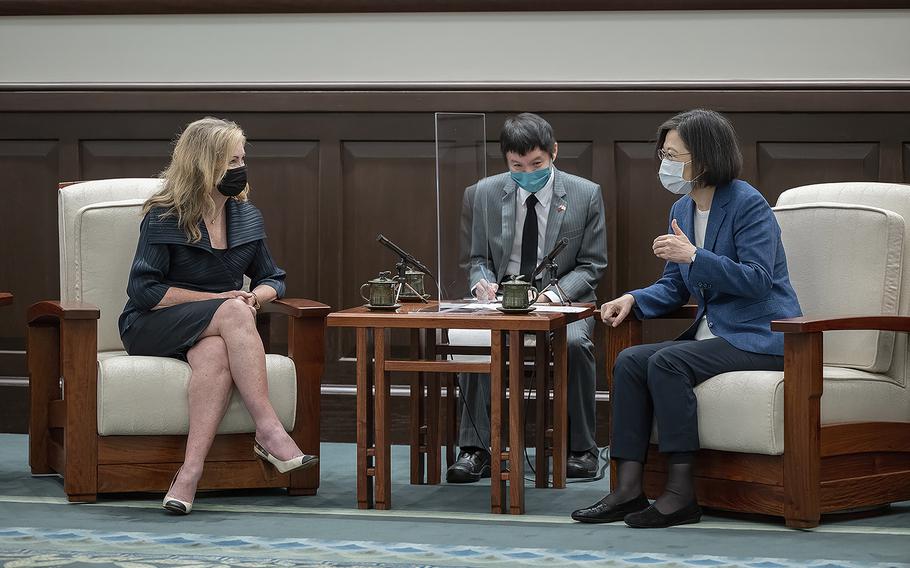 BEIJING — Sen. Marsha Blackburn, R-Tenn., met Taiwanese President Tsai Ing-wen on Friday in Taipei, the latest U.S. lawmaker to visit the island at a time of tense relations with China.
Blackburn's trip is the third by U.S. lawmakers this month. U.S. House Speaker Nancy Pelosi's trip in early August plunged cross-strait relations to recent lows and prompted Beijing to launch large-scale military exercises in the waters around Taiwan.
Taiwan has been self-ruled for decades and is one of Asia's most vibrant democracies. However, Beijing claims the island as part of its territory and responds furiously whenever foreign officials or companies appear to treat Taiwan as a country. The United States and most other governments do not diplomatically recognize Taiwan, to maintain official relations with China.
In her visit on Friday, Blackburn called Taiwan a "country" in passing, while saying it was important to support Taiwan in "preserving its freedom."
"I am looking forward to a wonderful visit. And yes indeed, I do remember my visit fondly in 2008 and the opportunity to get to see some of your country firsthand," Blackburn told Tsai, according to a video posted on Tsai's official Facebook account.
Soon after arriving late on Thursday evening local time, Blackburn wrote on Twitter that she hoped to ensure that Taiwan could combat China and the "New Axis of Evil."
Tsai called Blackburn an "important and close friend of Taiwan" and expressed hope that Taiwan would be more deeply integrated into U.S.-led initiatives in the region. Taiwan has been excluded from the Indo-Pacific Economic Framework, a U.S.-led trade initiative, though Washington has launched separate trade negotiations with Taiwan.
"We look forward to working hand in hand with the United States and other like-minded democracies to safeguard peace and stability in the Indo-Pacific region," Tsai said.
China appeared slow to respond on Friday to Blackburn's visit, which received limited attention on Chinese social media. Beijing consistently opposes visits by U.S. lawmakers.
China's Embassy in Washington told Reuters in a statement that Beijing would take unspecified "resolute countermeasures," adding that "the relevant visit once again proves that the U.S. does not want to see stability across the Taiwan Strait and has spared no effort to stir up confrontation between the two sides and interfere in China's internal affairs."
Blackburn's remarks come as a number of U.S. lawmakers have used visits to Taiwan to advocate for a shift in American policy. During a visit in March, former secretary of state Mike Pompeo suggested that the United States should do away with its policy of "strategic ambiguity," whereby Washington remains vague about whether the U.S. military would intervene in a cross-strait conflict.
China cites such statements alongside more frequent exchanges and strengthened military and trade ties to claim that the United States is eroding its long-standing one-China policy, which acknowledges Beijing's claims without taking sides in the dispute. The White House has repeatedly denied that the policy has changed.
Pelosi's visit sparked the largest Chinese military show of force since the 1995-1996 Taiwan Strait crisis and Chinese import bans on some Taiwanese goods, in what Beijing said was a warning to Washington and Taipei against allowing "separatists" to gain ground.
The high-profile visit infuriated Beijing, which aired warnings to Washington publicly and privately ahead of the trip. Chinese leader Xi Jinping had personally asked President Joe Biden to prevent Pelosi's visit, a request turned down by Biden, The Washington Post reported, according to a senior White House official who spoke on the condition of anonymity.
A delegation of five members of Congress led by Sen. Ed Markey, D-Mass., visited Taiwan last week, prompting a fresh round of Chinese military drills in the waters around the island.
Taiwan's foreign minister, Joseph Wu, told reporters in Taipei on Friday that he expected more visits from friendly lawmakers despite - or even because of - Beijing's military threats.
"Even though China is trying to coerce us internationally, trying to . . . stop our friends from coming in, it won't work," he said. "Because of the mutual pressure that China has demonstrated against Taiwan, there are more people than ever who want to come and show their support in Taiwan."
Wu argued that greater engagement between the United States and Taiwan does not, as Beijing claims, alter the "status quo" of Taiwan continuing to exist as a separate entity from China without moving toward formal legal independence.
In contrast, he said that recent Chinese military actions - such as asserting that the Taiwan Strait should not be considered international waters and conducting drills that cross the median line of the waterway - were "trampling on the status quo."
Shepherd reported from Taipei. The Washington Post's Alicia Chen in Taipei contributed to this report.
---
---
---
---