Residents of Hawaii Army base face weekend power outage, with more to follow
By
Stars and Stripes
August 27, 2022
---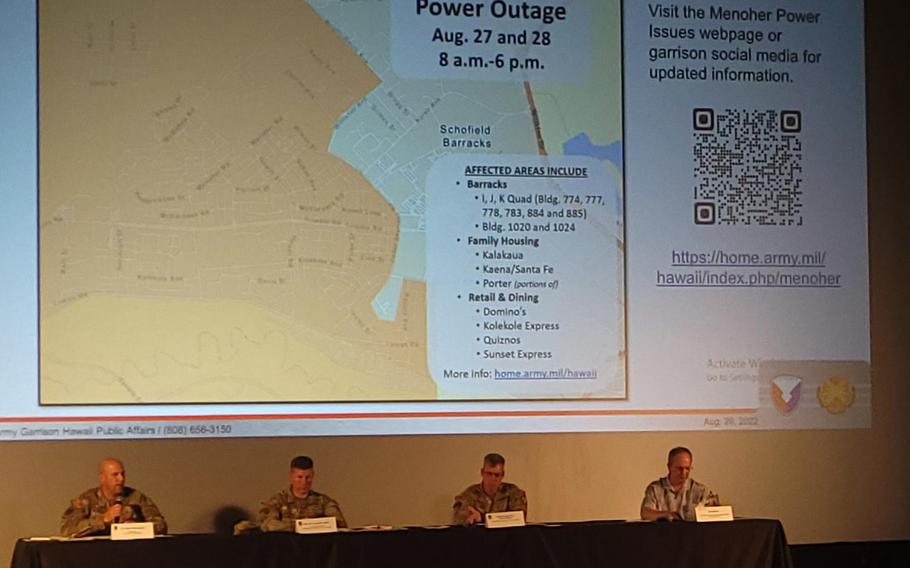 SCHOFIELD BARRACKS, Hawaii — Thousands of soldiers and their families living on Hawaii's largest Army base are bracing for a planned weekend power outage as work continues to upgrade the base's antiquated electrical grid.
Army leadership at Schofield Barracks in central Oahu have notified base residents to expect more scheduled outages in the coming weeks as workers with Hawaiian Electric upgrade the system.
In early June, one of a pair of transformers in the Menoher electrical substation on Schofield failed. The substation provides power to roughly 3,500 homes, as well as barracks and other buildings housing military units.
Obtaining a replacement transformer for the base's antiquated electrical system required having one custom built on the mainland.
With the substation running at half capacity since June 10, the base has experienced routine power outages this summer.
Earlier this month, base leadership took steps to minimize electrical use by removing nonessential military facilities from the power grid and significantly reducing usage at others.
They also urged residents to drastically reduce their power consumption between 4 p.m. to 10:30 p.m. by avoiding using more than one major appliance at a time, among other power-saving steps.
During a Friday morning town hall meeting on Schofield, Maj. Gen. Joseph Ryan, senior commander of U.S. Army-Hawaii and commanding general of 25th Infantry Division, laid out some of the steps the base was taking to minimize the pain of the outages slated for Saturday and Sunday, from 8 a.m. to 6 p.m.
Six air-conditioned "comfort stations" have been set up for residents around the base, each with wi-fi.
Restaurants are featuring discounts on meals, and free hot dogs and hamburgers will be served at lunch times in several locations on the base, Ryan said.
Residents can drop off perishable foods or medicines at five refrigeration stations, although there will be no capacity for frozen items, he said.
Jim Alberts, senior vice president and chief operations officer for Hawaiian Electric, said at the meeting that he had learned early Friday that the replacement transformer had just been loaded onto a barge for shipment to Hawaii.
"So that's a huge plus, knowing that with all the supply chain challenges the world faces today that it's actually on its way," Alberts said.
He said the company expected to install the transformer in October.
Until recently, the Army had owned all the electrical infrastructure on Schofield, with the power provided by Hawaiian Electric, which supplies energy to roughly 95% of the state's residents. In March, the base's electrical infrastructure was transferred to the company.
The weekend outage will allow a crew of 70 workers from Hawaiian Electric to prepare the substation for the installation, Alberts said.
"If they know the system is deenergized, we can do work much quicker," Alberts said.
Other work will involve upgrading and adding "circuits and ties" around the base that will better balance the electrical load across the system, he said.
They will also install equipment used to remotely "monitor the health of the substation," a job that has always been done manually, he said.
"Installing this new technology, this equipment, will allow us to be more efficient, be able to respond to things much quicker and be able to diagnose them," he said.
The length and number of future planned outages is indefinite for now, Alberta said, but that will become clearer after this weekend's work.
"When we get into that substation and we look at the condition of all the lines in the manholes where all of these circuits are underground, we'll learn a lot more," Alberts said.
Ryan promised residents that they would be informed of future outages with as much lead time as possible.
"There is literally and figuratively a light at the end of the tunnel here — with no pun intended — on electricity," Ryan said.
"We're gonna get there, and this weekend is an important part of that," Ryan said. "So I do appreciate everybody's flexibility and patience with us as we fix a problem that's, candidly, been the result of years and years of underinvestment in our electrical grid.
"So now we're suffering from that — you're suffering from that. We recognize it. We're going to fix it."
---
---
---
---