Top VA official kicks off Pacific junket with stop at Hawaii medical center
By
Stars and Stripes
August 18, 2022
---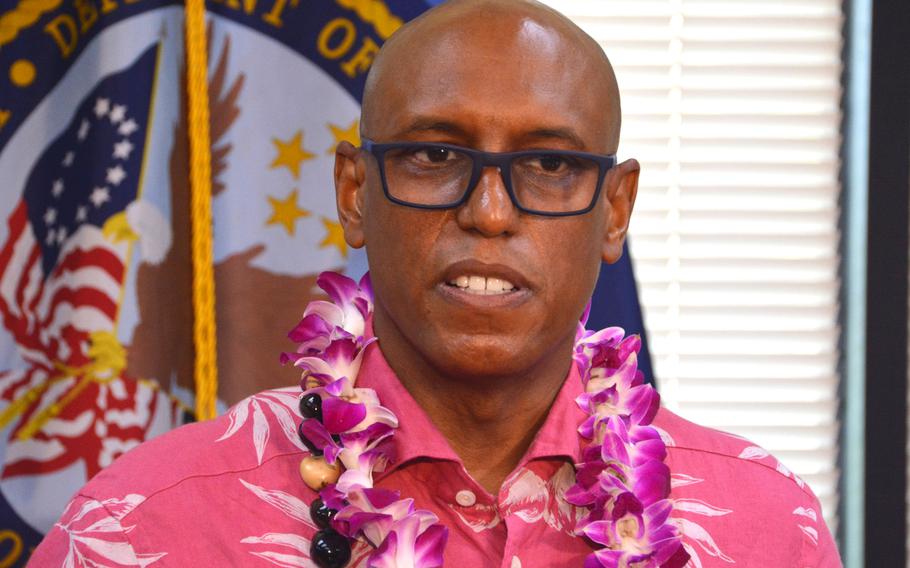 SPARK M. MATSUNAGA VA MEDICAL CENTER, Hawaii — The PACT Act recently signed into law increased benefits eligibility for veterans exposed to burn pits but will vastly expand VA health care for all veterans, the deputy secretary of Department of Veterans Affairs said Wednesday.
"The PACT Act has a lot of things in it, and it's a tremendous piece of legislation that will grow the services provided by the VA, probably more than any other piece of legislation ever has," Donald Remy, deputy secretary, told reporters during a news conference at the Spark M. Matsunaga VA Medical Center on the outskirts of Honolulu.
"And not just for the toxic exposure and the conditions that were the result of those toxic exposures, but more broadly," he said.
Remy spent Wednesday meeting with staff, patients and leaders of veterans' organizations at the medical center, which adjoins Tripler Army Medical Center.
Through the end of this month, Remy is touring clinics under the VA Pacific Islands Health Care System, a trip that will take him to VA clinics in Guam, Saipan, American Samoa and the Philippines, as well as the Big Island of Hawaii.
The region is home to more than 100,000 veterans, Remy said.
President Joe Biden signed the Promise to Address Comprehensive Toxics Act, or PACT Act, into law on Aug. 10, and among its provisions is authorization for an additional 31 major medical health clinics and research facilities in 19 states.
Those added facilities, however, will be used more broadly than just treatment of veterans suffering from toxic exposure, Remy said.
"We're in the process of looking at that authority, determining where new leases can and should be let, and making sure that we have the facilities to provide the services to the population that exists in those areas," said Remy, an Army veteran whose father was awarded the Bronze Star for actions during the Vietnam War.
The PACT Act's leasing authority is "something we'll use here and elsewhere" to ensure that the VA health system has the facilities it needs, he said.
"We did market assessments across the country previously and examined where we needed facilities, where we needed to beef up our infrastructure," he said. "That'll serve as a basis for us to examine what we need to do moving forward. So, yes, it's too soon to say we'll lease this facility or that facility."
Remy said he had pressed the staff at the Honolulu medical center to do more in the area of women's health "because that's the largest growing cohort of veterans that we have."
The coronavirus pandemic proved to be a boon to innovation in the area of telemedicine, a health care option that is "here to stay," he said.
"We learned a lot over the course of the last couple of years — not that we're entirely out of the pandemic," he said. "But we learned that we can reach veterans where they are."
---
---
---
---