Thousands living on Hawaii Army base urged to slash electricity use due to grid failure
By
Stars and Stripes
August 13, 2022
---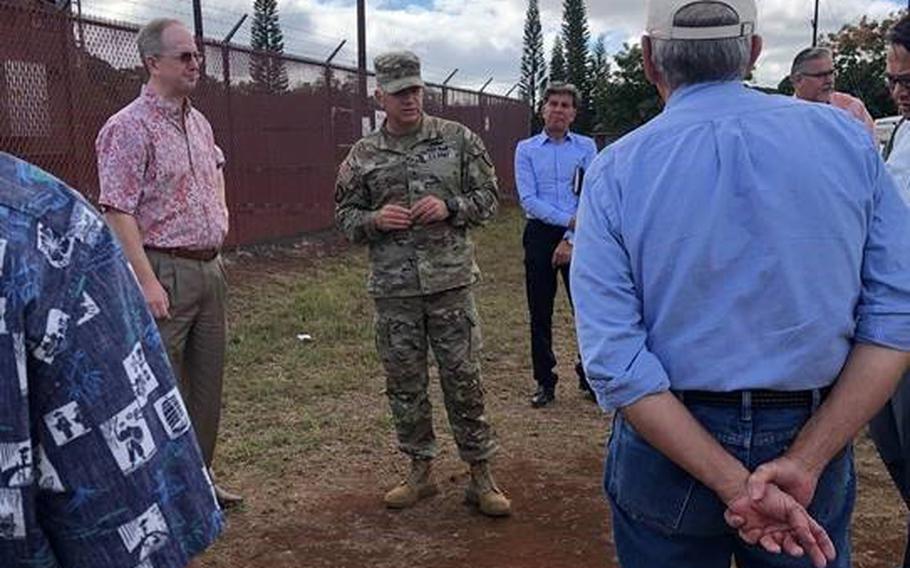 FORT SHAFTER, Hawaii – Thousands of soldiers and family members living on Schofield Barracks in central Oahu are being asked to drastically reduce their electricity use in the coming months as the Army grapples with repairing an antiquated substation.
Last week, Army officials asked residents to avoid using multiple major appliances, such as dryers, stoves and ovens during the hours of 4 p.m. to 10:30 p.m. They were also asked to forgo charging electric vehicles or using nonessential electrical appliances or lights during that time period.
The Menoher electrical substation, which serves about 3,500 homes, a number of barracks and other buildings on Schofield, has been operating at half capacity since June 10 when one of its two transformers failed, Army Garrison Hawaii announced on its Facebook page Aug. 4.
The situation has grown acute as Hawaii entered its hottest months of August and September when air conditioning demand peaks.
"After an extensive search for existing transformers to replace the failed one, we have located a manufacturer from the mainland and are awaiting a transformer to be built and delivered," the post stated.
The catch? It is expected to take several months before it is delivered to Hawaii, the Army said.
"In the electric industry, substation-class transformers are typically custom designed and built to meet the needs of the overall grid where they are intended to be installed," Lt. Col. Jamie Dobson, spokeswoman for U.S. Army Hawaii, said Friday in an emailed response to a query by Stars and Stripes.
"Schofield Barracks' electrical system is not widely found in the industry, in part due to how old it is," she said. "The transformer has to match the system in order to function safely and efficiently."
Corrosion from the weathering effects from Oahu's tropical climate led to the failure of the transformer, Dobson said.
Until recently, the Army had owned all the electrical infrastructure on Schofield, with the power provided by Hawaiian Electric, which supplies energy to roughly 95% of the state's residents.
The garrison has been working several years toward a partnership with Hawaiian Electric, Dobson said. In March, the base's electrical infrastructure was transferred to the company, which has the expertise for maintenance and improvements to bring the electrical system to current industry standards, she said.
Maj. Gen. Joseph Ryan, commander of Army Garrison Hawaii and the 25th Infantry Division, has prioritized supplying power to homes and barracks. He directed that nonessential military facilities be either removed from the power grid or significantly reduce their electrical usage.
Dobson declined to specify the number of facilities affected due to "operational security concerns."
She said the command is continuing to look for ways to reduce demand during peak hours by "identifying additional military facilities to take offline or place on generator power, extensive planning of rerouting individual circuits to other substations, employing military power generation assets, and monitoring the electrical load hourly each night to adjust mitigation efforts."
On Thursday, the Army Corps of Engineer's Alpha Company, 249th Engineer Battalion, coordinated with Hawaiian Electric and the Army's Directorate of Public Works to hook up generators to the base's power grid, Dobson said.
Dubbed "Prime Power," the battalion is tasked with providing commercial-level electrical power to military units and federal relief organizations, according to its website.
Army Garrison Hawaii's Facebook posting from last week had garnered more than 250 comments as of Friday, most of them expressing dissatisfaction with the request to cut electrical use.
"I know we should try to conserve energy as much as possible but asking people who work during the day to not do laundry at night when that's the time they have … or asking families to not use their stove from 4 to 10 pm?" wrote a Facebook user named Candace Jade May. "When do you want us to eat dinner? At 330 pm?"
Commenter Alexandria Aldape-Ramirez thanked the garrison command for providing ways the Schofield community could help reduce power usage.
"Now, a way command can help is maybe giving the people effected meal per diems for dinner?" she wrote. "Eating out every night and/or guessing when to make food for several months is not practical living."
---
---
---
---