Marines' force revamp would demolish WWII hangar to make way for new units in Hawaii
By
Stars and Stripes
August 10, 2022
---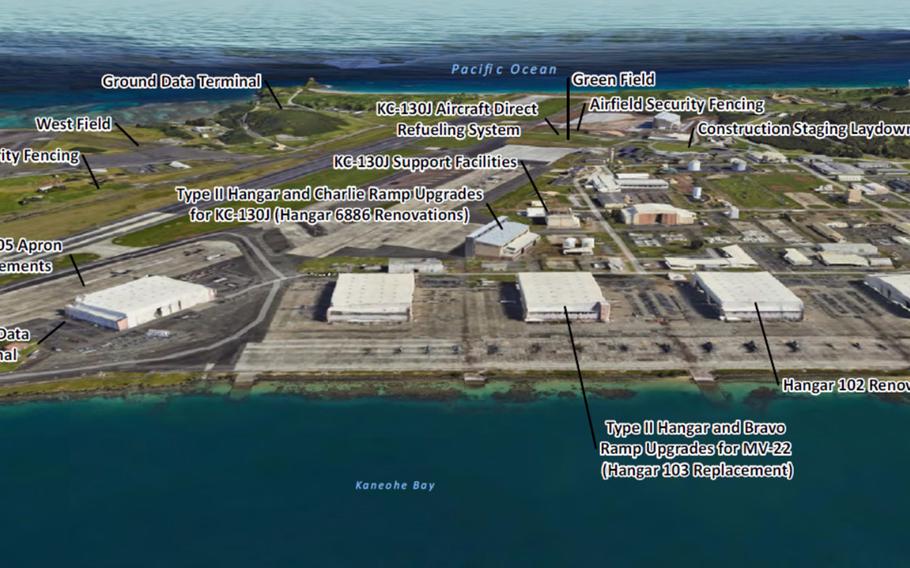 FORT SHAFTER, Hawaii — The Marine Corps is seeking public comment on its plan to base squadrons of KC-130J cargo planes and MQ-9 Reaper drones in Hawaii, a project calling for demolition of a landmark World War II-era hangar.
The project, with a completion goal of 2027, would make room for an MQ-9 squadron of six Reapers and an aerial refueler transport squadron consisting of 15 cargo planes at Marine Corps Base Hawaii, according to a draft environmental assessment released Monday.
The service is soliciting public feedback on the plan until Sept. 7.
The plan requires demolition of Hanger 103, which was under construction during the surprise attack on Dec. 7, 1941.
The hangar is eligible for listing on the National Historic Register because of its significance relating to the base's National Historic Landmark District.
The new squadrons are part of the Marine Corps' Force Design 2030, a restructuring aimed at creating a lighter force more adapted to fighting in the kinds of contested maritime spaces that would be central in a conflict with China.
Among other changes, the redesign resulted in the Hawaii base divesting itself of a pair of helicopter squadrons and a reconnaissance drone squadron.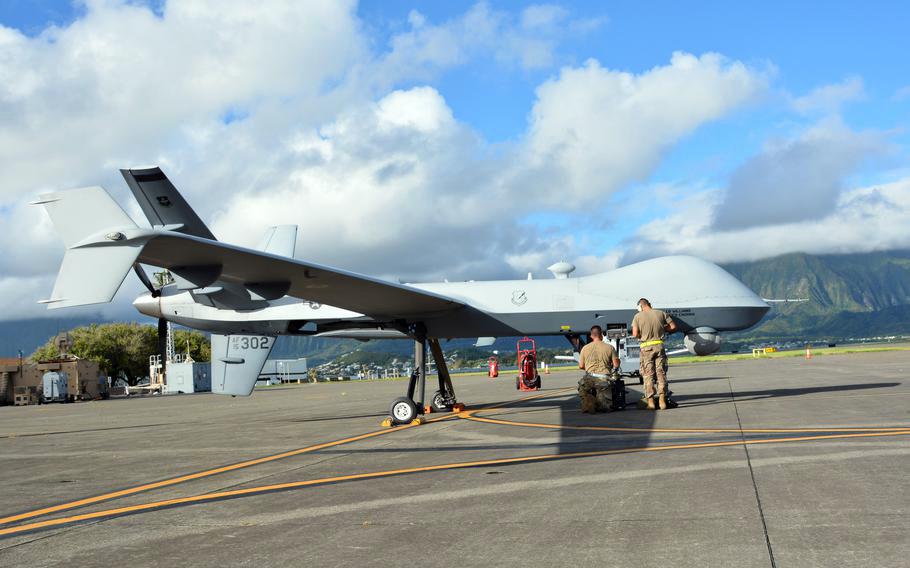 In April, Marine Heavy Helicopter Squadron 463 became inactivated with the casing of its colors, and Marine Light Attack Helicopter Squadron 367 was temporarily deactivated for a planned relocation to Marine Corps Air Station Camp Pendleton, Calif.
The base also purged its RQ-21A Blackjack reconnaissance drone squadron, which operated its last flight in May.
The two new squadrons are needed to "extend the capability, versatility, and range of Hawaii-based Marine Corps and other forces through additional refueler, transport, intelligence, surveillance, and reconnaissance capabilities" in support of U.S. Indo-Pacific Command, the assessment said.
The pair of squadrons would bring about 676 personnel, as well as their family members, to Marine Corps Base Hawaii.
That equates to a net reduction of personnel with the departure of more than 800 Marines and their families with the former squadrons.
When the new squadrons are fully up and running, aircraft operations would be about 11% less than what was occurring at the base before May 2022, the assessment said.
The assessment determined that under Section 106 of the National Historic Preservation Act of 1966 the project would result in "adverse effects" to historic properties on the base.
In addition to demolishing Hangar 103, the project calls for repaving work on Bravo ramp and parking apron, which was one of the primary targets of the surprise attack.
The project could include "possible removal or paving over of Bravo Ramp paved area bomb craters and strafing damage from the 7 December 1941 attack, and removal of historic paving elements, such as tie-downs," the assessment said.
The draft assessment can be viewed at https://www.mcbhawaii.marines.mil/Resources/Featured-Information/MQ9-KC130.
Comments can be emailed to nfpac-receive@us.navy.mil or mailed to EV21 Project Mgr., MCB Hawaii Home Basing EA, Naval Facilities Engineering Systems Command, Pacific, 258 Makalapa Dr., Ste 100, Joint Base Pearl Harbor-Hickam, HI 96860-3134.
Correction
This story has been corrected to reflect that Hangar 103, while eligible for listing, is not currently listed on the National Historic Register.
---
---
---
---