US military issues warning as heavy rains, deadly flooding continue in South Korea
By
Stars and Stripes
August 9, 2022
---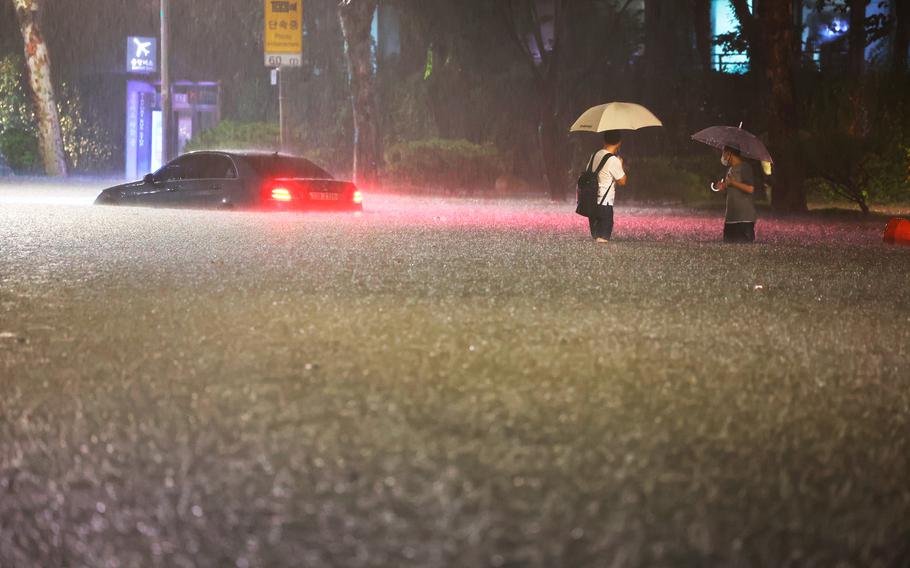 CAMP HUMPHREYS, South Korea — Heavy rain and flooding killed at least eight people in South Korea on Tuesday and prompted the U.S. Department of Defense to warn its personnel there to prepare for more bad weather.
DOD advised service members near Seoul, the K-16 Army airfield and Seongnam city to "anticipate limited visibility … build-up of standing water and debris."
More rain is expected for Seoul in the coming days, according to the Korea Meteorological Association. The agency anticipates around 4 inches to 11.8 inches for the greater Seoul area and over 13.7 inches in surrounding provinces.
Dozens of people were displaced following the floods and search-and-rescue efforts are ongoing, according to a news briefing Tuesday by Gov. Kim Dong-yeon of Gyeonggi, the most populated province in South Korea and home to Camp Humphreys, the largest U.S. military base overseas.
The South Korean military was working with the Central Disaster and Safety Countermeasure Headquarters and local governments on rescue operations and restoration projects, Ministry of National Defense spokesman Moon Hong-sik said at a news briefing. Moon said military assets sustained only minor damages from the flooding, including walls felled by the torrential rain.
At Yongsan Garrison in Seoul, the damage was limited to a single downed power line that has since been repaired, according to an emailed statement from public affairs officer Laurel Stone. The Directorate of Public Works estimated that water outages there would be repaired within four to six hours, a post on the garrison's official Facebook page said Tuesday.
Minor flooding at K-16 had "no major impact on personnel or equipment," Stone added. Fourteen soldiers were relocated after some flooding in the first floor of their barracks.
U.S. Forces Korea, the military command responsible for roughly 28,500 American troops in the country, said it "remains committed" to help defend South Korea despite the recent flooding.
"USFK Operations and Safety officials have been proactive at alerting personnel of the dangers and hazards associated with these historic rainfall amounts and have issued mitigation measures and road condition announcements in order to make travel and training as safe as possible," spokesman Wesley Hayes said in a statement emailed to Stars and Stripes on Tuesday.
Seoul recorded its heaviest rainfall in 80 years with around 5.5 inches of water an hour on Monday evening. At least eight people were dead, and six others missing as of Tuesday, according to the Interior and Safety Ministry.
South Korean President Yoon Seok Youl took note of the "abnormal weather conditions" precipitated by climate change and directed officials to promptly assist flood victims, according to a readout of a meeting of the Central Disaster and Safety Countermeasure Headquarters in Seoul on Tuesday.
"I express my condolences to those damaged," Yoon said, according to the readout from the presidential office. "Above all things, the loss of our people's precious lives due to man-made disasters should not take place."
In North Korea, leader Kim Jong Un said extreme heat and unending rain was affecting crop yields, according to comments attributed to him by the state-run Rodong Sinmun newspaper. He urged farmers to remain vigilant.
"Overconfidence, carelessness and laxity are our greatest enemy in planning measures to prevent damages caused by disastrous abnormal climate such as heavy rain, typhoons and so on; since agricultural production is achieved while being influenced by nature anytime," Kim said.
Stars and Stripes reporter Yoo Kyong Chang contributed to this report.
---
---
---
---