North Korea mocks DC memorial's new Wall of Remembrance as 'ceremony play'
By
David Choi and Yoo Kyong Chang
Stars and Stripes
August 8, 2022
---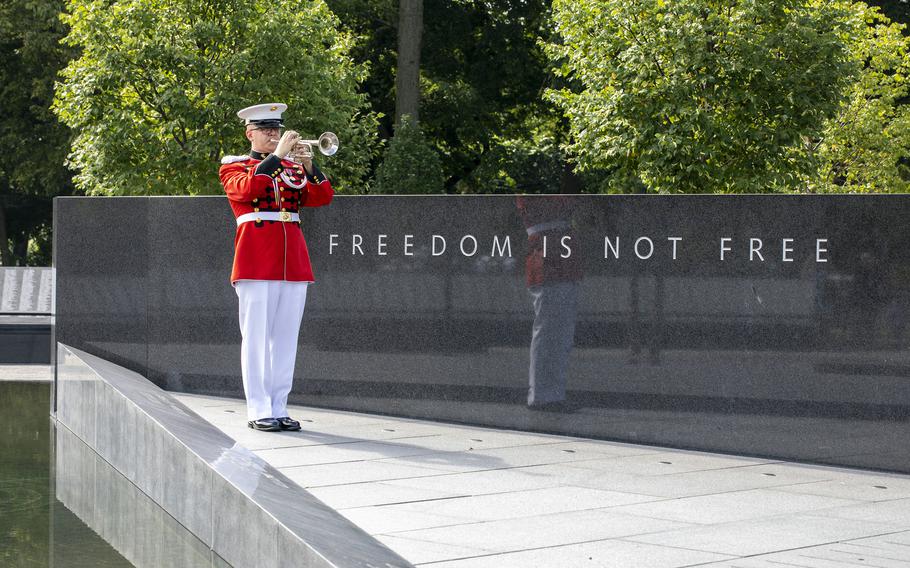 CAMP HUMPHREYS, South Korea — South Korea's veterans affairs chief denounced North Korea's mockery of a new Korean War memorial in Washington, D.C., and said honoring those who died for their country is a "courtesy and duty as a human being, regardless of political ideology."
The North Korean state-run news outlet Uriminzokkiri, or With Our People, on Saturday described events in Washington as "ceremony play."
"The Wall of Remembrance and the unveiling ceremony play may comfort and commemorate someone; however, it would never lessen the nightmare of the lost war and cure the shame of the disastrous defeat," said the column. The wall instead should stand as a testament to North Korea, "our great republic, which has embraced a great victory."
The Korean War Veterans Memorial was rededicated in a ceremony on July 27 to include a new Wall of Remembrance that contains the names of over 36,000 American and 7,100 South Korean augmented troops who were killed during the 1950-53 war.
On Sunday, Minister of Patriots and Veterans Affairs Park Minshik described North Korea's remarks as "irrational" and that it was "time that North Korea's propaganda outlets should level up."
Those who died in war ought to be remembered for their service, Park said in a statement posted on his Facebook account.
"The U.S. sent the largest number of young persons to the war and some of them never returned to their loving families," Park said. "Commemorating the sacrifice and commitment is a courtesy and a duty as a human being, regardless of political ideology."
North Korea's state-run news outlets frequently criticize the U.S.-South Korea alliance and mock war casualties from the two countries.
The communist regime characterizes its Korean War campaign as a successful deterrent against imperialist forces. North Korea also holds tributes to the war dead and observes a national holiday to commemorate the signing of the Korean War Armistice Agreement.
Congress approved building the memorial wall in 2016 and construction workers broke ground in 2021. The renovations cost $22 million and were funded by donations from South Korean companies, religious groups and veterans' organizations, according to the Korean War Veterans Memorial Foundation. Upgrades to the existing memorial included installation of rail lighting, planting of junipers and statue restorations.
"This wall reminds us of the depths of their sacrifice and instills in us a call of duty to carry on their fight," South Korean Ambassador to the U.S. Cho Tae-yong said at the rededication ceremony, according to a Defense Department news release. "The service members we are here today to honor stood their ground in battlefields so that future generations could live in a vibrant democracy — indeed, [South Korea] is a vibrant democracy today."
---
---
---
---