Law firm urges Navy to relocate Hawaii families leery of fuel-tainted homes
By
Stars and Stripes
August 6, 2022
---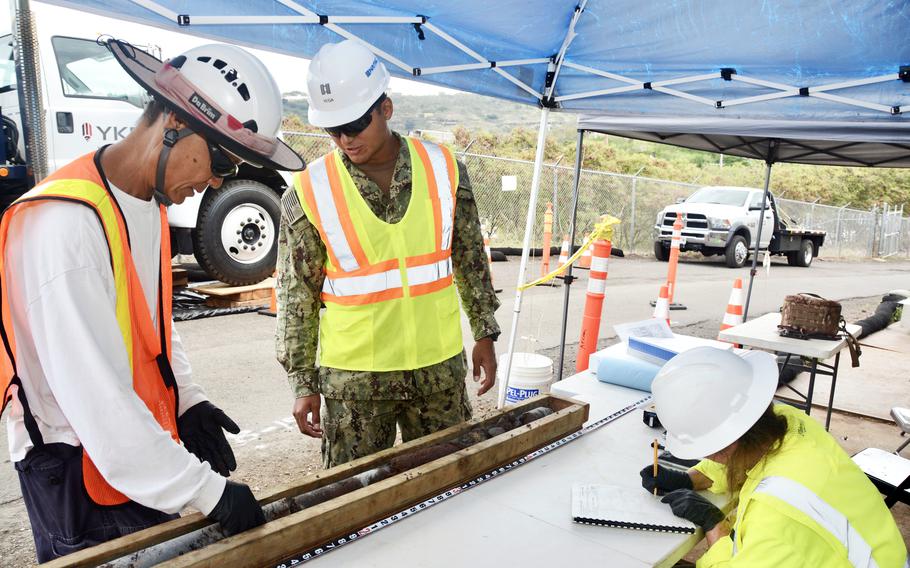 FORT SHAFTER, Hawaii – Attorneys representing hundreds of Hawaii residents sickened by petroleum-tainted tap water are urging the Navy to permanently relocate families after University of Hawaii scientists this week unveiled sampling data suggesting that water in some homes could still be tainted with jet fuel.
"The circumstances are dire and immediate," the attorneys wrote in a letter Thursday to the Navy's Office of the Judge Advocate General.
"Please provide alternative safe housing off the water line or offer compensation to families for their move," wrote the attorneys from the Austin-based firm Just Well Law. "Many affected families have spent their entire life savings to move off the Navy water line, or off the island. But many of the families who remain are desperate to leave and have no recourse to do so."
The law firm represents nearly 150 families who have experienced illnesses – some long-lasting – and other hardships stemming from jet fuel contamination discovered in late November at about two dozen military communities on and near Joint Base Pearl Harbor-Hickam. Thousands of residents were temporarily relocated to hotels this winter.
The contamination was traced to jet fuel leaking from the Red Hill underground fuel storage facility. State and federal officials are in the process of emptying those tanks and permanently closing the facility.
In their letter, the attorneys cited results of water testing released this week by the University of Hawaii Red Hill Task Force, which was formed in December in response to the contamination.
The task force uses a testing method called fluorescence spectroscopy, which provides rapid, preliminary screening of a large number of samples.
"The caveat is that fluorescence-based methods are not specific to petroleum products," the University of Hawaii said in a news release Friday. "Rather, it is measuring the fluorescence produced by one or more chemicals typically present in fuel."
The task force's test results found positive indications in samples taken at homes in several military communities as late as May – about two months after the Navy and Hawaii Department of Health declared the water supply to be safe for consumption on March 18 after extensive flushing.
The task force recommends that residents of homes with positive detections follow up with more detailed testing from labs certified by the U.S. Environmental Protection Agency.
"A positive detection using fluorescence spectroscopy is like getting a report of a shadow on an X-ray," the university's news release said.
The Navy said Friday it stands by the monitoring testing protocol it put in place in the affected communities.
"Since the Navy began long-term monitoring of its water distribution system in March, there have been no detections of JP5 [jet fuel] contamination in the system," the Navy said in a statement provided to Stars and Stripes.
The Navy will continue to use established laboratories employing "EPA-authorized and validated testing procedures, equipment, and reporting standards in the testing of our drinking water," the statement said.
The Navy's water "has been and is consistently safe to drink" since the EPA, Hawaii Health Department and Navy determined it safe on March 18, the statement said.
One of the attorneys representing the families, Kristina Baehr, said about two-thirds of the families she represents have either moved back to the mainland or elsewhere on Oahu where water was never affected.
"But about a third of my clients are still on the water line, and they would move if they had a safe alternative, a safe and affordable alternative," Baehr said during a phone interview Friday. "But their leases are precluding them from moving – and then there is the expense of finding an alternative safe place."
Baehr pointed out that the U.S. Army announced Thursday it was evacuating about 1,200 soldiers from barracks at Fort Bragg, N.C., that were so infested with mold that they must be demolished.
"We know how to provide people safe housing and to evacuate people when we need to, right?" she said. "I'm not suggesting that [the Navy] evacuate 93,000 people. Just let the people who want to leave to leave and provide them the resources to do it."
---
---
---
---