Java volcano gets wide berth from US airlifters training in Indonesia
By
Stars and Stripes
July 20, 2022
---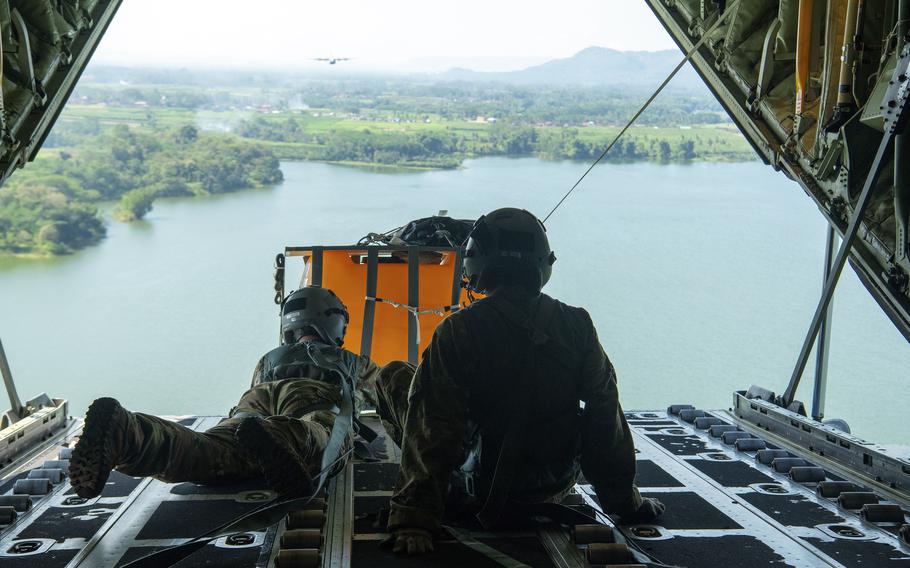 Volcanic ash was a flight hazard for American airlifters who spent 10 days training with their Indonesian counterparts on the island of Java last month.
A pair of C-130J Super Hercules, along with a detachment of 70 U.S. airmen, mostly from the 36th Expeditionary Airlift Squadron of Yokota Air Base, Tokyo, were at Abdul Rachman Saleh Air Force Base, East Java province, Indonesia, June 15-25, according to Maj. Sean McKee, who commanded the group.
During the Cope West exercise, aircrew, mechanics and medical personnel practiced air drops alongside Indonesian crews flying C-130B and H-model Hercules aircraft, the 40-year-old pilot from Fayetteville, Ark., told Stars and Stripes by phone Tuesday.
Air routes linking the air base and three drop zones took pilots near Mount Bromo, an active, 7,641-foot volcano, McKee said.
"We could see it when we were flying," he said. "We had to watch out for volcanic ash and make sure we didn't fly within 50 miles of it. If ash goes into the engines, it would do severe damage."
Some of the airmen drove up to the volcano in an off-road vehicle and saw steam rising from its crater, McKee said.
Training focused on coordinating U.S. and Indonesian airlift operations, he said.
Members of the 320th Special Tactics Squadron from Kadena Air Base, Okinawa, surveyed drop zones and provided weather information and clearance to aircraft from the ground during drops, McKee said.
The airlifters practiced taking off at different times and linking up as a four-plane formation before an air drop. They also dropped a small boat and bundles into a water drop zone, McKee said.
U.S. forces have responded to natural disasters in Indonesia in the past, including after the 2004 Indian Ocean earthquake and tsunami.
"I could easily see us return to Indonesia to help with a natural disaster or assist in a conflict," McKee said.
The U.S. has a longstanding interest in a relationship with Indonesia's military, Ian Chong, an associate professor of political science at the National University of Singapore, told Stars and Stripes in an email Tuesday.
"Indonesia sits astride the Indian and Pacific Oceans and covers the southern approach to the South China Sea," he said. "So there has been longstanding U.S. interest to work more closely with Indonesia, and Washington has been constantly looking for ways to grow that relationship. Moreover, Indonesia is also a developing democracy and the most populous state in Southeast Asia."
Indonesian leaders are looking to increase leverage with major powers, which may give the U.S. an incentive to work harder to gain Indonesian support, Chong said.
The Indonesian air force will acquire its own C-130J Super Hercules aircraft later this year, McKee said.
Yokota's airlifters will be back in Indonesia next month for Garuda Shield, an exercise that will include Japanese and Indonesian paratroops, he said.
---
---
---
---