'It's our job to find them': Japanese, Americans dig for WWII remains on Okinawa
By
Stars and Stripes
July 18, 2022
---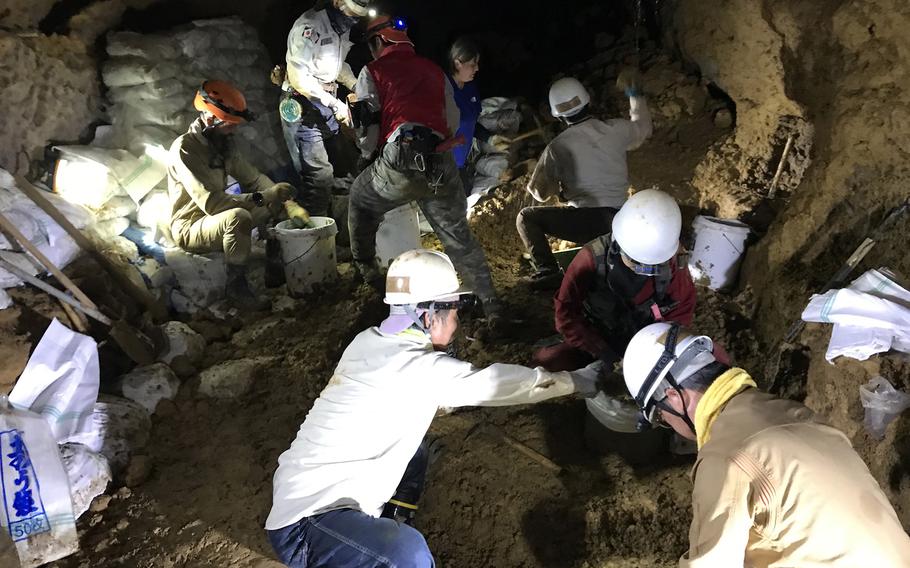 ITOMAN, Okinawa – A week after the Battle of Okinawa, Marine Pfc. John Quinn Jr. entered a cave looking for souvenirs and never came out.
Now, 77 years later, Kuentai-USA, a Japanese nonprofit dedicated to repatriating World War II remains, is bringing Americans and Japanese together to excavate the cave in hopes of finally bringing the Marine home.
"We have to do everything we can do to really confirm" whether his remains are there, Kuentai-USA secretary general Yukari Akatsuka said July 11 during a break in the excavation. "We just don't want to leave this unclear."
Quinn, a Reservist from the 29th Marine Regiment, entered the cave, reportedly once the Japanese 62nd Division field hospital, with a group of Marines on June 29, 1945, according to the Defense POW/MIA Accounting Agency website.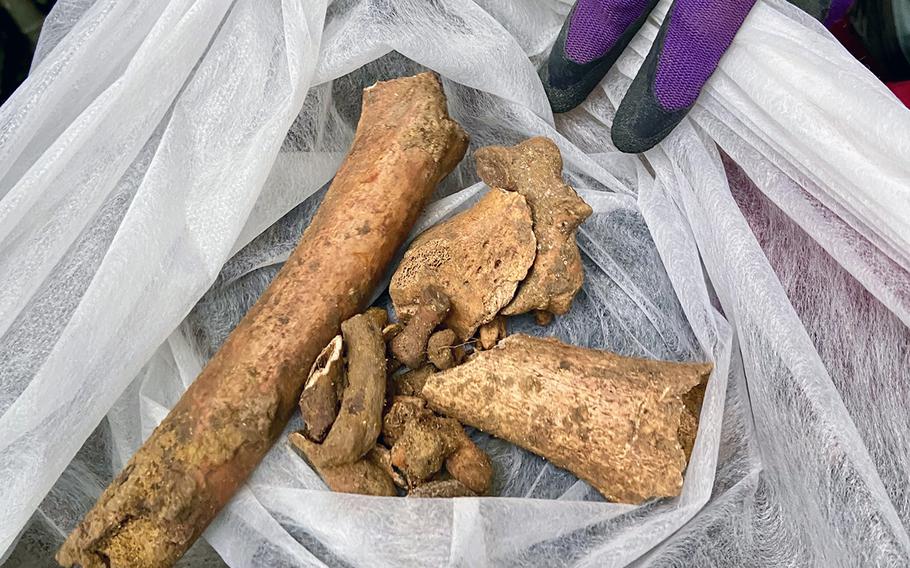 Eyewitnesses reported that the Marines turned left toward the main chamber, Akatsuka said. They were ambushed by Japanese holdouts somewhere inside, and Quinn was killed, the agency website states.
Marine Pvt. John Hartman pulled one wounded Marine from the cave and rushed back to retrieve Quinn, 19. Marines outside reported hearing more gunshots, then silence. The cave was sealed after the Japanese soldiers refused to surrender.
American Graves Registration returned to the cave in 1951 and removed 19 sets of remains, but all turned out to be Japanese, a U.S. Army Corps of Engineers article posted to the Defense Visual Information Distribution Service website said in April. Quinn was officially declared non-recoverable.
Japan's Ministry of Health and Welfare removed about 100 sets of remains from the cave in 1977, yet Quinn and Hartman remain unaccounted for, Akatsuka said.
Akatsuka and Kuentai's founder, Usan Kurata, said they were perplexed. Before the COVID-19 pandemic set in, they agreed to look again inside the cave. All they needed was local permission and to document their efforts for the Japanese government.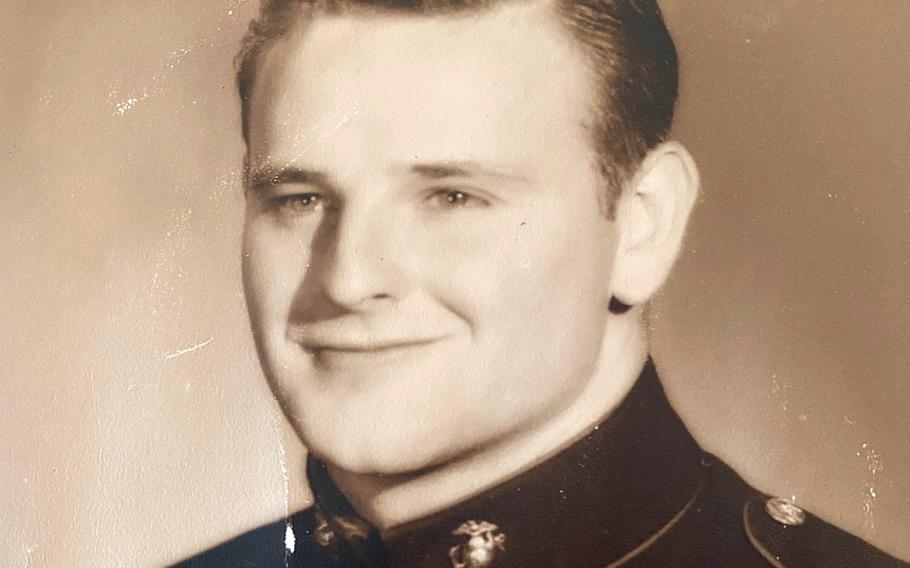 "There [were] artifacts and pieces of bones even on the surface," Akatsuka said. They decided to dig.
Pending further examination
Kuentai in April first excavated the area where Quinn and Hartman fell. The group attracted 100 volunteers, including U.S. service members from nearby bases and members of the Japan Self-Defense Force, Akatsuka said.
They recovered 10 bags of wartime artifacts and two bags of human remains, including large leg bones that may have belonged to the two Marines. Those bones are stored at the Okinawa Prefectural Peace Memorial Museum in Mabuni, pending further examination.
Kuentai continued the search between July 7 and Wednesday. This time, 130 volunteers turned out. Inside the fragile tunnels, the group sifted through sediment from collapsed ceilings and walls, trying to work down to the original tiled floor.
"I found a bone," retired Marine explosive ordnance disposal tech Matthew Small called out July 11. Everyone leaned in for a peek. "I think it's a finger."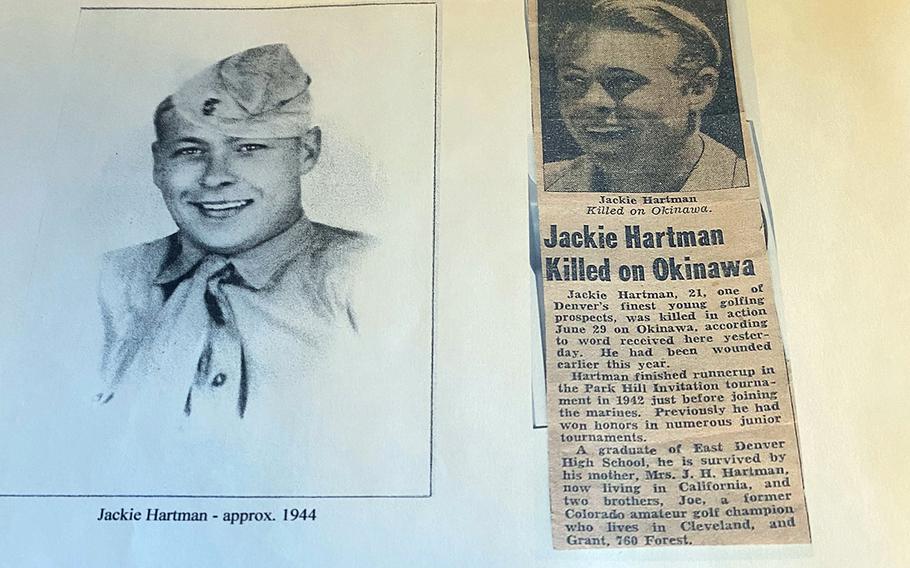 Small, a civilian employee of the U.S. Army Corps of Engineers, overlayed the bone on his own gloved hand. The group also found teeth, American coins, vials of morphine, watches, bullets and a grenade.
Kuentai and Small have kept Quinn's sister, Audrey Ponzio, and brother, Gerald Quinn, and Hartman's relatives apprised of their progress.
"It's our job to find them," Small said.
'Pop Quinn'
Ponzio remembered her brother as a family man. He worked at a butcher shop before the war and asked if he could be paid in meat to feed his family. He was eligible for a deferment but joined the Marines instead.
"He was the oldest of us seven," Ponzio told Stars and Stripes on July 8. "He was a terrific kid. My mother's heart was broken."
Quinn was called "Pop Quinn" in their Brooklyn neighborhood because he was always helping everyone. He called his brother Gerald "Six Cents," because he was always begging for candy money.
"He was a wonderful person," said Gerald, who joined the Marines in 1955. "I tried to emulate him in my life."
The Hartman family likewise appreciates Kuentai's efforts, Jack Hartman, nephew of John, wrote in an email to Stars and Stripes.
Kuentai hopes the Japanese government will work with the Defense Department to sample the DNA of remains discovered thus far to see if they can finally identify Quinn and Hartman. During the dig, the group brought Ponzio and Gerald into the cave via video call.
"My dad was so emotional and choked up," said Gerald's daughter, Mary Anne DeVivio. "When we closed the call, the first words out of his mouth were, 'I was able to say goodbye to my brother John.'"
---
---
---
---