Iraq, Afghanistan veteran from Hawaii takes command of Army group on Okinawa
By
Stars and Stripes
July 14, 2022
---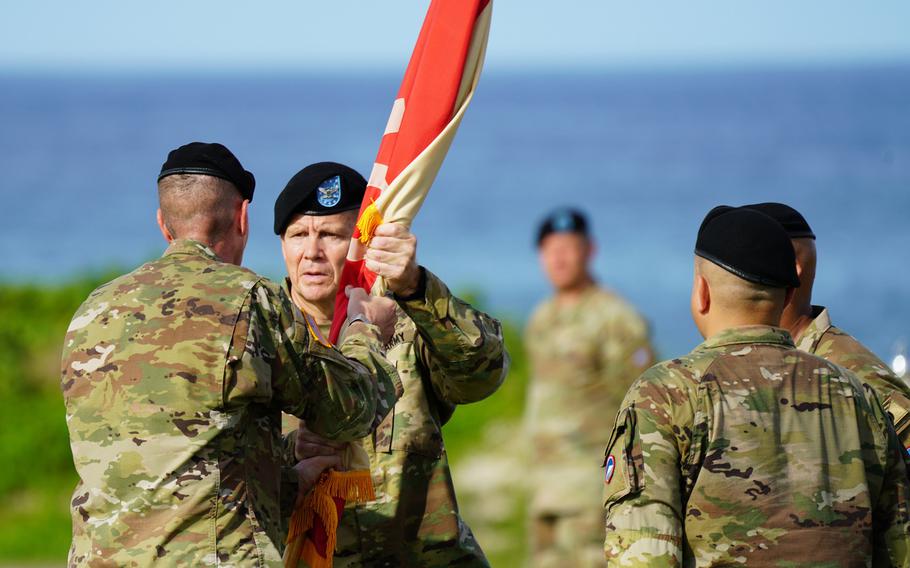 TORII STATION, Okinawa — A veteran of Iraq and Afghanistan with experience in the Pacific took command Thursday of the Army's 10th Support Group on Okinawa.
Col. Ned Holt, a native of Fulton, Mo., took over from Col. Chris Paone, whose tenure was dominated by the coronavirus pandemic.
The changeover took place at the Yomitan beach where the U.S. 10th Army landed in 1945 during the Battle of Okinawa. The island prefecture still has a role on the global stage, the commander of U.S. Army Japan said at the ceremony.
"Today, Japan and the island of Okinawa are a part of the most consequential place during one of the most consequential times in history," said Maj. Gen. Joel Vowell.
Without naming China, Russia and North Korea, he referred to "three potential adversaries" who "don't have our best interests in mind."
Vowell said Holt possesses "invaluable experience almost personally tailored for his new position."
Holt last served as deputy logistics director, and before that chief of plans and exercises, for U.S. Indo-Pacific Command at Camp H.M. Smith, Hawaii, group spokesman Staff Sgt. Christopher Schmiett said prior to Thursday's ceremony.
The Missouri native previously commanded the 7th Group Support Battalion, 7th Special Forces Group (Airborne), at Eglin Air Force Base, Fla., and served as assistant chief of staff for logistics at the 25th Infantry Division in Hawaii.
He has bachelor's degrees in history and political science from Louisiana State University and a master's degree in diplomacy from Hawaii Pacific University. Holt also did two tours in South Korea.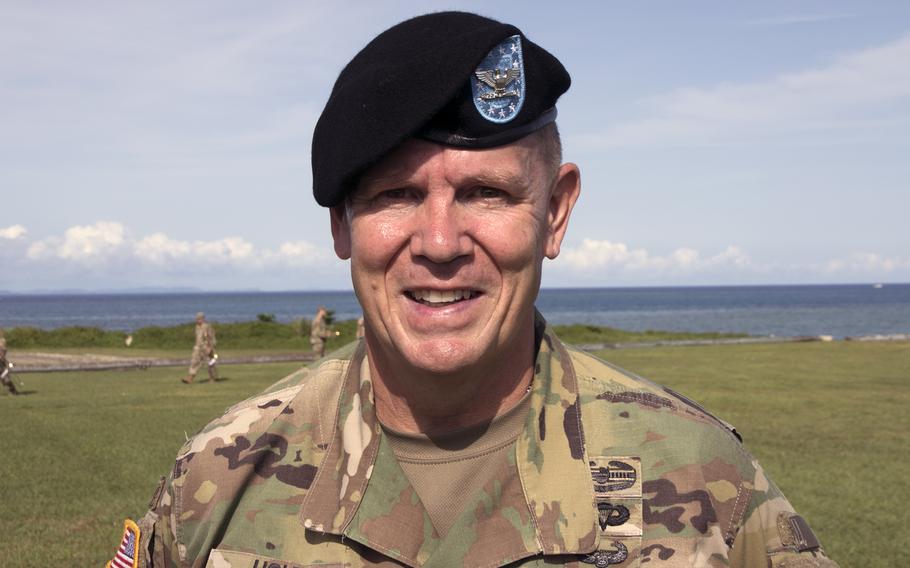 The 10th Support Group is composed of approximately 5,000 soldiers, family members and Japanese employees spread between Okinawa and Camp Zama, the headquarters 26 miles southwest of Tokyo of U.S. Army Japan, Schmiett said. The group is the senior command for all Army organizations on Okinawa and provides logistical support and sustainment to the joint force and American units in the Indo-Pacific area of operations.
The group commander is the Army's senior logistician in Japan, Vowell said.
Holt kept his remarks brief Thursday as soldiers swayed under Okinawa's searing summer sun and 80% humidity.
"I'm inspired by your tenacity over the last 2 ½ years, while operating in a challenging COVID environment," he said. "I look forward to working with each and every one of you."
Paone, a native of Ramsey, N.J., heads to MacDill Air Force Base in Tampa, Fla., to serve as logistics officer for Special Operations Command, according to 10th Support Group spokesman Maj. Richard Barker. A veteran of Afghanistan, Paone is also a Bronze Star recipient.
Paone joined the support group in July 2020, with the pandemic well underway on Okinawa. Despite that, he shepherded the force through 10 Pacific Pathways exercises, which sustained over 60,000 U.S. and allied troops across seven countries, and countless other exercises, Vowell said.
He also expanded the Army's footprint on the high seas, with 10th Support Group vessels participating in 37 transportation missions in Japan, South Korea, the Philippines and Australia, Paone said.
---
---
---
---