Okinawa declares COVID-19 alert, seeks voluntary measures to avoid surge
By
Matthew M. Burke and Mari Higa
Stars and Stripes
July 12, 2022
---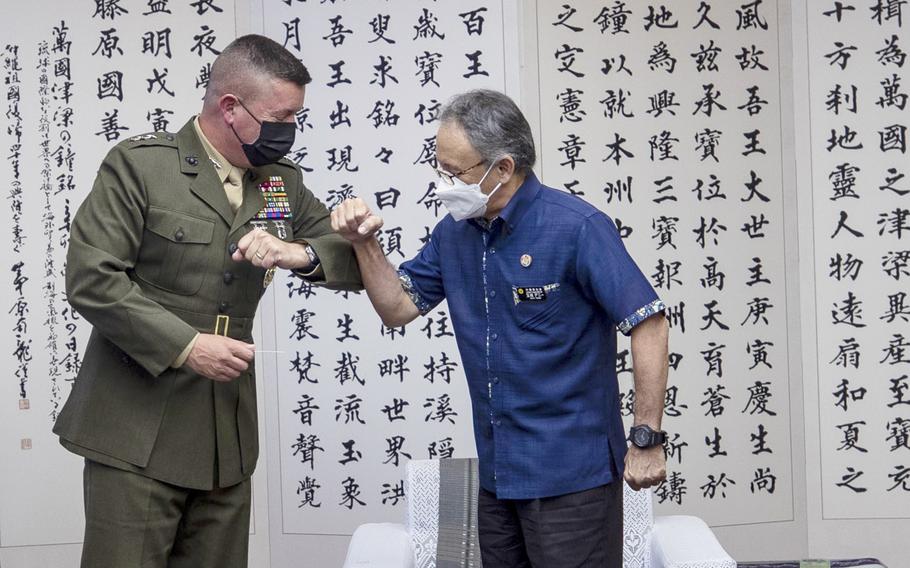 Stars and Stripes is making stories on the coronavirus pandemic available free of charge. See more stories here. Sign up for our daily coronavirus newsletter here. Please support our journalism with a subscription.
CAMP FOSTER, Okinawa — The governor of Okinawa asked for a temporary return to pandemic measures like social distancing and wearing masks to beat back a surge in COVID-19 infections on the island prefecture.
The prefecture sounded a coronavirus infection alert on Monday to last until July 24 to forestall a sudden demand for hospital beds at Okinawa hospitals.
The alert applies to the main island of Okinawa and the Yaeyama Islands, including Ishigaki, Okinawa Gov. Denny Tamaki said at a press conference Monday in Naha. He asked the public to wear masks and properly ventilate areas where people gather, refrain from gathering in confined spaces for extended periods, avoid high-risk populations if exhibiting symptoms and get vaccinated.
"Please take preventive measures … and be mindful not to get infected and not to infect others," Tamaki said. "Let's work together to prevent the spread of infection in this period before the summer break comes."
U.S. service members, defense civilians and their families should observe the prefectural alert, according to a post Monday on the Joint COVID-19 Response Center's Facebook page.
The alert is one step short of a quasi-emergency, which Tamaki could impose anytime at his discretion, a spokesman for the prefectural Department of Public Health and Medical Care told Stars and Stripes by phone Tuesday.
"If the situation gets worse, the prefecture will discuss whether we should request a quasi-emergency or state of emergency," the spokesman said. "We will monitor the situation carefully and make decisions accordingly."
Some government employees in Japan customarily speak to the media on condition of anonymity.
The alert follows six consecutive days of 2,000 or more new coronavirus cases daily, Tamaki said. If cases continue to rise at the current rate, "emergency medical service will be overwhelmed."
New case numbers have risen from 1,126 on June 12 to 2,518 on Sunday, according to the Public Health Department. The U.S. military has accounted for approximately 400 new cases so far this month, according to a department update Sunday.
The seven-day case average in Okinawa prefecture jumped from 1,165 new cases per day two weeks ago and 9,879 active cases to an average of 2,136 new cases per day and 17,433 total active cases, according to the joint response center.
All age groups are affected, Tamaki said.
---
---
---
---