F-35Bs practice close air support for the first time in Japan
By
Stars and Stripes
July 1, 2022
---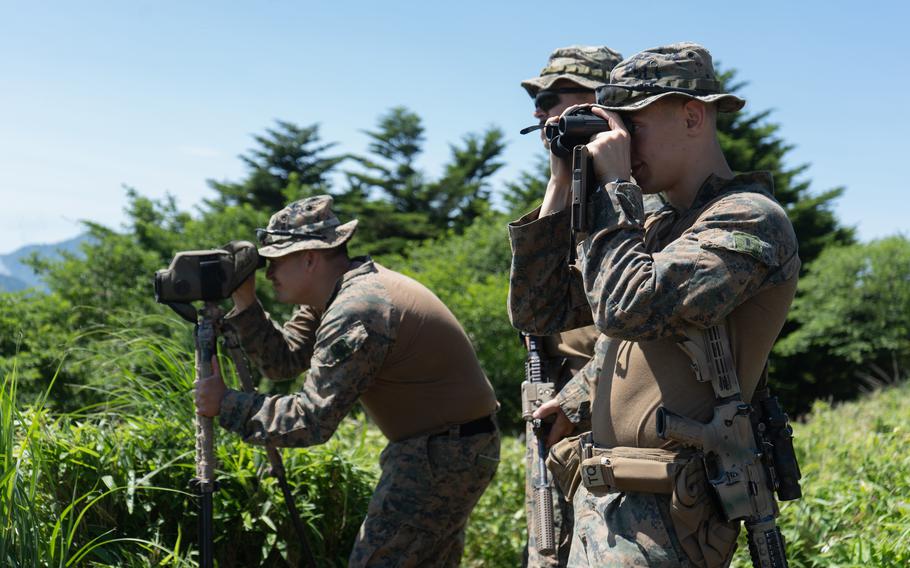 Marine Corps F-35B Lightning II stealth fighters practiced close air support recently near Mount Fuji, marking the first time the fifth-generation aircraft conducted that training in Japan.
Two F-35Bs from Marine Corps Air Station Iwakuni each made four runs on Tuesday, dropping inert bombs on simulated armored vehicles at Combined Arms Training Center Camp Fuji, Col. Neil Owens, 50, said Friday.
Had they been live munitions, the "bombs definitely would have had effects on the target," Owens, the training center commander, told Stars and Stripes by phone.
U.S. Forces Japan posted photos of senior leaders observing the drills at Camp Fuji on its Facebook page Thursday with a note that said the aircraft involved were from Marine Fighter Attack Squadron 242.
"This training marked the first-ever live close air support mission in Japan with an F-35B," the note said.
The air strikes were guided from the ground by joint terminal attack controllers, or JTACs, with 3rd Battalion, 2nd Marine Regiment, and the 5th Air Naval Gunfire Liaison Company, which is part of the 3rd Marine Expeditionary Force headquarters, Owens said.
The attack controllers use laser designators to feed coordinates to smart munitions and radios to give pilots information about their targets.
Two teams of controllers, each team composed of four or five Marines, participated in the Camp Fuji drill, Owens said.
"This is the first time we have done this with F-35s," he said. "It's a foundation for how we fight."
Marines practiced close air support at Camp Fuji for the first time in recent memory last year when they worked with F/A-18 Super Hornets, he said.
The Japan Air Self-Defense Force also trained there on close air support last year, he said.
Japan has about 20 F-35A stealth fighters stationed at Misawa Air Base in northeastern Japan. The Japanese Defense Ministry is committed to purchasing 147 of the multirole fighters, including as many as 42 F-35Bs.
Next month F-35Bs from MCAS Iwakuni will travel to Australia to participate in the country's biennial Exercise Pitch Black, Marine Aircraft Group 12 announced in April.
---
---
---
---