US professor recalls Hong Kong handover 25 years ago
By
Stars and Stripes
June 30, 2022
---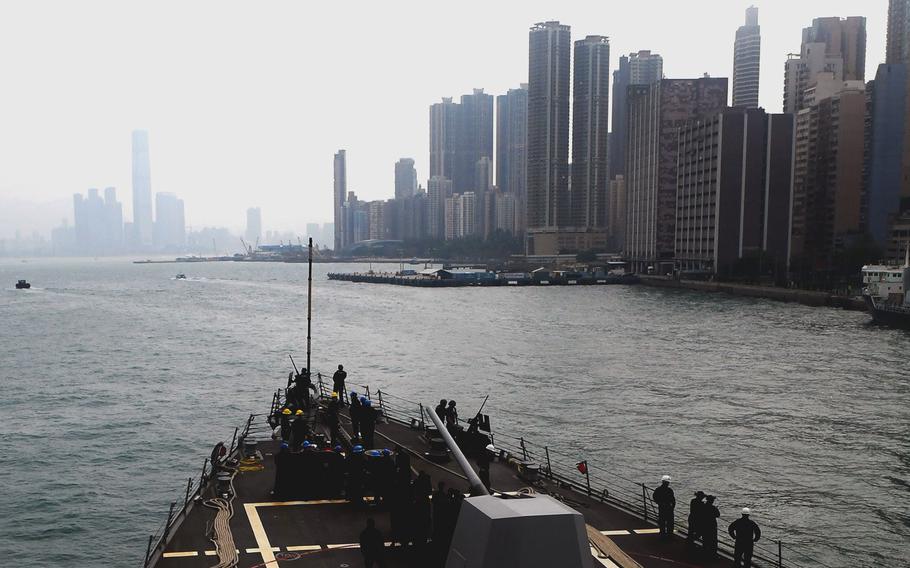 China's quelling of democracy in Hong Kong should serve as a warning to Taiwan, according to an American professor who was in the former British colony when it was handed over to the communists 25 years ago.
China is holding a series of events to commemorate the July 1, 1997, handover of the city by the United Kingdom, including the installation of John Lee as the island's chief executive. In 2019 the former security chief led a harsh crackdown on pro-democracy protests.
Events in Hong Kong since 2019 show that Taiwan should be wary of promises from Beijing regarding reunification, said Cord Scott, 53, a professor of history, government and film for the University of Maryland Global Campus Asia on Okinawa.
China regards self-governing Taiwan, which split from the mainland in 1949, as a renegade province that must be brought back into the fold, by force, if necessary. Taiwan, unlike Hong Kong, has its own military and is separated from the mainland by the 110-mile-wide Taiwan Strait.
In Hong Kong, a city of 7.4 million, ruling authorities backed by Beijing imposed a national security law after subduing the pro-democracy protests. Free speech and free assembly were limited, pro-democracy activists jailed or exiled and candidates for public office trimmed to those deemed acceptable to Beijing.
That's not what people were told to expect after the handover, Scott said to Stars and Stripes by phone Thursday.
A Baylor teaching fellow at Hong Kong Baptist College from 1993-1994, Scott was in a pub across the road from Government House watching on television when the Union Jack was lowered, he said. Government House was the British governor's residence at the time; today it's the Hong Kong chief executive's residence.
"There was kind of a tension in the air," Scott said. "People were asking 'What's going to happen?'"
Chinese officials at the time promised nothing would change. Under the terms of the handover Hong Kong was supposed to become a special autonomous region making its own decisions for 50 years, he said.
But changes started immediately. For example, British money featuring Queen Elizabeth II was taken out of circulation, Scott said.
"At around 6 a.m. on July 1 the People's Liberation Army sent a column over the border," he said. He recalled a Chinese soldier standing in front of the building that had housed the former Royal Navy headquarters.
Hong Kong's status as a global financial center has been shaken by China's crackdown on its liberties, Damien Horigan, a University of Maryland Global Campus professor of business law said by phone Thursday.
There are questions over judicial independence and the free flow of information there, he said.
"Hong Kong was supposed to be held up as a kind of role model, but things have started to change under [Chinese President] Xi Jinping," Horigan said. "People in Taiwan are nervous."
---
---
---
---