Noise complaints more than double at Japan air base with arrival of Air Force fighters
By
Jonathan Snyder and Hana Kusumoto
Stars and Stripes
June 30, 2022
---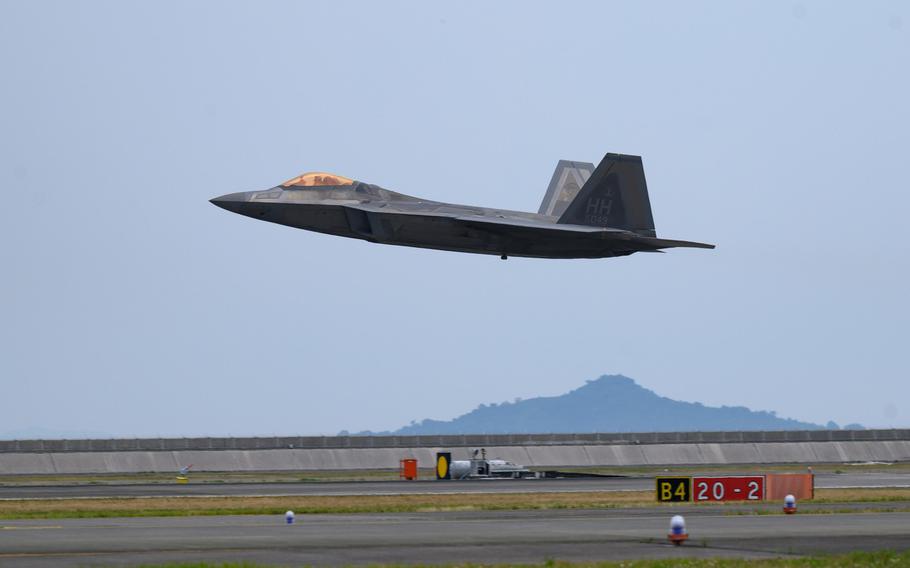 MARINE CORPS AIR STATION IWAKUNI, Japan — Visiting U.S. Air Force stealth fighters and their air combat exercises this summer more than doubled the noise complaints from the community around this air base south of Hiroshima.
The Air Force in June deployed 18 F-35A Lightning IIs from Eielson Air Force Base, Alaska, and 10 F-22 Raptors from Joint Base Pearl Harbor-Hickam, Hawaii, as part of its Agile Combat Employment training. The F-35s started flying from Marine Corps Air Station Iwakuni on June 6 and the F-22s on June 15 and both will be training until mid-July, according to a news release on the Iwakuni city website.
"Deployment of visiting aircraft is a concern since it greatly affects the lives of the residents when it is as many as this," the city news release stated. 
Consequently, the city received 457 noise complaints between June 1 and Tuesday, Kazuhiko Saiki of the city's base affairs administration section told Stars and Stripes by phone Wednesday. He broke that number down to 234 complaints from June 1 to June 14 and 223 complaints from June 15 to Tuesday. 
By contrast, the city received 457 complaints in May and 173 complaints in June 2021, Saiki said. 
Complaints typically fall off in June, when the Navy's Carrier Air Wing 5 is at sea with the aircraft carrier USS Ronald Reagan, he said. The wing is stationed at MCAS Iwakuni when the Ronald Reagan is at its homeport at Yokosuka Naval Base.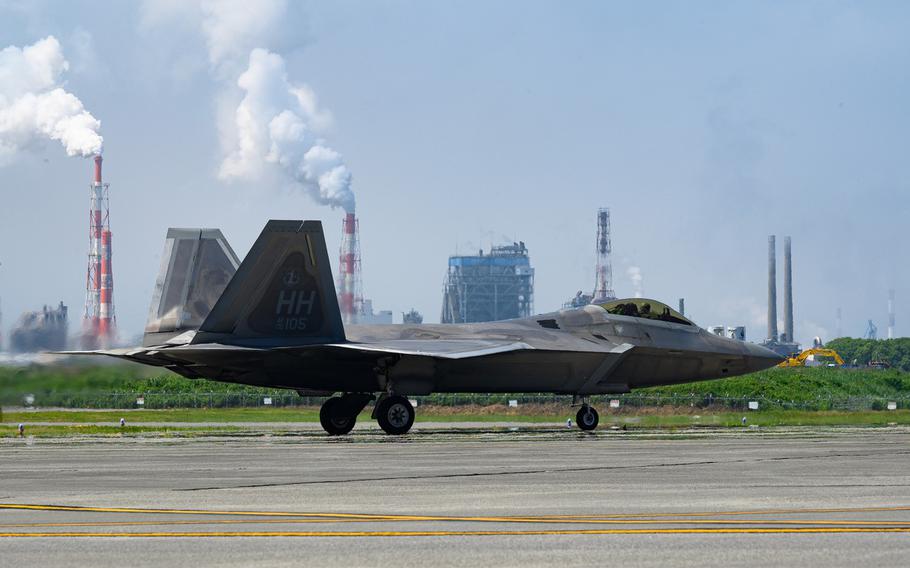 "Whether here, in the United States, or elsewhere, we do everything in our power to mitigate the impact our training has on the residents in and around our community, to include those on the base," base spokesman Maj. Joshua Diddams told Stars and Stripes by email Tuesday. 
He listed steps the base takes to mitigate the noise.
"Measures such as making every effort to honor our normal airfield hours; recognizing and avoiding flying during especially noise sensitive events near our flight operation areas; conducting straight-in full-stop measures when appropriate; and flying at higher altitudes than the lower ones that we are permitted to in order to have less noise impact, are all examples of everyday efforts we make to mitigate the impact of our training," he said.
The city measured the loudest jet noise on June 18 at 101 decibels, Saiki said. The loudest measurement in May was 94.9 decibels and in April was 100.1 decibels, according to data on the city's website.
Both aircraft types can produce about 146 decibels, according to a 2009 noise report by the Naval Research Advisory Committee. By comparison, an ambulance siren 100 feet away produces about 100 decibels, according to a 2018 noise study by the Department of Defense.
The city receives complaints primarily by email and phone, Saiki said. The city counts complaints by the same person each time if they are made at different times of the day and are spread apart, he said.
Residents in areas over 75 decibels qualify for government assistance for soundproofing on their homes, according to the Ministry of Land, Infrastructure and Transport office website.  About 18,000 homes of 18,700 that qualify for soundproofing in Iwakuni have been completed, according to the Chugoku-Shikoku Defense Bureau spokesman.
In 2019 the Hiroshima High Court awarded nearly $6.8 million as compensation for aircraft noise to 653 residents living near the air base who say they suffered from the noise.
Diddams said MCAS Iwakuni tries to balance its readiness requirements with the impact its flight operations have on the community.
"Responsible stewardship is important to us," Diddams said in his email. "We fully understand and are sensitive to the fact that our training has an impact upon our host community."
---
---
---
---