Scout district in Japan recognizes first female Eagle Scout
By
Stars and Stripes
June 29, 2022
---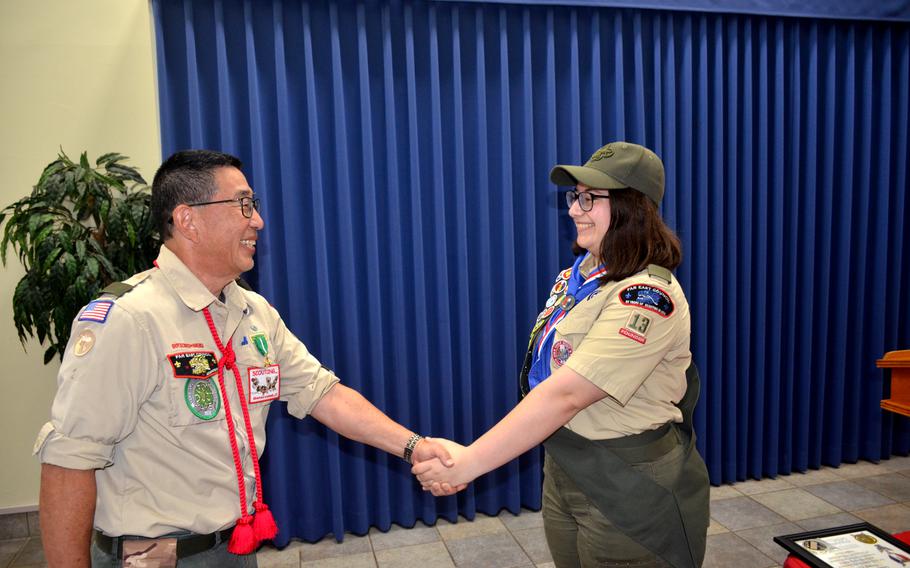 YOKOSUKA NAVAL BASE, Japan – Lillian Vogel grew up in a family heavily involved in the Boy Scouts of America and despite wanting to take part, she was left out.
That changed in 2019 when the organization officially rebranded its flagship program to Scouts BSA and opened its ranks to girls. That year Vogel was part of a group that formed Troop 13, the first all-female scout troop at Yokosuka Naval Base.
On Tuesday, Vogel, 18, of Virginia Beach, Va., notched two more firsts: She became the first in her family and the first female in Scouts BSA's Asia East District to become an Eagle Scout, the program's highest honor. The Asia East District encompasses all of Japan, except Okinawa, which has its own district. 
"It was a little daunting when I first heard that I'd be the first Eagle Scout" in Japan, Vogel told Stars and Stripes prior to her ceremony. "I really have no words to express how I feel."
Earning the rank of Eagle Scout is no small feat. In addition to climbing the Scouts' six other ranks, a successful candidate must hold a leadership position in the troop, earn at least 21 merit badges and complete a community service project.
For her project, Vogel completely renovated a garden at Yokosuka Middle School that had fallen into disrepair during the COVID-19 pandemic.
"COVID hit, and the teacher who was funding the garden club had to go for medical leave. So, the garden was totally overrun, and the principal was looking for someone to fix it up," Vogel said. "So, I did that. I tore everything out, I redesigned the garden and I put in a Japanese rock garden."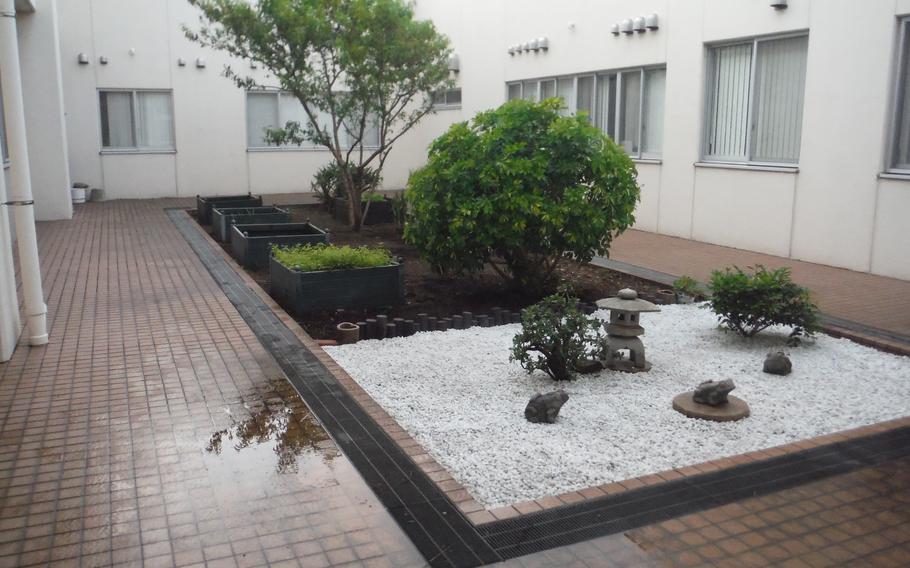 Otherwise, the pandemic complicated Vogel's journey to Eagle Scout, along with the fact that she couldn't start her climb until age 15, which left her only three years to meet all the requirements. Scouts are typically required to leave the program after turning 18.
"I can't even describe how proud I am of my daughter and the hard work that she's done to get here today," Vogel's father, Bill Vogel, told Stars and Stripes on Tuesday. "I'm definitely very proud of the effort that she's done to get all those requirements knocked out and the service that she's provided."
Bill Vogel, a Defense Department civilian employee, and his wife, Christine, were also active parents when their sons, Lillian's brothers James and William Vogel, were Scouts. William reached the rank of Life Scout, the second-highest rank in in the organization. 
Lillian Vogel said her time in the Scouts was fun but also an important opportunity for personal growth.
"I really found all of my friends in it, it's a great environment," she said. "I can honestly say that with anyone who's joined the troop, I've had a really fulfilling and deep relationship."
Vogel's growth in areas such as communication and leadership skills were obvious to her leaders too, including Navy Lt. Laurajean Lauzen, Troop 13's assistant scout master.
"I am incredibly proud of her," Lauzen, 29, of Oak Harbor, Wash., told Stars and Stripes. "It was amazing watching her actually grow through the process and push herself to make it happen."
Around 40 people, including Yokosuka's all-male Troop 35, gathered at Yokosuka's Chapel of Hope to celebrate Vogel's accomplishments on Tuesday. During the ceremony, she was awarded numerous tokens, including an Eagle Scout handkerchief, various patches for her uniform and certificates of achievement.
Lauzen said future Scouts may see Vogel as a source of inspiration.
"I could not have done what she was doing; I was not allowed," Lauzen said. "So, watching someone else be able to achieve this has been amazing."
---
---
---
---