Army couple to receive $15M settlement for botched delivery at Tripler hospital
By
Stars and Stripes
June 25, 2022
---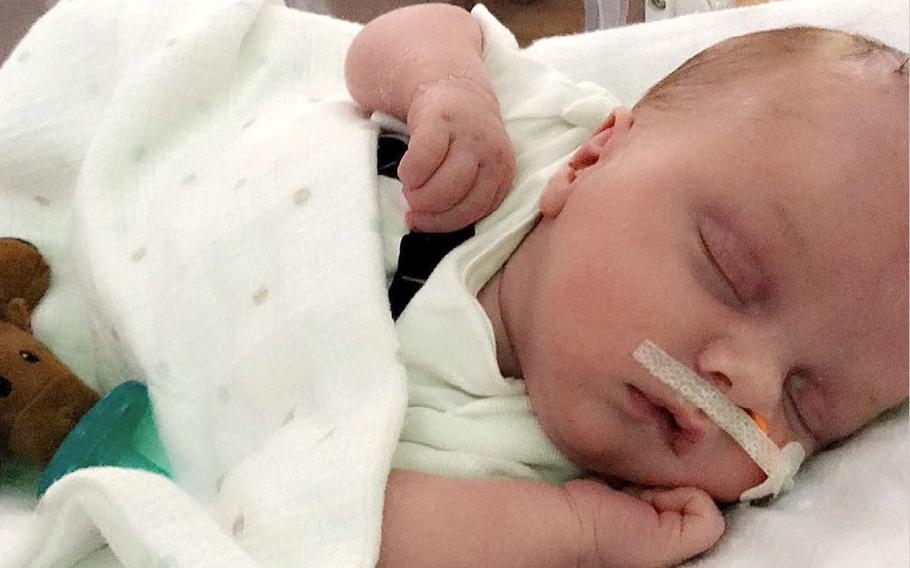 HONOLULU — A federal judge in Hawaii has approved a $15 million settlement for an Army couple whose son suffered brain damage from lack of oxygen during his delivery at Tripler Army Medical Center in 2018.
Under the settlement terms, Sean and Carolyn Galbreath will receive $7.5 million in upfront cash. Another $7.5 million would be invested in an annuity, which will provide a monthly stipend for their son for his entire life.
Projected out over a lifetime, the settlement equates to roughly $38 million, Rich Turbin, one of the attorneys representing the family, said at his Honolulu office Friday.
U.S. Magistrate Judge Kenneth Mansfield gave provisional approval for the settlement on June 14, and it now awaits final authorization by the assistant attorney general in Washington, D.C.
Tripler, which is located just outside Honolulu, admits no liability in the settlement. It declined on Friday to comment on the case.
The medical center offers tertiary-level care and supports 264,000 local active-duty and retired military personnel, their families and veterans, according to its website.
Sean Galbreath, an enlisted soldier, was stationed in Hawaii when his wife went into labor on the evening of Feb. 16, 2018, according to their attorneys.
Carolyn had attempted to deliver the baby vaginally throughout the night, but by 6 a.m. the next day, the fetal heart monitor indicated that the child was in distress. His vital signs continued to worsen, but it was not until just past 8:30 a.m. that an emergency cesarean section was performed, according to the complaint filed Aug. 28, 2020.
The child was blue and unresponsive due to lack of oxygen to his brain when he was delivered about 10 minutes later.
Turbin said the C-section was delayed because medical personnel ending their night shift did not properly communicate the urgency of the matter with the incoming shift.
In addition, the attending physician was not conducting the checks required in such a case and not communicating with nurses and floor staff, he said.
As a result of the mishandled delivery, the boy suffers from seizures, cerebral palsy and other neurological issues, said Janice Heidt, one of the attorneys representing the family.
"He currently receives speech therapy, occupational therapy, physical therapy and behavioral therapy," she said.
"He's 4 years old so at this point he's still developing," Heidt said. "And of course, his parents have high hopes that he will continue to improve in his condition."
Sean is now stationed at Fort Meade, Md., Heidt said.
"However, by the time our son was a year and a half old, it was clear he was going to have physical and mental deficits, and he would require care for the rest of his life," they said in the statement.
"We have been through so much with our son and the struggle for care and treatment can be so tiring," the couple said. "This settlement will help lighten that load and provide us with treatment and care options that we never had before."
---
---
---
---